Brands need to talk about product
There are several ways to define the menswear world we write about.
As classic style, for instance, or about quality and craft. Also as luxury, given such quality is expensive.
But one aspect that is rarely emphasised, and should be more in my opinion, is that it is about product.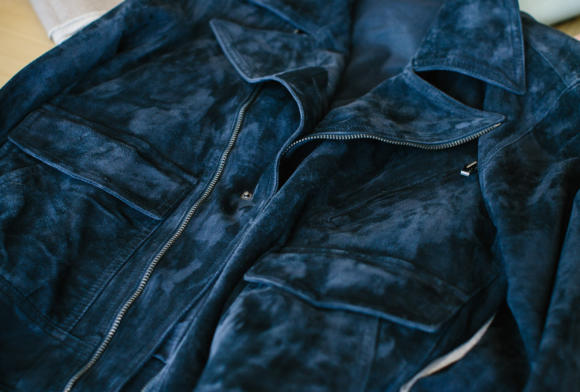 Take Stoffa as an example, the casual-wear brand founded by Agyesh Madan. (Asymmetric jacket shown above.)
Every piece in the collection has been obsessed over, whether it's the shape of the zippers or the seam in the back of the jacket collars. The hats were roadtested for months, and meticulously documented on Instagram.
Get into a conversation with Agyesh (below), and his passion for the product becomes immediately apparent.
Just as important as caring about the product is communicating it well.
Drake's sells itself through articles about its products. There will be a whole post about a new length of shirt collar; another about the width of a tie.
Private White VC often takes a similar approach. So do new online brands like Luca Faloni.
For all of them, the product is central - what it is made of, how it is made, and why.
In some cases, this is a natural result of being manufacturers originally (as with Drake's and Private White).
But it's striking that others more orientated around design, such as Stoffa or Saman Amel (below), have this same approach.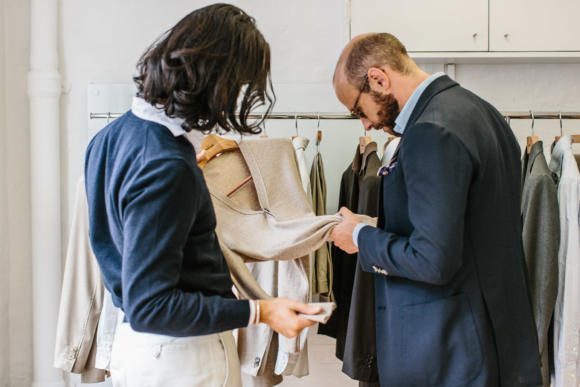 These brands also talk about style, of course, and sell through imagery and illustration.
But designer brands do this to the exclusion of all else.
They just never talk about their product.
Buy something from a designer brand online, and there will be pretty much no information about why it's special or even it's basic functionality.
Visit a store and it's even worse, as you have to suffer the awkwardness of asking a sales assistant questions that they might not understand, let alone be able to answer.
Where brands produce in-house magazines, they include almost nothing on how and why their products are made.
Even PRs can't help. Many times over the years I've asked PRs for information on a product I love, and either no one internally knows anything, or whatever is known cannot be made public.
There was a particularly good example on Permanent Style back in August, where it took a Ralph Lauren employee to comment anonymously for us to learn anything about the complex way a cardigan it was knitted.
Designer brands are having a hard time at the moment.
One of the reasons is certainly being behind the curve on several retail trends, such as e-commerce and social media.
I would argue that just as important is ignoring the importance of product.
Every new brand today launches by talking about its product - why it thinks the shirt, coat or trainer is better than everything else out there. Kickstarter is full of them.
Big brands need more of this. Information in stores; trained sales staff; buckets of it online where there is no excuse of cost or space.
Brands produce dozens of products every season that are beautifully made and extremely well thought-out.
I just wish they'd tell me about them.
Photography: Jamie Ferguson except knitwear above, Moeez Tali