Unexpected texture and colour – Denim and linen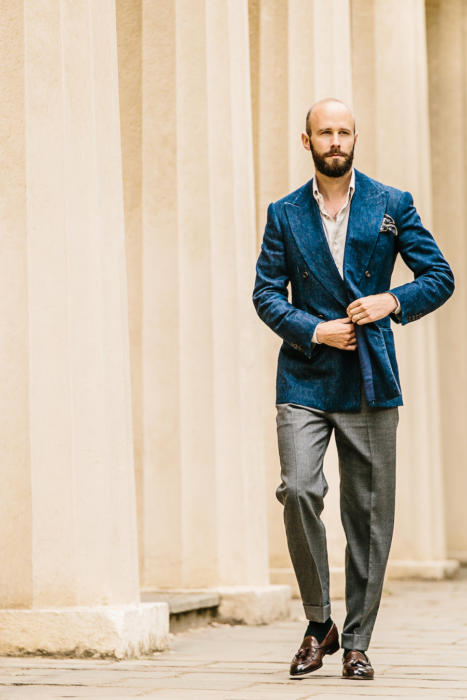 I think it's telling that the thing that makes me happiest about this outfit is the oatmeal-linen shirt, a piece made bespoke by D'Avino.
I've been doing this for a while - trying to combine pieces of classic menswear in ways that I find pleasing - and it's not hard to do the basics.
A dark-blue jacket with grey trousers is as classic as it comes. A brown shoe with those trousers equally so.
It is the details, therefore, and I tend to find subtlety of texture more enjoyable than subtlety of pattern.
So the double-breasted jacket from Cifonelli pleases me because it is in a soft but heavy Japanese denim, rather than wool or cashmere.
However, that pleased me most the first time I wore it, which was here. I am rather impatient for someone into bespoke tailoring, and I constantly seek a new combination, a new idea.
Hence the happiness in the linen shirt, which is not blue, white or white/blue, but a natural, earthy, undyed-feeling oatmeal.
It is still pale enough to have enough contrast with the jacket and trouser, but softens the whole, adds character, and is suggestive of something vintage and worn-in.
The shot was part of a series for Parisian tailor Cifonelli, and it was a nice coincidence that the simple-but-striking backdrop we chose (the colonnade of London's Institute of Contemporary Arts) reflected the tone of the shirt.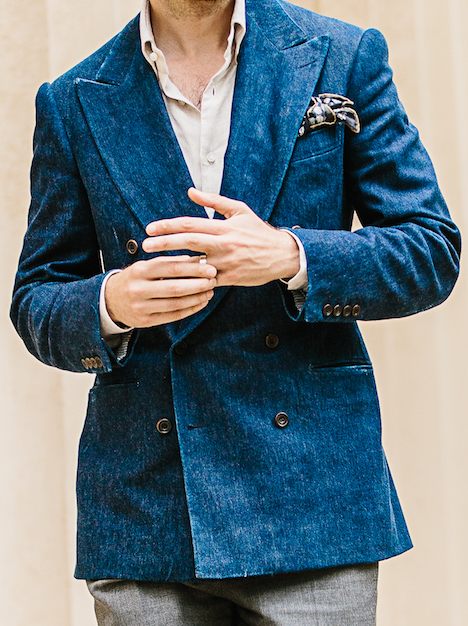 That Cifonelli denim jacket is getting quite a lot of wear. The trousers it can go with are quite limiting (as discussed in the initial post here) but otherwise it's almost as versatile as a navy blazer and far more unusual.
The denim is also wearing pleasingly, with the cuffs, label tips and front edge all fraying and whitening slightly. It's one of the key attractions of denim, and nice to see it happening here.
The loafers are dark-oak antique Belgravias from Edward Green, which are unusual in that I rarely wear tassels. However, I do find that they can be a nice additional detail in an outfit that is otherwise quite plain, like this one.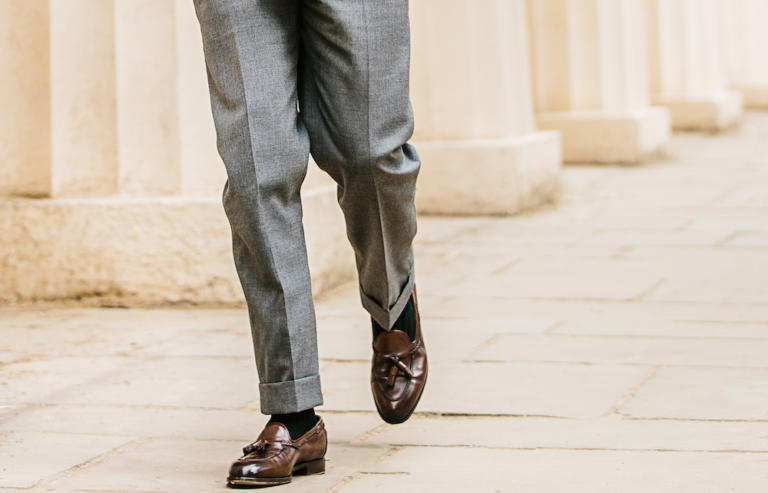 And the handkerchief is a navy wool/silk mix from Drake's, with a white motif and pale-yellow border.
A dark handkerchief can be a nice way to anchor an outfit - a metaphor I've always liked and first used back in 2009 (though the images seem to have gone missing from that post for some reason).
It becomes a little more dramatic when it is puffed a little out of the pocket like this, though that is largely enforced by the cut of a Cifonelli DB lapel, which reduces the visible breast pocket to perhaps 25% of its actual width.
Photography: Jamie Ferguson @jkf_man