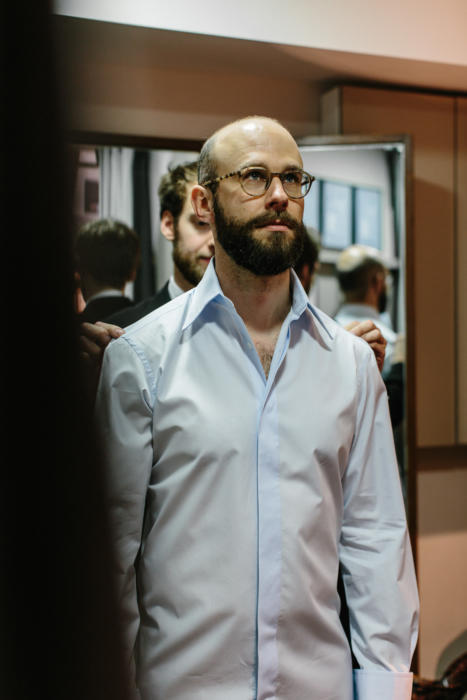 My shirt collars over the years have generally been one of two styles: spread or button-down.
Both can work with or without a tie (and have been tweaked consistently to make that easier) but I generally prefer the spread with a tie, the button-down without.
That's been the norm for around 15 years (a fairly long fashion cycle) but recently seeing friends with longer, more pointed collars has made me reconsider the style.
This is generally how fashion works: those friends will have seen it somewhere else too, and over time the influence will spread through physical encounters and on social media, until it becomes mainstream.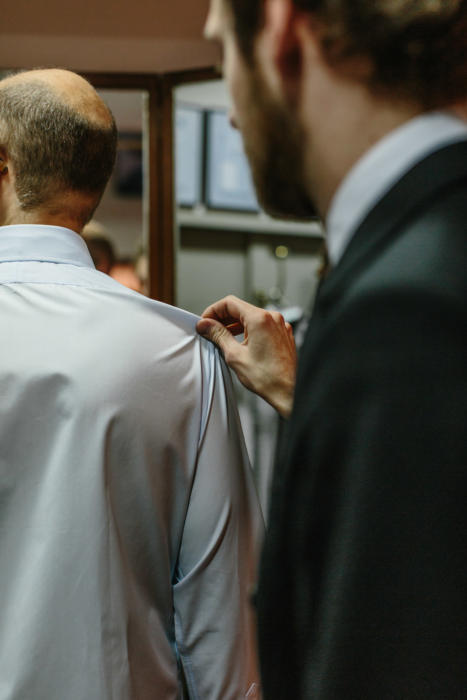 Now, arguably a pointed collar suits me more than a spread. My face is fairly long and thin, and a longer collar would balance it out.
But while everyone should be aware of what suits their face (or body), I think this should only be one factor in deciding what to wear.
You might also just like a style, or have certain associations with it, and that's fine too. I like the extra room that a spread collar gives to the tie knot, for example.
Just be aware of all factors - including physique and skin type - when you make a choice.
I've always been aware of my relatively long face and neck, and as a result have tended to have my spread collars long, and my collar relatively high.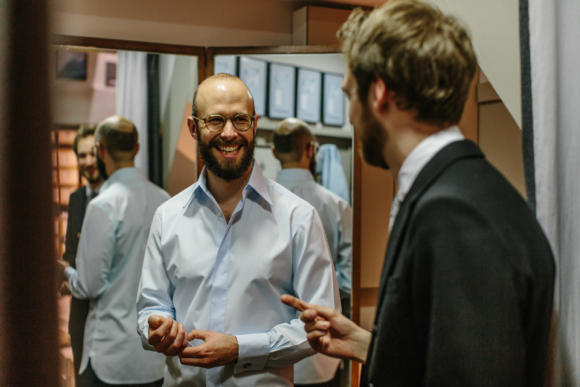 Nonetheless, when I was in Budd Shirts recently filming a video, the sight of a particularly nice pointy collar spurred me to have one on a bespoke shirt with them.
The first fitting on that shirt is what you can see here. It was cut by James Macauslan, one of Budd's three cutters in Budd's jewel-box of a shop.
The other cutters are Darren Tiernan, who featured in our Symposium in January and is just celebrating 30 years in the industry (with an anniversary fabric), and the famous John Butcher, who has been at Budd for over 50, and even longer in the industry.
Darren cut me a linen overshirt a couple of years ago, but James (below) started with a new pattern for this shirt.
It will be a formal, double-cuffed shirt with a covered placket (the panel down the front that covers the buttons) and unfused cuffs and collar.
It's been a long time since I had an English shirt like this. The last was a dress shirt with Sean O'Flynn, and years ago I had several shirts with David Gale at Turnbull & Asser back when I was first starting out on bespoke.
More recently all my shirts have been from Italians: Simone Abbarchi, Luca Avitabile or D'Avino (details comparing those three here).
It will be interesting having a different style and formality of shirt, which I might wear with more structured English suits as well.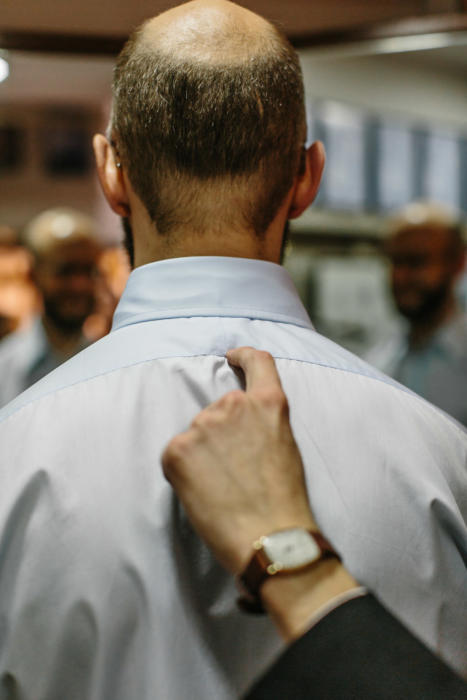 One interesting point in the fitting was the thinness of the yoke (the panel of fabric running between the shoulders).
Budd shirts tend to have a thin yoke, particularly on bespoke. It makes it easier for the cutter to play with the fit in the shoulders and the upper back.
But ready-to-wear tends to have a thicker yoke, going further down the back, as it is gives a cleaner fit on most men buying off-the-rack.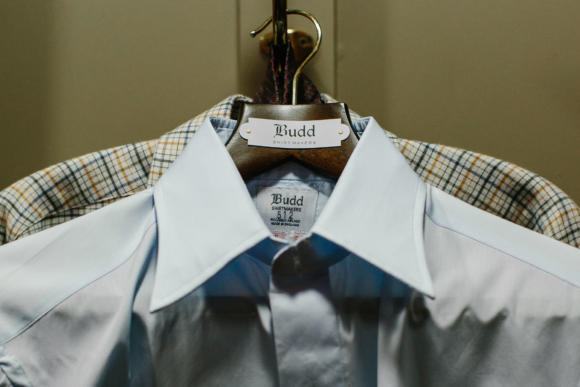 As regards the shirt design, I have a vague idea of finding a special button for the collar, so that it could be sufficient decoration on its own, and the whole shirt work done up without a tie.
(Normal 'air tie' looks always feel very unfinished to me, though I'm aware it's not supposed to look clean.)
This may be a terrible idea, but it's nice to try an experiment now and again - even if it just reinforces your existing style. And the button can easily be swapped back to a normal one.
The problem at the moment is finding a decorative button, as most are too big or too cheap looking.
James and I had a pleasant wander around Soho looking in trimmings shops, but without success. And the Button Queen has unfortunately closed (though the stock is still available online.)
More images of that, and reflections on the point collar, soon.
In the image above, I am also wearing:
Photography: Jamie Ferguson @jkf_man