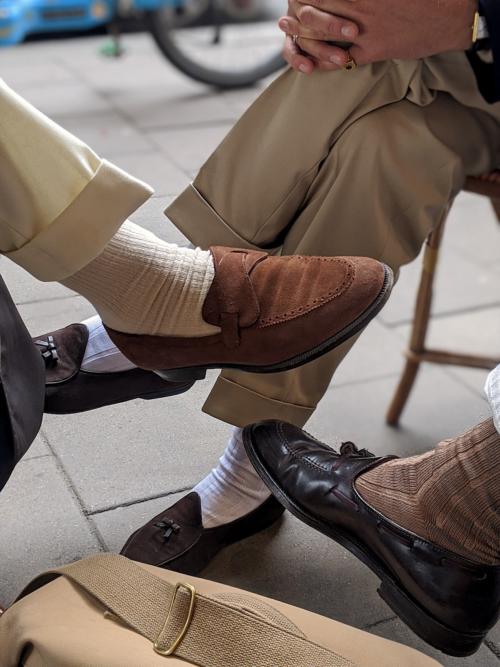 So here's the weird thing about Stockholm: nothing is weird. Everything feels normal.
No one wears a mask, and while there's still social distancing, it's minimal and feels almost like politeness. People do sanitise their hands frequently, and there are restrictions on the numbers in shops. But on the surface, it feels like the pandemic doesn't exist.
Indeed I'm told that back in April, a lot of Europe's rich came to Stockholm and stayed for several months. A couple of the big hotels were full of them.
Of course, below the surface Sweden is still suffering. Its GDP may have dropped less than elsewhere, but it still suffered its biggest fall in 40 years during that second quarter this year.
People are working from home more; they are shopping less. One menswear shop I visited had cut its staff from four to one, with those on furlough unlikely to return.
I was there for two days last week, to see a handful of brands I wanted (and from a business perspective, probably need) to cover.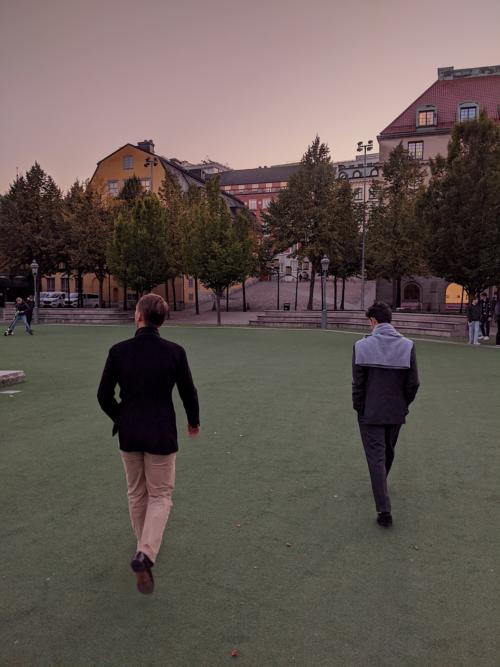 I went to see Saman and Dag from Saman Amel - principally to see their new store, which is almost finished.
It's a small shop, but well appointed and a big step up from their current two-room sub-basement. There is a nice green-marble frontage, with a faded wooden frame around the large window and similar effect on the door. The kind of tasteful building that Stockholm is full of - largely built in the 1920s.
If you want a stylish, coherent city, it's so helpful to have a splurge of building in one short period. Paris benefits from the same effect thanks to Hausmann a half-century earlier. London, for all its charm, is a series of old villages gradually cobbled together.
The nicest thing for me about these trips is that so many of these guys are now friends. Saman, Dag and I went out for dinner that first evening, after going to a gallery opening; we even played tennis together the next morning.
I came to Stockholm three times with my old job (as a legal journalist) and the contrast could not be more stark: back then I was on my own, knew nobody, and spent my days interviewing corporate lawyers.
I became very good at finding restaurants where it didn't look odd to read a book while having dinner.
The following morning I spent time with Oliver and Carl of Rubato, to produce an upcoming article about vintage clothing. Both Oliver and Carl worked in a local vintage store before moving to Skoaktiebolaget, and it still informs the clothing their doing with Rubato today.
We talked about their new pieces from Rubato too, and I tried on a few. The camel hair knitwear feels lovely: luxurious softness but more heft than most cashmere; the one-inch belts are great in that they complete the look both Oliver and Carl wear, and I know others will want to replicate. The shirts are fine but less unusual.
I was very taken with the chinos though, and it will be interesting to get a pair when those are available, and put them through a few weeks of wash-and-wear. The colours and the cloth are perfect; they're a little higher in the waist than I would normally wear, but might be OK; the rise is similar the Armoury's new Army chinos in that respect, though different in having a denser, crisper cloth and being a little narrower in the leg.
A reader asked recently which city had the best-dressed people. I've changed my mind: I think Stockholm has the best, on average.
You see far more men doing sports-jacket-and-trousers well. There are very few suits, but also less very scruffy clothing. They're the best example of a consistent smart/casual look.
Smart trainers are everywhere. Not always successfully: there were a few too many wearing black ones with regular worsted suits, as if that was a straight swap. But there were also many doing it nicely, for example with neat chinos, a shirt and gilet; or in a more fashion-forward black suit, with rather shorter trousers.
Basically, the men in Stockholm are all trying hard - putting in more effort than elsewhere. To an ungenerous mind (such as that of a Finnish friend) it's because they're all very self-conscious and desperately want to be Italian. To my more generous perspective, it was one of the most pleasing displays of menswear I've seen in a city.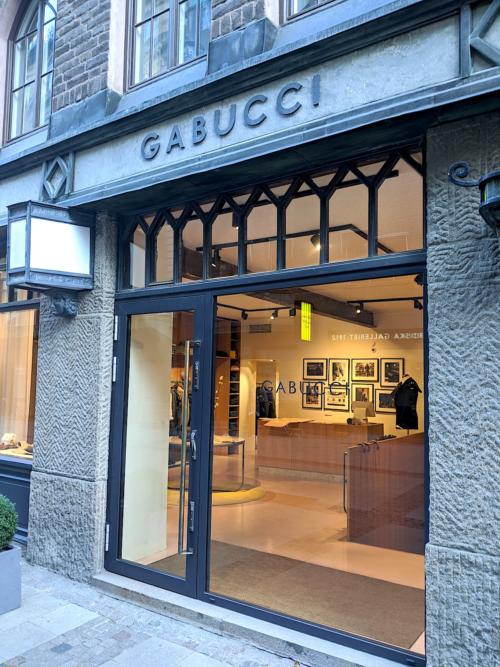 I popped into a few stores, including Gabucci and Skoaktiebolaget. The former so I could try some Alden jumper boots that no one stocks in London; the latter to try a few more of the Lof & Tung shoes that weren't at our pop-up last year.
I also went to Nitty Gritty on the other side of town, and found it interesting the different pieces it buys compared to classic stores like Gabucci. The two have several brands in common (the Gigi, Massimo Alba) but while one buys safer, conservative designs, the other has more unusual ones.
This doesn't mean just fashion. Nitty Gritty had some nice pieces from J Press (Japan) for example, such as Shaggy Dog sweaters in just slightly unusual colours mixes.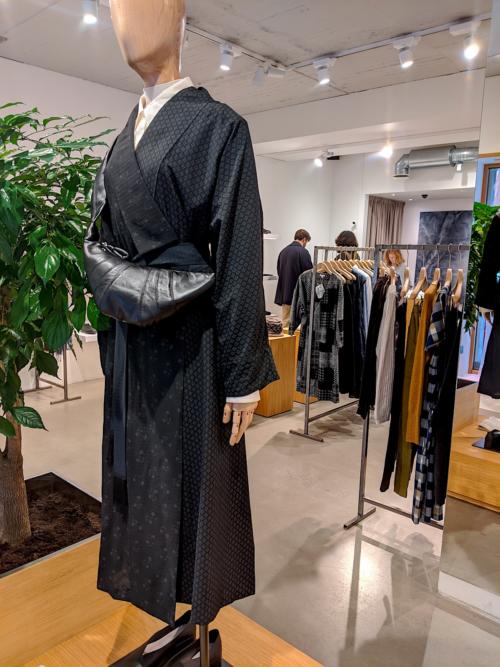 And the women's version of Nitty Gritty (above) was more interesting still, if anything. Nothing I could wear, of course, but quite conservative colours, just unusual cuts. And from brands we know from menswear, such as Barena or Harris Wharf.
The trip was finished off by a couple of hours with Andreas Larsson of Berg & Berg. And a quick goodbye walk with Milad Abedi, who had shot the whole trip.
It was a lovely change, highly enjoyable, and for that I have all these members of the Swedish menswear scene to thank. Thank you.
Below: Stained glass and decorated elevator cage in The Sparrow hotel (which I'd highly recommend).