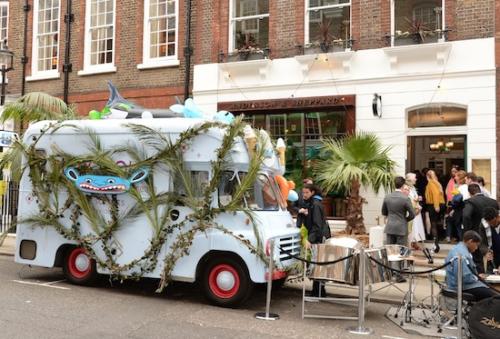 Last month there were three parties on Savile Row on the same night. Huntsman, Kilgour and Anderson & Sheppard all held events on the Monday of London Collections:Men, with very different atmospheres.
While they showed very different ideas of the best way to connect with customers, I would argue that the fundamentals of what each one was offering was the same. More than anything, they were lessons in the need for us – as actual or potential customers – to look past branding and celebrity-baiting.
Anderson & Sheppard held a holiday-themed evening with LimoLand, the beachwear brand founded by art-collector Jean Pigozzi. There were steel drums; there was an ice-cream van; Mark Ronson and Tommy Hilfiger pitched up. There were several very young people that the photographers fawned over and I didn't recognize – always a sign of a celebrity event.
Huntsman held a far more sedate evening for customers and friends, to show off the clothes they made for Gregory Peck over a period of 50 years. It was nice, it was friendly; the average age was twice that of A&S.
And a little further down the street, two PR girls with clipboards were also standing outside Kilgour. Something else must be going on, I thought. Turned out it was a small but very chic evening to display some prototypes for Carlo Brandell's new RTW collection, which will be in Kilgour later in the year. The whole shop had a dozen pieces of clothing in it. In the middle were the two massive, floating stone blocks that have been installed for Campbell and his assistant to cut on (below).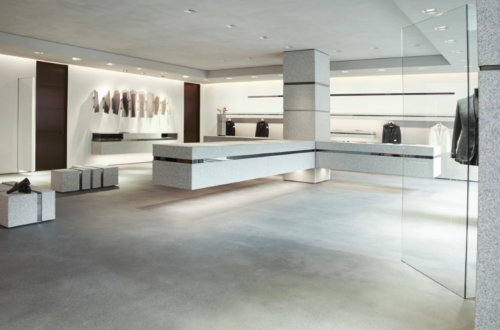 This was no English Gentleman this year – no event where Anda managed to wrangle all the Savile Row tailors into a single display for us. Instead, everyone had gone their own way. But despite the superficial differences, all of them had great clothing.
Anderson & Sheppard's haberdashery continues to be one of (if not the) best menswear stores in London for my money. Huntsman, despite its troubles, has good-quality and now expanded RTW clothing, which I often recommend as a better bet than similarly priced suits on Bond Street – largely for the aftercare and adjustments in-house. And Carlo at Kilgour excites me just as much as he did the first time around. Simple palette, simple design and an original take on materials. One of the 12 pieces was a shearling jacket that was simply stunning.
The problems created by branding and marketing hit home last night, at the opening night for the new Dashing Tweeds store. I had just come from Gieves & Hawkes and seen the store re-fit – with its stone floors, wood panels and Roman-esque touches – for the first time. "They've become another fashion brand," said one attendee. "They've sold out, I'm sure the quality will be terrible."
In fact, the opposite is true. Jason Basmajian has radically raised the quality of Gieves RTW tailoring, offering a top-end line that actually befits 1 Savile Row. Of course, the prices of those new suits are double the standard range. The margins may even be bigger – but that's a requirement if you want to sell a small number of higher-quality products.
Much of the Gieves décor is not to my taste. It's a little too imperial, with all those ring pulls and gold nuggets. But I'm excited at having good clothing in Gieves, and frankly don't care about the wallpaper and light fittings. I just hope everyone else can see all these tailors in the same way.