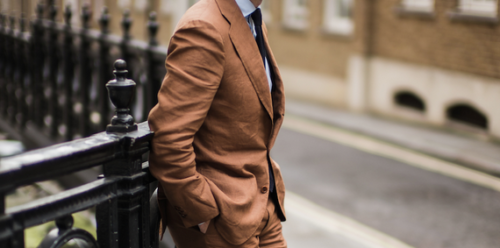 I'm pleased to say that Spanish tailors Langa will be coming to London for the first time later this month, setting up shop in Holland & Sherry on Savile Row on November 24th and 25th.
The cutter Joaquin Fernandez made me the tobacco-linen suit above earlier in the year – for the very reasonable amount of £1900. More details on the suit here, and details of the make here. The shirtmaker, Mariano, is also a superb shirt cutter. His style is more English than Italian (floating collar linings usually, for example) but with a lot more handwork. Review on his shirts coming soon.
If anyone would like to make an appointment with Langa, the contact is [email protected].
They will be available 10am-7pm on Monday 24th, and 10am-2pm on Tuesday 25th. Feel free to simply make an appointment to meet them and talk about a commission, or see their work first hand.
For those interested in starting the process now, the team plan to return every five weeks, so no longer to wait for a fitting than with most English tailors. Prices start at £1900 for a suit and £200 for a shirt.