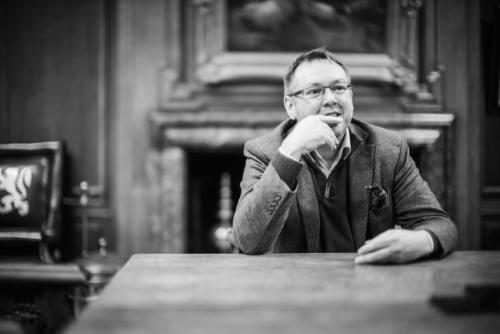 We visited Robert Noble in Scotland last month on the strength of its archive. But while that was impressive, perhaps more interesting was the company's history and perspective as a mill weaving almost exclusively for RTW brands.
Robert Noble goes back a long way. Originally founded in 1666, it has been on the current site in Peebles since 1884. Peebles was the centre of the weaving industry in the area (indeed, all industry – it was the only one going) and it's a lovely town of dark-stone buildings surrounded by pine-covered hills.
The Robert Noble facility is not as big as it once was – that's the original bird's eye view in the photo above – but it is still significant. It sits in the middle of town, the big weaving sheds taking up most of a block. Charmingly, the employees still have allotments in part of that block, where they grow their own plants and vegetables.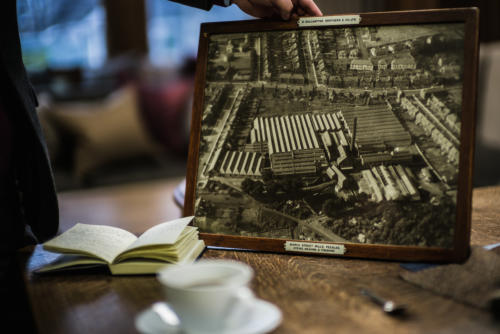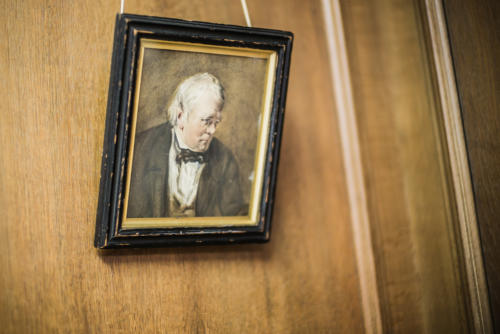 The mill's history is most obvious in the boardroom, which is panelled in boards taken from an old ship. Around the walls are pictures of members of the Ballantyne family, which owned it until the 1960s (it is currently owned by the Swedish group Lindengruppen, which also owns Begg). Add in a few armchairs and a view out onto the stone houses of March Street, and it makes for a lovely place to peruse woollen bunches.
Robert Noble is best known for woollen cloths, with little cashmere in the mixes and most weighing 260g and up. It also has a reputation for melanges and multi-coloured designs – not quite on the same level as Harris tweed or Hunters of Brora used to, but always with some variation in the texture and often three or four colours.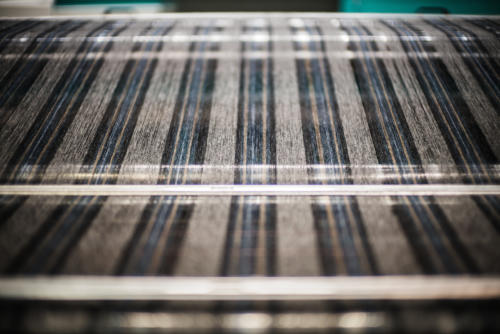 Interestingly, Alistair McDade (design and sales director, pictured top) noted that fewer and fewer mills are doing multi-coloured plains, because they are so much more expensive to produce – four, five or six yarn colours rather than one or two. He was interested in my Caliendo Harris tweed as a result, which has six colours by our count.
Robert Noble is one of the few mills that sells cut pieces of cloth on its website – robert-noble.co.uk. However, I would warn readers that cloth is a very difficult thing to buy without seeing and feeling it in person. The lighting and colour is tricky enough to get right, even without weight, body and finish to assess. Proceed with caution.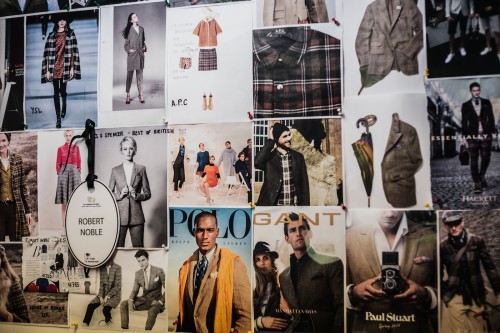 Although the mill does supply Draper's and Holland & Sherry (which also has a site in Peebles), the vast majority of its work is for the ready-to-wear brands, such as Brooks Brothers, Ralph Lauren and Hackett. The minimum order for such bespoke designs is usually 100 metres, which makes it obvious why tailors rarely go down this route.
Elsewhere around the mill, it was interesting to see how the processes have been modernised in recent years. There are more flow-diagrams, post-it boards and 'just-in-time' plans than at any other mill I've been too (including such goliaths as Loro Piana and Vitale Barberis). The use of such Lean methodologies was particularly interesting to me given my day job as a product manager. In Robert Noble's case, they have been specifically applied by managers coming from the automobile industry.
Archive details coming in a separate post.