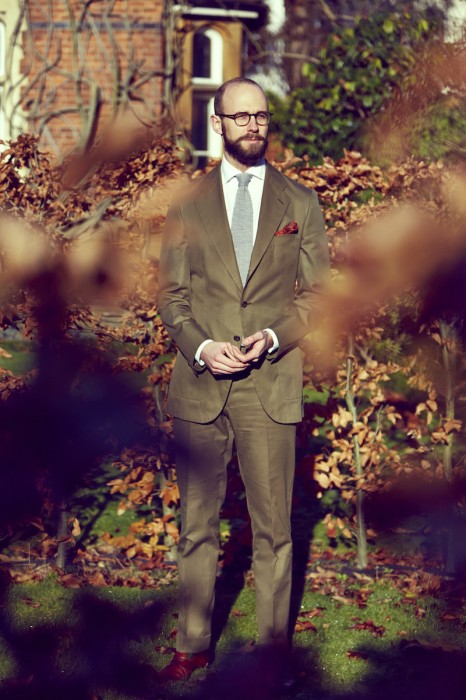 In my review of Spanish tailor Reillo's cotton suit last week, there proved to be only room to analyse the fit and make.
Yet a reader rightly pointed out that green cotton-gabardine is hardly an everyday cloth option. I'll explain the style aspects of the outfit now – but essentially, it was chosen for the versatility of green and casual nature of cotton.
Regular readers will be familiar with my views on green. After the menswear foundations of navy and grey, it is the most useful colour for everything from ties to knitwear.
Cream is barely a colour; brown can suffer from similarity to other, leather elements in the ensemble. Green, in all its tones, should be a man's third choice – yet it rarely is.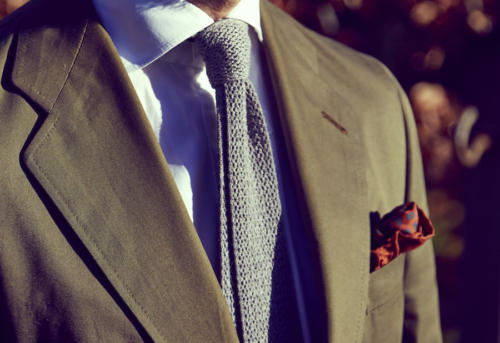 A green suit goes wonderfully with different shades of brown shoe or belt; it works with both blue and white shirts; and the harmonious colours for silk accessories are manifold – pale blue, burnt orange, navy, yellow, even purple in some cases.
In the outfit shown here, the grey wool tie is pretty conservative, but the deep orange of the handkerchief is a real pleasure. The colours are largely spring and autumn ones – indeed, we chose this background for the photo to demonstrate that harmony, with fallen leaves and bright blue skies.
Of course, not all greens are the same. It's hard to go wrong with navy or grey, but certain greens are far too strong and saturated to work sartorially.
I'd generally recommend going for a dark green, which means strength of colour is less of a problem, and the suit overall will be more wearable. I have one other green suit – a deep, dark flannel, made by Brian Smith at the Fox Brothers mill.
But if you go for a lighter colour like mine (Caccioppoli 340307), make sure it's not too strong in tone – a little faded, a little greyed. Cotton (gabardine) is a help here too, because it will fade quicker than any other material, particularly around wear points like the front edge and cuffs.
Elsewhere: brown, hatched grain slip-ons from Gaziano & Girling; white spread-collar shirt from Luca Avitabile; and reversible knitted-wool tie from Hermes.
The latter is a recent acquisition and fantastically useful, with a slightly different shade of grey on each side. I confess I like the fact that the knit is different to 99% of patterns out there as well. (Though avoid the silk '4 temps' line – the colour contrast is too great.)
Photography: Jack Lawson