D'Avino in London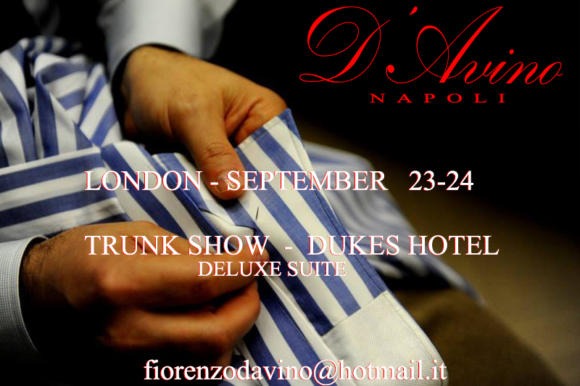 The exquisite shirtmaker D'Avino (that's the brand name, the man being Fiorenzo Auricchio) is here in London for a rare visit in two weeks.
D'Avino makes to the highest level you will see, with handwork absolutely everywhere - not just the practical places like the armhole and collar, but hand-rolled hems and hand-tacked plackets. They're beauteous things to behold.
Although I also use other makers, Fiorenzo is what I go to for that special shirt, or when I'm feeling a bit more flush (often a month when I'm not paying for any tailoring...). I highly recommend going along.
You can read more on my analysis of his shirts here.
And a comparison with the other makers I use, their prices and quality levels, here.
The dates are September 23-24, he is at the Dukes Hotel, and contact is on [email protected]