Come to the pop-up opening party!
The opening party for our pop-up shop in Fortnum & Mason is next Thursday, July 19th. All welcome.
Please do come along and support us and all the brands that are being featured this time: Kirk Originals, Simpson London, Fox Brothers, Luca Faloni, Edward Sexton, Vitale Barberis Canonico/Drapers, J Girdwood and Shibumi.
The tills will be open in the afternoon and into the evening party, so you will be able to make any purchases if you want to.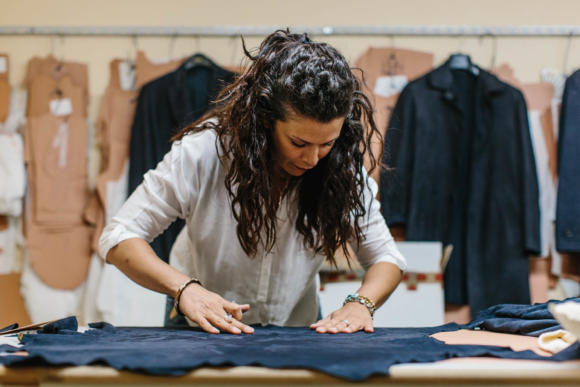 I can also announce that there will be two trunk shows by artisans during the pop-up.
Sartoria Melina (above), who made me the stunning bespoke leather blazer last year, will be there for their first London show on the first two days: July 20 and 21.
And at the end of the pop-up we will have trouser maker Pommella-Napoli alongside Neapolitan tailor Ciro Zizolfi - again, Ciro's first show in London! They will be there, with Gianluca Migliarotti, on July 27 and 28.
We can also announce our final addition to the pop-up list of brands: Vitale Barberis Canonico. They, along with Drapers, will be offering exclusive cuts of cloth in the second half of the week, replacing Shibumi.
I will write more on newcomers Simpson London and Kirk Originals, and on the new things all the other brands will be bringing, later on.
But I would highlight that Luca Faloni now has new polo-collar knitwear in a cashmere/silk mix (above), which is wonderfully light, and will also have his other summer speciality pieces like linen shirts, scarves and towels
From among the Permanent Style range, I will have our shorts on offer (below), which are still available in most sizes and colours, plus a new run of our Everyday Denim cloth - available to buy in 2-metre lengths.
And J Girdwood has some new Justo Gimeno-produced Teba jackets (in linen, with MTO options) as well as Francesco Marino unlined seven-fold ties.
Getting excited about it now. See you there.