Menswear craft in China and Hong Kong: Symposium video
I'm not from China or Hong Kong. Although I've visited more than a dozen times, I can't say I know it well.
It was therefore a particular pleasure to host this edition of the Symposium in Hong Kong, and hear the experiences, views and predictions of people that have been involved in different aspects of its development over the past 50 years.
We were all honoured to have Tony Chang there, the second generation of shirtmakers Ascot Chang, who talked about how his father founded the business; how he and others prospered in Shanghai when it was at its cosmopolitan height; and how many of them left for Hong Kong fleeing instability in China.
This is all, of course, in the video coverage below. But readers have commented that it can be nice before and after to read a brief summary of the points, as video is not the easiest thing to browse, or skim.
Next we talked about the growth of Hong Kong as a menswear hub. Several things seem to have contributed to that – the trade and money, the continued ex-pat influence, the professional nature of that work, which has meant there is always a market for suits.
Mark Cho talked of how he experimented with tailors in Hong Kong, and could learn the lessons of bad style decisions much quicker and cheaper than elsewhere. It's something that local professionals are still doing today.
The reason menswear was lifted up, though, was The Armoury, which both brought in European artisans and showed such style that many men – including myself – began to see Hong Kong as an unlikely style hub.
Unfortunately I had stopped visiting professionally by then, but that influence quickly spread.
Which took us onto China, where George Wang started Brio in Beijing – by his own admission, a little ahead of the curve for local customers – and has since seen Chinese tastes slowly changing.
We didn't quite answer the question of whether China is going to take over the world. Everyone from Huntsman to Prologue seems to be working with a Chinese workshop these days, but most of the market does seem to still be high-volume, relatively low-quality work.
China is also still very driven by fashion. Classic menswear may just be a trend there. Men are making it up as they go along – their fathers didn't necessarily dress like this, it's not the culture, and there aren't the references.
But like Hong Kong, it's dynamic and changing fast. Tastes change rapidly in China; stores open up every month in Hong Kong, only to close down the next month. That doesn't happen at anywhere near the same speed in the US or Europe.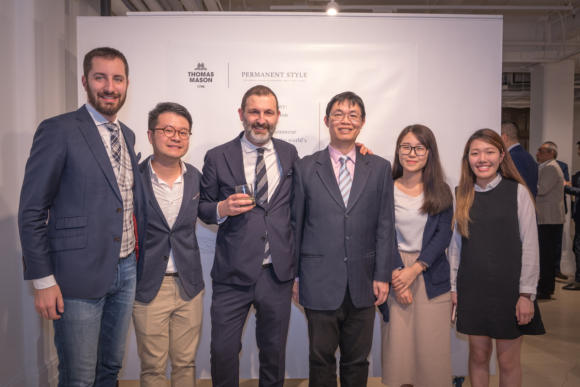 Tobe of Craftsman Clothing represented the newest generation, starting their own businesses in the past two or three years. He's also working in a different market: MTM leather and suede.
As a result of audience questions, we know everyone thinks women's tailoring is hard – but that many such as Albini are moving into it (for shirts). And we know most of these businesses are not at the level where professional services can help them much (apart from being great customers).
Do watch the video, and I hope you find it as stimulating watching it as I did chairing it. Now onto Tokyo.