I've always liked the way Andreas Larsson at Berg & Berg designs - and styles - the clothes for the brand.
In particular, I think his approach to casual chic (I'm sticking with that term) is impressive: he consistently demonstrates effective ways to look well-dressed without a suit.
Separately, I find Berg & Berg's approach to pricing interesting. They consistently produce a slightly lower quality level - in the name of value for money - than most brands we cover. But they've also been on a journey with that approach too.
So while I was in Stockholm last month, I spent a couple of hours shooting and chatting with Andreas about those themes.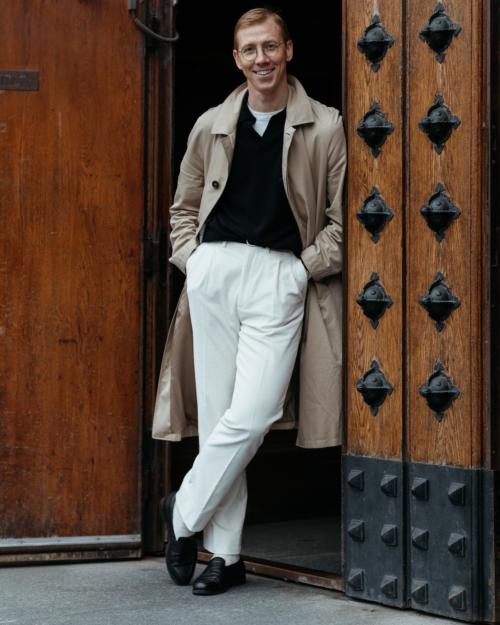 "For me, I think it should be easy to dress, both in terms of how the clothes feel and the combinations that go together," says Andreas (above).
"So I don't like all the fussiness around the 'menswear triangle' of shirt, tie and handkerchief - trying to put together bright, loud or adventurous combinations. It should be easier than that.
"Plus, I think your clothes should be things you can wear, if not on a daily basis, then at least weekly. Not a big collection of accessories that you only wear on occasion. That feels more relevant in 2020. Everything should be safe and easy, but not boring."
I suggest - tentatively - that this is also rather Swedish. "No that's probably right," he says. "We like being under the radar, culturally.
"But also, it's about the environment. There's no point being super colourful when it's going to be dark in an hour."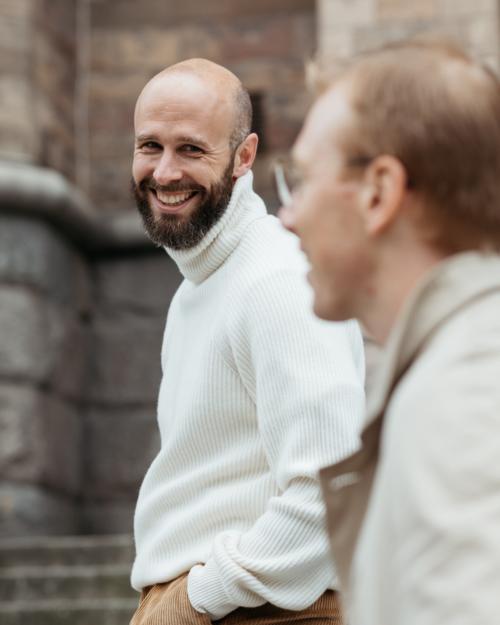 In order to illustrate these points, I asked Andreas to wear something to our shoot that he thought encapsulated this view. And to bring things he would suggest for me.
His choice was a black knitted polo with a white T-shirt, and white cords. Black belt and black loafers; white socks and a white T-shirt. With a mac.
"White trousers might seem a little showy, but to me these cords with a black knit feel super safe. It's white and black - it's simple, you've seen it before.
"Of course, it's not that practical when it's snowy and slushy, or indeed with a kid in kindergarten. But you can't be too precious about these things, it's not healthy. They're just clothes."
For my part, I'd add that white and black are easier to wear in these particular materials. Knitwear and corduroy look a lot less stark than, for example, fine cotton and worsted wool.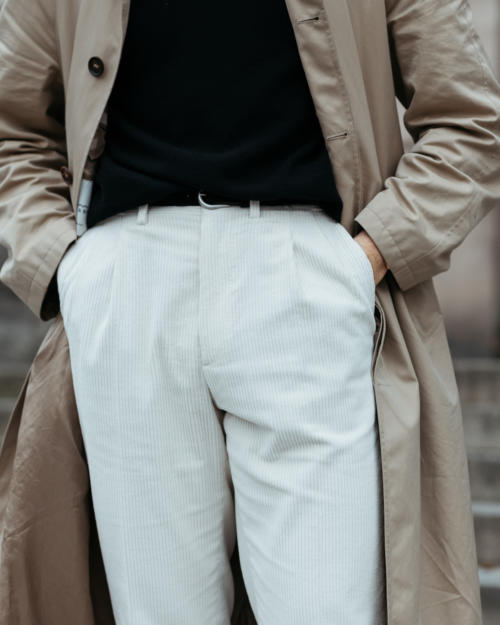 We also talked about Andreas's views on corduroy. Berg & Berg use a lot of it, and I know for many readers it's associated with an older generation, with rural pursuits, and perhaps not that cool as a result.
"I think that all depends on your context," says Andreas. "For me corduroy has always seemed more skate, and punk. But perhaps it's the culture I grew up in.
"I love corduroy because it's soft and comfortable, and it ages well. It's a real pain to shoot, but I think it's one of the few materials that gets better with every wash - more like denim than most other trouser materials.
"I know some people still see it as a velvet - which it is of course - but in our colours I don't think it feels like that."
I suggest that a finer wale than the wide one Berg & Berg typically uses, would feel less velvety. "Yes, that's true, and we have used finer cords in the past. But I think they're better for five-pocket trousers, or narrower trousers," says Andreas.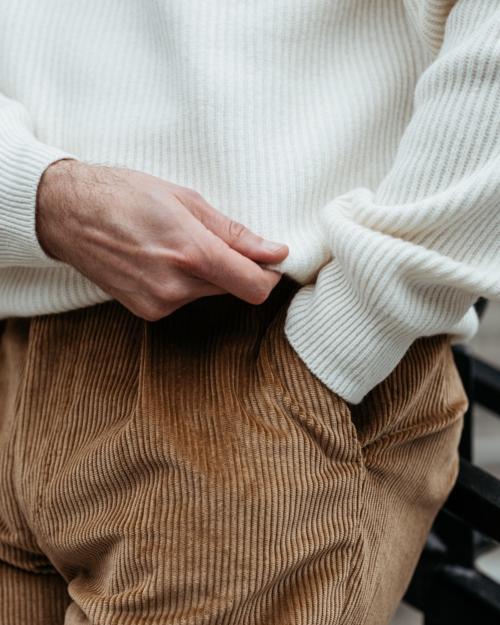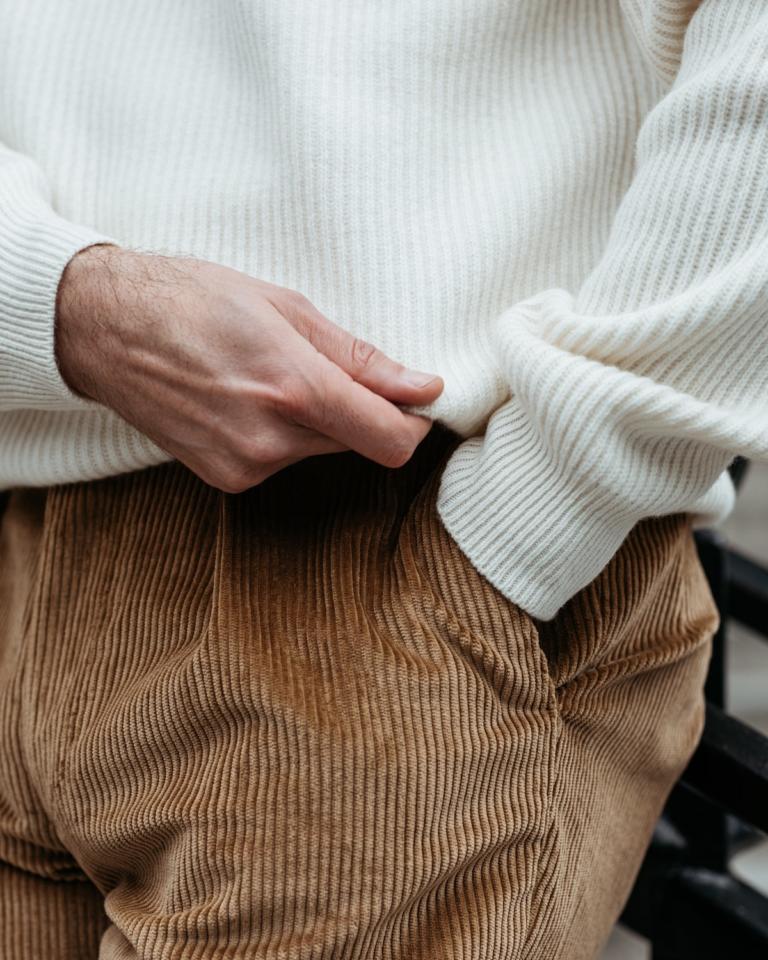 Black can be equally divisive. "I was against black for so long," he says, "like a lot of people getting into menswear. I thought no one looked good in it, that it just looked cheap.
"But actually it has a lot of charm, and it has that same advantage of being simple and subtle. It's great with brown in particular - on the site we've been doing the chocolate brown trousers with black knits, and that's a nice combo. Like some kind of teacher that's branched out into fashion.
(I agree of course - as noted in a few recent articles. In fact, I'd probably wear Andreas's combination, pictured, more readily than I would the cream and tan he picked for me.)
"Even navy and black works well, I think, even though it's not supposed to be allowed," he continues. "Brown and black, apparently, is banned too. I'm still waiting to be arrested for that - and for wearing brown shoes after six!
How about black on different complexions? "That was one of the reasons I never used to wear it," he says. "But actually I think it looks better on my pale complexion that most colours. And I've yet to see somebody that doesn't better in black than in orange, for example."
You heard it here first. Black is the new orange.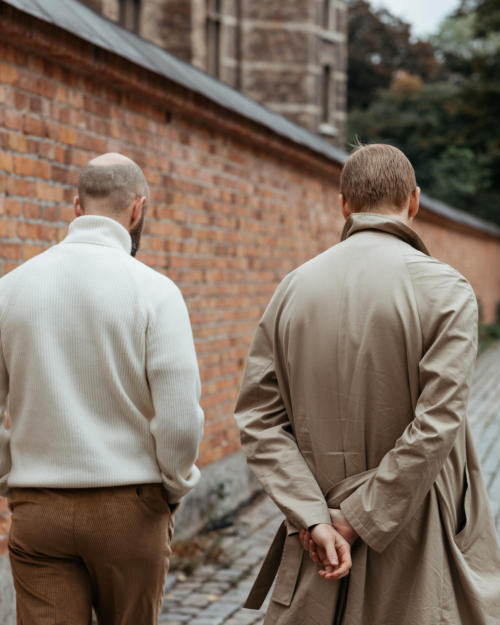 Turning to price, it was interesting to hear Andreas relate some of the story of Berg & Berg. "I think at the start we were very much a price competitor - selling ties, scarves, handkerchiefs, and doing so at lower prices," he says.
"But after a while you realise that can't be your only USP, or at least you don't want it to be. We've grown into a brand, and with that comes more design, more sampling, more service. And we get pressure now because our prices have gone up."
I actually didn't realise their prices had gone up, not being a regular customer. But Andreas agrees that it often happens over the first few years of a brand - because they want to be able to offer different things, and because they come to realise the full costs of running a sustainable company. This is of course something we've covered recently.
"We took the decision to increase our quality in some ways as well, or at least change direction on it," he adds. "For example we switched from using VBC flannel to an English one, because we wanted something that was hardier, that didn't wear through so quickly."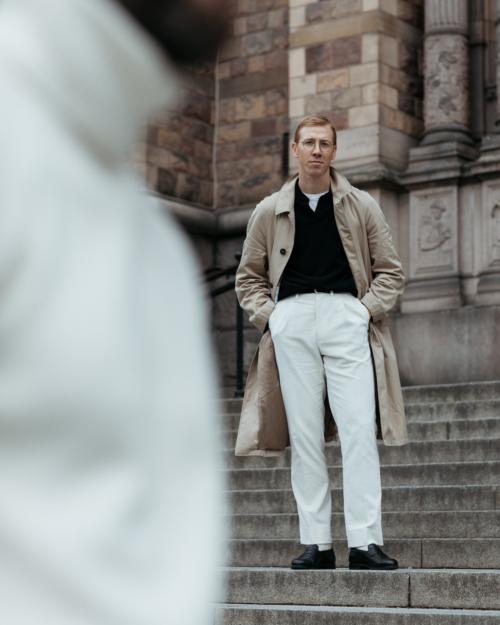 This, I think, demonstrates what drives a lot of the Berg & Berg products. The overriding aim is value, rather than quality.
Now it's very easy to get overexcited when you think something is driven by value. Who doesn't want better value, after all?
But it's not as simple as that.
First, it's accurate to say that most brands we cover on Permanent Style aim for pretty much the best quality. We might cover a range of knitwear between Luca Faloni, Colhay's and Loro Piana, for example, but they're all still near the top of the tree.
Berg & Berg is not aiming there. Its focus is a little way down the logarithmic price/quality curve. More merino, less finishing, certainly no handwork and so on.
In one way, that means they're delivering better value. But at the same time, the nature of that curve means that if you go further down, you get even better value. Until you're just buying coated stuff from Uniqlo.
It's better to think of brands like B&B as aiming for a different level. One which might suit you, if your disposable income is lower. But which might not, if you want to buy something of a higher quality.
"We're not aiming to produce the best possible product," says Andreas. "Rather, we're aiming for what we think is a sweet spot between quality and price. Somewhere in the middle of the road. Which I think is very Swedish too."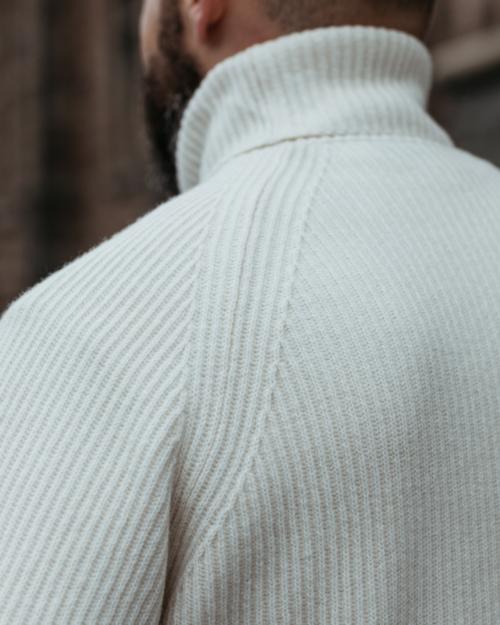 I've personally tried a Berg & Berg shirt, collared knit, cord trousers and the pieces shown on me in the images here. Some of which I've covered in passing before.
Of those, I happily wear the shirt based on its quality and the collared knit, but less so the cord trousers or the roll neck. On the trousers, that's a combination of the material and a fit that doesn't quite work for me; on the roll neck, I'd just be happy to pay more for cashmere. Interested to hear everyone else's experiences as well.
As with other discussions we've had about value recently, I think the important thing here is to realise that no one is ripping you off, and that you're not magically getting the same quality for a lower price. None of these are designer brands: there are no big marketing budgets or Bond Street stores.
And please, don't obsess over value at the expense of style, or fit. Both are more important. You're buying clothes to look good, so be prepared to pay for it.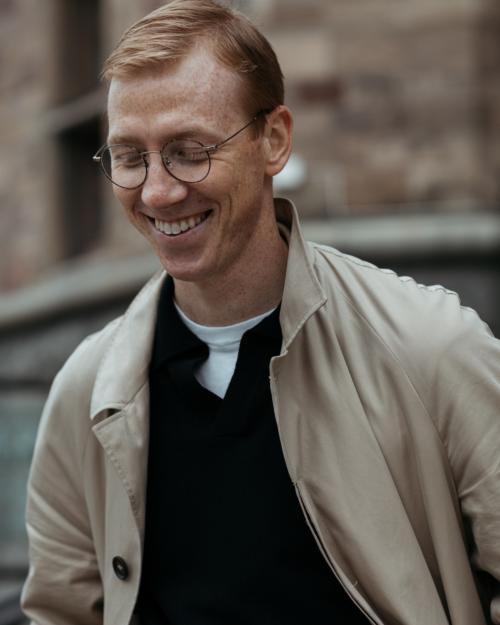 The clothes Andreas and I are wearing are:
Photography: Milad Abedi