The heritage brands of John Simons: Vetra, Dehen, FOB and more
Last week, I wrote something of an homage to John Simons, the retailer that did so much to bring the Ivy League Look to the UK - and in the process, changed it into something more British and working class.
John championed heritage brands long before it was trendy. He brought makers like Bass and Paraboot to the UK for the first time, and has continued to add new makers consistently over the years - not just American, but French, British and Japanese.
The shop remains a lovely place to browse, particularly as you always feel you're likely to turn up something new if you just spend a little more time there, rifling through an upper rack or a lower shelf.
I also love the fact that the fitting room is just the back room. It gives you something to look at while you're taking your trousers off.
For such a small space, there's a lot going on in John Simons. It can be hard to take it all in - despite the pleasant hand-written notes and ever-friendly staff, such as Sean.
So here are some of my favourite pieces to watch out for. Much of it is Autumn/Winter, but often the recommendation is for the brand as much as the particular piece.
The first is knitwear. The shop is the only stockist of Laurence J Smith knits in London, an old Scottish maker that hand-frames all its pieces. Hand framing is a slower, more manual knitting process than large modern looms, and produces an effect more similar to hand knitting.
Also in the knitted category is Italian brand GRP, which does chunky, traditional pieces with old details like long collars, as well as knitted blousons. The navy blouson was something I recommended in our seasonal Top 10 piece.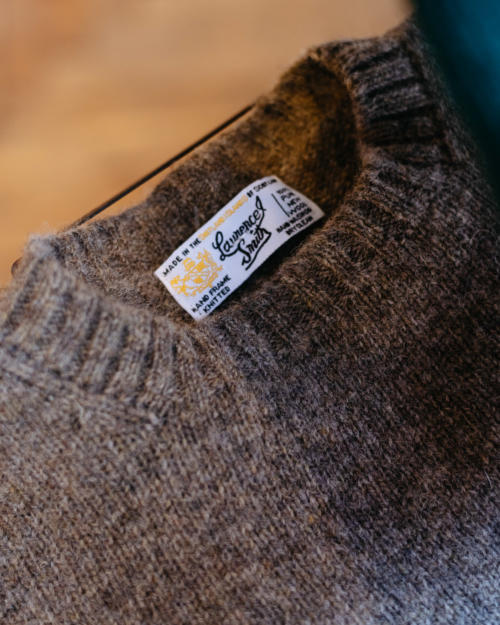 Two great American outerwear brands that John Simons stocks are Dehen and Golden Bear. The latter is the best known for classic US varsity jackets, but of the two I prefer Dehen.
Made in Portland, Oregon, Dehen tends to use heavier melton wools for its jackets, and better leathers. It also does a fantastic waxed deck jacket.
Under the direction of John's son, Paul, the shop has also started doing more of its own brand clothing, usually made in the UK.
The most popular among these is their raglan-sleeved coats, which are made in a wide variety of tweeds (below), and cut to finish above the knee.
Readers won't be surprised to know I'd prefer a longer cut, but they can be made to order, and they are a nice Spring/Autumn weight if you do like something shorter.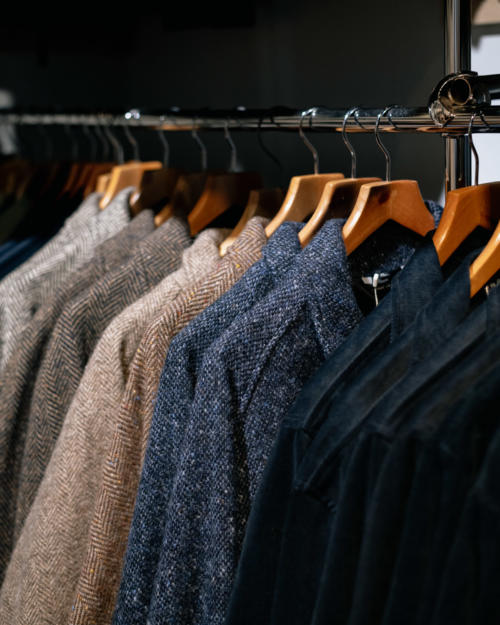 FOB is a Japanese mill and brand, which uses its weaving capacity to produce unusual materials. The cut of their trousers is a little too slim for me, but the bedford cord they use is great, particularly the cream.
They're also good value for a Japanese brand, at £159. Something that could be said for most of the John Simons range.
And there are Pendleton board shirts, typical of the West Coast Ivy look in the 1960s and often worn over T-shirts or swimwear in the evenings. That overshirt style is of course very popular again now, as guys look for something more casual than a jacket.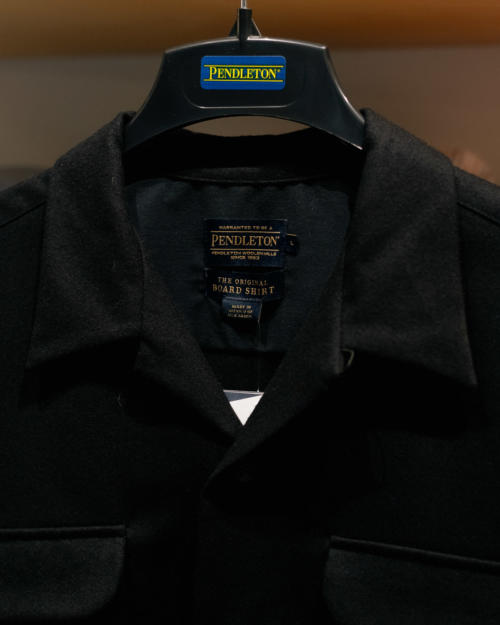 The tailoring in the shop is all in a general Ivy style: soft or unstructured, natural shoulder, straight cut. Usually with a three-button front and patch pockets.
Most of it is under the John Simons label now, but there are a few pieces left by the Japanese Ivy brand 'Boston Tailor'. Paul recalls the founder coming in one day and introducing himself, and then a few weeks later sending several unexpected jackets in the post. "They were beautifully made though," he recalls, "and have been quite popular."
The John Simons tailoring is made in London, like the overcoats, and is completely unstructured. That's one piece I'm holding below, in brown herringbone wool. If you like the straight cut, it's a nice soft-jacket option to wear with jeans, chinos and so on.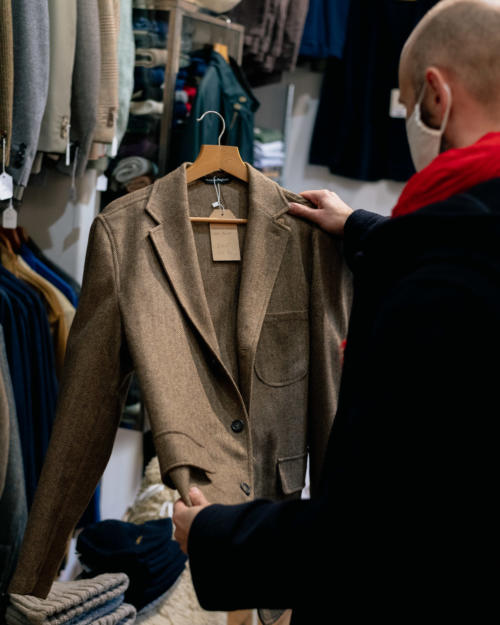 Another nice piece under the John Simons brand is the new 'Mingus' jacket (shown below).
Paul and Sean were actually throwing around names for this style (the models are usually named after jazz musicians) while I was there, and I suggested Mingus. It seemed funny at the time, but actually it seems to work quite well.
The style is a mash-up of the short golfer jacket (think Harrington) the shop sells, and their raglan-shouldered coats. So it's waist length, but with the raglan shoulder and a nice wool lining.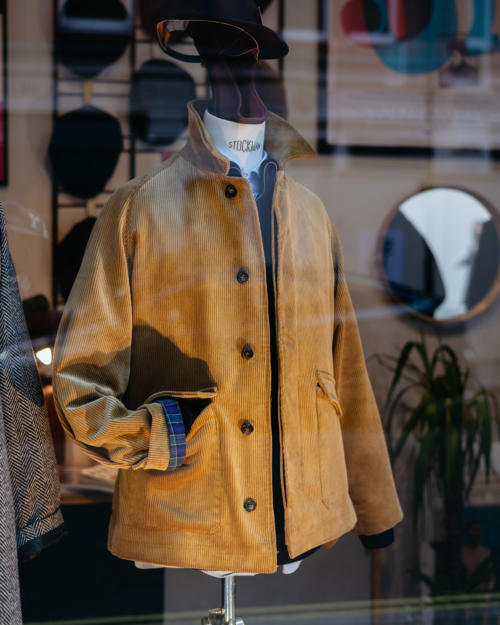 French brand Vetra is best known for its blue workwear jackets, but they do a lot more, including jackets in a more tailored style (curved fronts rather than straight; lower lapel) and trousers.
The piece you can see below (top left) is their classic jacket, but in a green knitted wool, which adds an extra level of malleability, moving it closer to a sweater-jacket.
There are lots of other good brands, including BD Baggies shirts, L'Impermeabile coats, Schiesser underwear and some Harry Stedman dead stock. But those listed above are the ones I think will interest PS readers the most.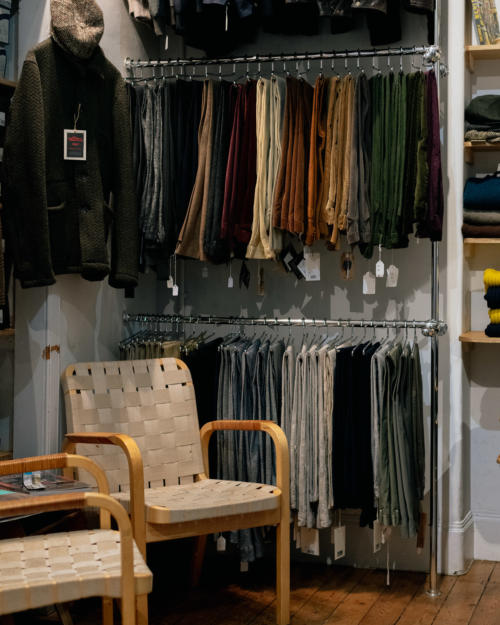 As mentioned on our previous article, the John Simons website is relaunching soon. It's needed a little love for a while. I'll add a link here, and put a story on Instagram, when it has done so.
That previous article does a better job of explaining the Simons style, and its relevance today. I also recommend the film on John, 'A Modernist', written by Jason Jules, if you want some first-hand stories.
Photography: Alex Natt @adnatt