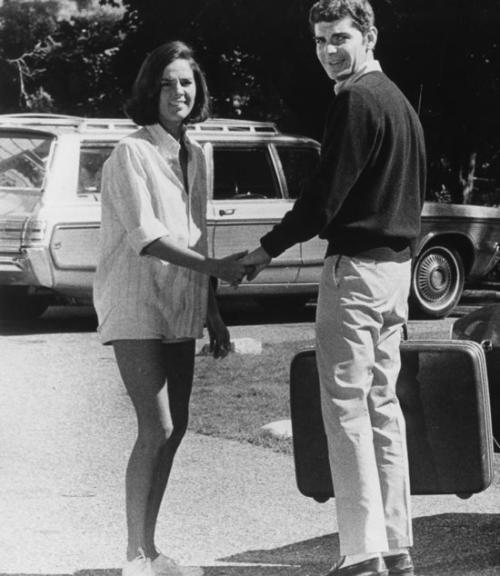 At our Ivy Style Symposium two years ago, I said I thought that this most American of fashions was particularly suited to our times. My opinion has only been reinforced since then.
The collegiate attitude of casually throwing on a mix of clothes – dress shirts and sportswear, shorts and shetlands – fits especially well into our dress-down times. As does the emphasis on comfort, and on quality.
We want to wear clothes easily, without fuss, yet look good. We want to be unrestricted, and buy fewer things – perhaps even things that look ever better with age.
This is Ivy. And among the various pieces that make up the Ivy League Look, the category that attracts me most is the shirt.
King among these is the oxford-cloth button-down, or OCBD. It has to be the only shirt that's ever been versatile enough to wear with suits, with jeans and with shorts (at least within the Ivy tradition). It is flexible, comfortable, and stylish in an impressively unfussy manner.
This latest article in our Shirt Style series looks at American shirts in general, not just the OCBD. But that is the lodestar of the style.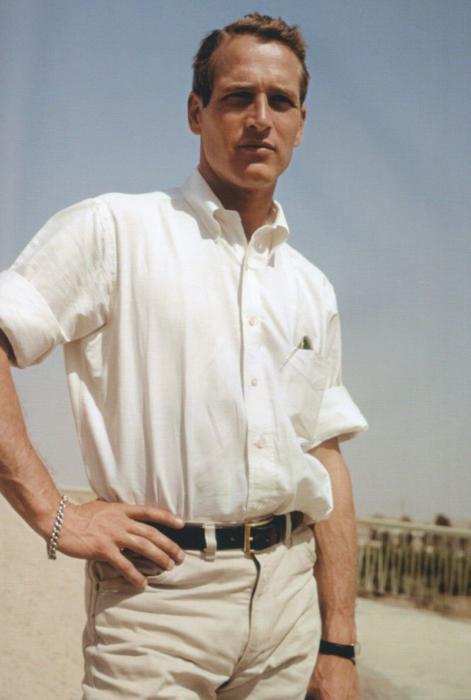 Over the years, Ivy has gone from being a preserve of the Eastern Establishment in the US, to something much more universal. Aspiration was a big part of this, particularly in the 1950s. But it was fashion brands such as Ralph Lauren, and the preppy trend in the 1980s, that really made it more broadly American.
Before all that, there wasn't much difference between most American shirts and those found in Europe. Shirts were generous in cut, but then so were those in England. They had point or moderately spread collars, and featured both single and double cuffs.
It was the ascendancy of shops like Brooks Brothers, J Press and Gant after the Second World War that started to put a stamp on the American shirt – as the Ivy style that had previously been so niche began to spread to the rest of the country.
We have Brooks Brothers to thank for the button-down collar, for example – although Gant also did much to popularise it, as the first to introduce ready-made versions at Yale. Gant later gave us the locker loop, while Brooks claims the breast pocket (though it periodically dropped it) and the unlined collar.
J Press meanwhile, which often took an alternative approach to Ivy, gave us the flapped pocket version. "Which was much more stuffy, more pipe-and-tweed," says Christian Chensvold, writer and founder of Ivy-Style.com.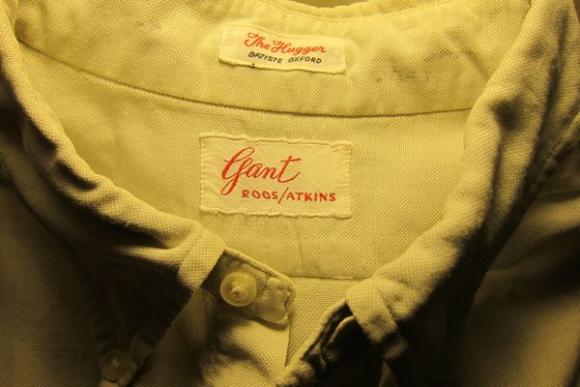 Christian has written on Ivy style since his site started in 2008, and was one of the people I spoke to for this piece. "Think of the OCBD as one part of a Venn diagram, with the other half the more straight-collar style worn in the rest of the country," he says. "Over time, the overlap between those two grew, as the button-down shirt became increasingly popular."
Fellow writer Bruce Boyer has a nice term for that other, standard-collar style – the 'mid-western grain salesman' look. "A very plain style, basically," says Christian. "Two-button jacket, darted but boxy. What you saw mostly in Hollywood, and epitomised by Ronald Reagan in the 1980s. Nondescript."
As mentioned, one thing that drove the OCBD's increasing popularity was aspiration – something nicely captured in Mary McCarthy's 1942 story, The Man in the Brooks Brothers Shirt, where the titular shirt is a sign of status for Mr Breen, a steel salesman from Cleveland.
But later the Ivy look seeped into the broader consciousness just because it was fashionable – during its heyday in the 1950s and 1960s. "Part of the Ivy League story is that many adopted it without knowing its origins – not because it was something they were born into, or were coming into by going to college," says Christian. "It just became part of the American style." And arguably, it was the first men's clothing tradition that America could really call its own.
Ivy suffered a decline in the late 1960s, as fashions do. But it came back with a vengeance in the 1980s, as prep spread similar looks across the country. And then there was the modern revival from 2010 onwards, which had much to do with the growth of menswear as a whole, but was helped by the republication of Take Ivy, an exhibition at FIT, and the growth of interest in heritage brands.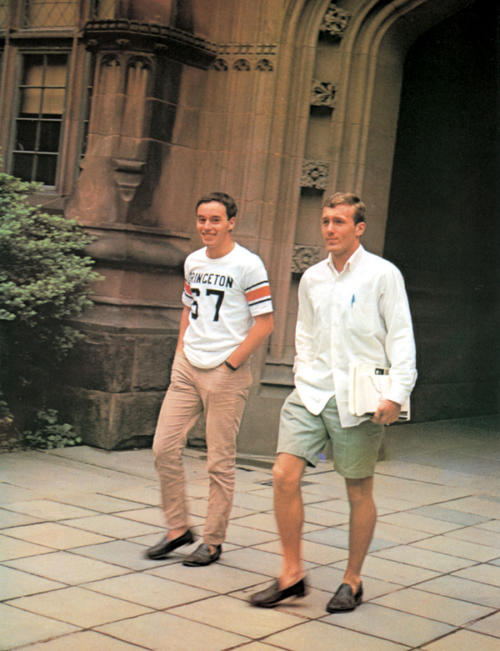 If the cultural significance of the OCBD is expressed at the start of this period by the Mary McCarthy story, a nice example from the end of it is the 1990 novel The Final Club by Geoffrey Wolff.
In it, the hero Nathaniel is attending Princeton in the 1950s, but comes from Seattle, Washington. He is is not of that world, and throughout the book, it is clothes that make this difference most obvious – in particular, the shirt.
On the journey to school on his first day, he describes seeing these people and their attire: "Here was Nathaniel's first sight of a gathered tribe…They were being seen off by clots of tanned moms and bluff, red-faced men wearing (like their sons) pink-soled white bucks or saddle shoes, and Brooks Brothers blue button-downs, white button-downs, yellow button-downs, pink button-downs.
"No pockets, a roll to the front of the ample collar. Nathaniel didn't note (then) the specifics of these shirts, but he should have."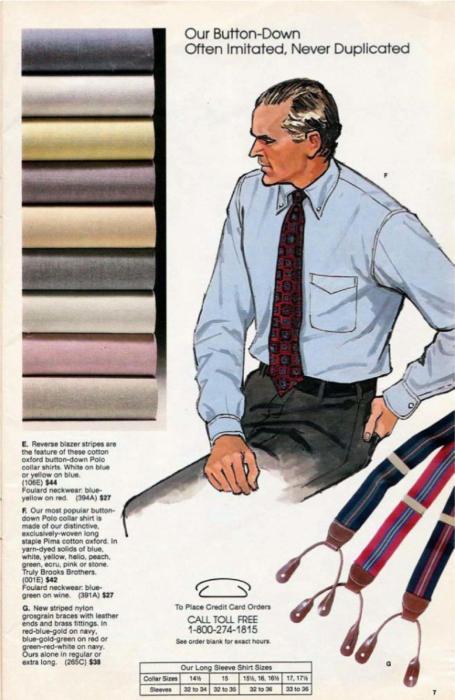 It is these specifics which, at the time, were closely noted and used to separate social 'types'. Those new to the world, like Nathaniel, had to try and fit in as best they could – resorting to things like sandpapering their collars to make them look old and worn-in. Not everyone could wear, like a peer of Nathaniel's, 'Booth', "[a jacket in] houndstooth, cut for his father on Savile Row by Huntsman during the Battle of Britain".
Still, while there was a consistent snobbishness around Ivy League attire, I think it's significant that the aim was always to appear relaxed, and unfussy. Booth, for example, is forced to rescue his father's jacket "from foppery" with "a black knit tie and faded blue canvas Top-Sider sneakers, spattered by specks of bronze boat-bottom paint."
Apparel Arts at the time called this "the studied negligence that is taken as the standard of good taste among college men".
This point came up time and again during our Symposium. Speakers like Richard Press, grandson of the J Press founder, set out how Ivy was about mixing clothes genres, whether artfully or not. And therefore obsessing about 'rules' around Ivy today was a contradiction.
A big part of the appeal of Ivy for me – and indeed similar traditions in Britain, in France and elsewhere – is of 'how great things age'. It is the fraying cuff on a favourite shirt, the worn elbows on a jacket. It is part of the epoch- and cultural-crossing consensus that fussiness in men is unattractive.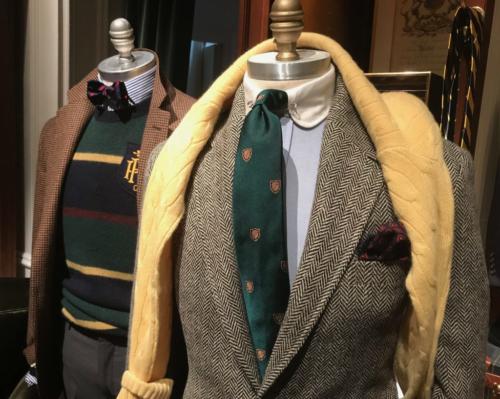 Returning to shirts, what else deserves inclusion in this brief American survey, other than the OCBD?
There is Madras fabric, of course, which became so popular at the time. Gingham, too, though it's less specifically American. The pinned club collar (above) was closely associated with Ivy, and there's a case that this kept the style going.
There are also holiday shirts perhaps, short-sleeved and very square. But these were both common elsewhere in the 1950s and 1960s – even if movies and series like Mad Men mean that we always picture American men wearing them, as they host a barbeque in their garden, drink in hand.
Pink shirts also deserve a mention. There was a famous article in LIFE magazine in 1955 which credited Brooks Brothers with 'inventing' pink, or at least making it acceptable for men. It was illustrated by the image below, of a man surrounded by pink in every aspect of the wardrobe. But shirts are the focus.
"Like most male fashions, including the Ivy League Look, this pink hue and cry has taken some time to develop," runs the article. "Sole responsibility lies with New York's Brooks Brothers, whose pink shirt, introduced in 1900 but long unnoticed, was publicized for college girls in 1949 and caught on for men too."
Men are, of course, mostly cowards when it comes to clothing, afraid of sticking out or looking silly. So a tradition like this around a pastel colour helps a lot. There's even a theory that the adoption of pink kick-started the whole 'go to hell' look in the US, which managed to make many bright colours acceptable, particularly in trousers.
It's also a reason the growth of 'prep' in the late 1970s and 1980s could include so many bright colours of polo shirts – pink and green being the most obvious.
The Ivy shirt has much to recommend it. Less the fussing over collar linings or the number of buttons on the front, but more its versatility, and easy style in a myriad of situations.
"Ivy shirts have seen a real renaissance in the past decade," says Christian (above). "It's getting harder and harder to find a soft-shouldered, straight American suit, but there are lots of companies offering great Ivy-inspired button downs in the US. Mercer & Sons is one, and just today we published a story about a new one, Junior's."
Over in Europe there are the PS oxfords, of course, but also Jake's in London, Anglo-Italian's OCBDs, Brycelands' perfect oxford, even Rubato shirts. In fact, among crafted menswear brands there may be more shirts that feel the influence of Ivy than don't.
Rubato in particular, with its easy cut and mixing with sportswear, shows that influence – even if the colour palette is much more Scandinavian (see image below).
It could seem ridiculous to an outsider, to spend so much time scrutinising the details of a style that grew up in American almost 100 years ago. No one, they may well say, dresses like that today. But actually, Ivy's influence is all around us. It's in the hiking fleeces at Urban Outfitters, the button downs at Arket, and countless things at Gap, Hilfiger, Ralph Lauren and others.
Being able to see that influence makes it easier, and more satisfying, to dress with the same style – and just as importantly, the same frayed, faded attitude.
This is of course merely a summary of what is a very large area. If you want more, there is no better place than Christian's website, Ivy-Style.com. I particularly recommend his full essay on the rise and fall of Ivy, here.