The best things from the pop-up: Bryceland's, Colhay's, and on to Scott and Masaru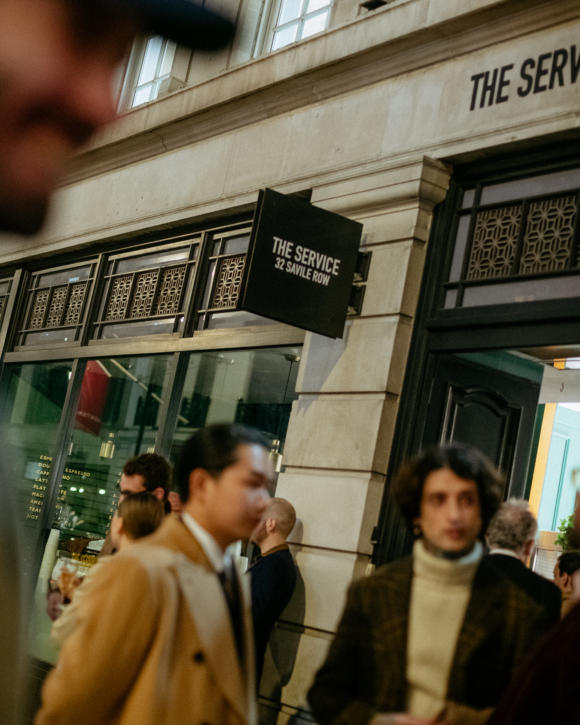 This was so lovely. The opportunity to see readers in person for the first time in two years, and such great products to show them.
Before the party kicked off, I made sure to try on all of the Bryceland's products I hadn't seen or tried before.
My favourite by far was the lounge jacket. Styled as a tuxedo, with grosgrain lapels and piping, it has a wonderfully broad lapel, with a low belly. The material is a black Fox wool, but it's made to order generally so you can pick a range of materials (cream and grey shown on the Bryceland's website).
Most importantly, it looks very elegant yet feels like a dressing gown. And the trousers have a tie waist, but then you'll never take your jacket off with black tie, so it won't be seen anyway. Definitely worth a try on if you come to the shop in the next 10 days.
The down jacket and down vest I've been looking forward to trying for a while. The latter is cut pretty short and large, even for a gilet, but is designed to sit over the top of even outerwear like a blouson or denim jacket.
The down jacket works better for the proportions I normally wear, and is in a nice matte-black. Made to be as practical as possible, the shell is a nylon/cotton mix and the fill the most efficient mix in terms of warmth and value - 90% down, 10% feather.
The other things I hadn't tried were the frogged-button shirt and the farmer's smock. The latter might be a little too much style-wise for me, but the collar is a nice height - often a band-collar like this can be too skimpy, and not great on anyone that finds a normal shirt collar flattering.
Most of Ronnie's stuff at Colhay's has been covered already, most recently in our Autumn/Winter Top 10, but it's worth coming in just to try the shawl coat - basically a shawl-collar cardigan but the length of a dressing gown.
The weight is often the issue with long knits like this, but the lambswool Ronnie uses is pretty light, and it's quite open, so overall weight isn't an issue.
And try on the cashmere shirt cardigan. I'm still not sure about it how I'll wear mine, but it's certainly not as light and flimsy as some cardigans like this that are designed to be worn as shirts too, so it has that on its side.
Tony's brand, AWMS, is on the small table in the middle, and he has his new collaboration with Crown shoes - leopard-print Belgians - plus the berets and new 'alumni' scarf.
There's also a cracking cricket sweater - only for teasing purposes only, as it's not available yet - and some cheeky slippers made in various vintage cloths.
From Wednesday of course, shoemaker Masaru Okuyama will be coming to the shop, which feels significant to me, as one of the first Japanese makers to be here in London.
And from Thursday, Scott Fraser Collection will be replacing Colhay's.
A lot of what SFC does starts with the trouser as a foundation - be that with coloured panel knit shirts, or a drapey cuban collar shirt. So they will be bringing their two most popular cuts - the classic wide leg (straight cut, wide and high waist) and the Empire waist trouser (Hollywood waist with a wide leg that tapers to the ankle).
These will be available in a size breakdown, and a selection of about 25 fabrics to order from. Then there will be a size run of the Cuban-collar shirts, a selection of accessories (hand-made in London belts, pocket chains and vests) some current collection pieces for MTO, and stock of the popular Ripley knit - Scott has ordered some specifically for the weekend.
Finally, Scott will be bringing a hand-picked set of vintage Italian knit shirts from the 1950-70s. He has been collecting these shirts for the last 15 years and plans to bring out some of the highest-grade for these few special days on the Row.
One more unique reason to come along.
Permanent Style Presents is at The Service, 32 Savile Row, from today until November 7th.
Full details on the dates and opening times here