A view on emerging Chinese shoemakers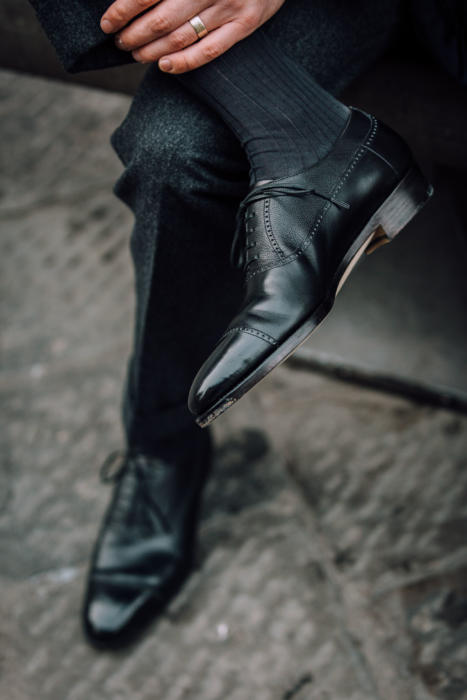 Over the past two or three years, a group of mostly Chinese shoemakers has come to prominence for making high quality, usually hand-welted shoes at relatively cheap prices.
I've experienced some of these, and talked to those in the industry about others. Given the questions that have been starting to pop up from readers, I thought it would be useful to set out my general thoughts and reflections on them. I may then cover some in more detail later in the year.
It probably shouldn't surprise anyone to learn that the shoes are cheap(er).
The lower labour costs in China make everything less expensive, from constructing the shoes themselves to the price paid for lasts (everyone seems to use the same lastmaker, much like Springline in the UK).
A pair from Chinese brand Yearn, for example, costs £370 (inc. VAT). That's not only hand lasted and hand welted, but the outsole is sewn by hand as well. Work only a bespoke shoe in Europe has, at several times the price.
Of course, that's assuming the quality of materials is the same, which they may not be. That's something best assessed in a fuller review, with the shoes having been worn and worn and worn and polished.
But you can certainly see why these brands would appeal to someone that aspires to a top-end English or French maker, but can't quite afford them.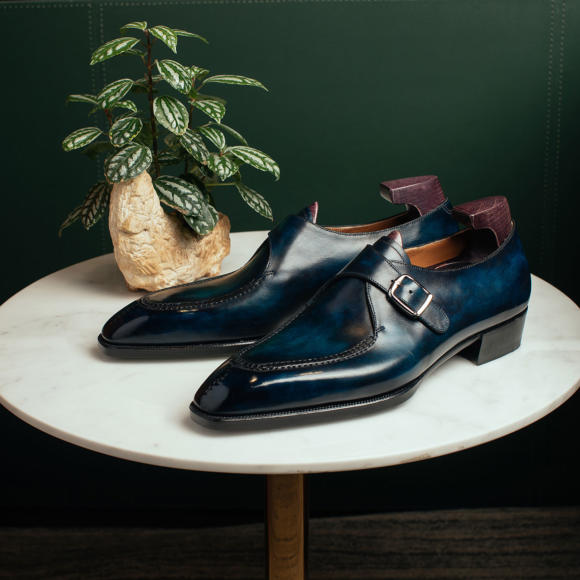 Most of these makers are not new. The people running the workshops have often been doing so for 20 or 30 years, largely supplying Chinese and Japanese domestic markets.
The difference is that they're now specifically targeting the west, and tweaking the way shoes are made to give them bespoke or high-end touches (bevelled waists, pitched heels) or introducing familiar designs.
Often the driver of this change has been local shoe enthusiasts, in China or Hong Kong, with an awareness of shoemaking in the west. People like Maslow So at Mori, Phoenix Fu at Yearn, Jerry Tong at Prologue/Takano Keitaro and others have brought their knowledge of western markets to existing producers, just as others have done with Spanish makers in the past.
The workshops in China vary considerably in size, location and exclusivity. One of the largest, TGC in Shanghai, makes for Yeossal, Oct Tenth and does some of Mori's process. Yearn uses a workshop that has a domestic brand called Slim Shoes, while Acme - shown above, probably the best regarded currently - has its own small operation.
They're based all around the country, in Beijing, Shanghai, Hong Kong, Guangzhou and Chengdu.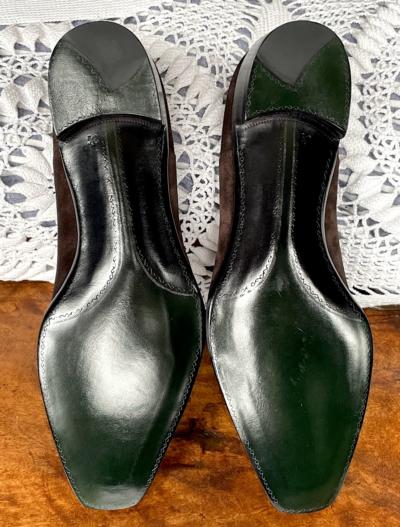 So far I've tried three, mostly when I've come across them, or they happen to get a UK distributor. Those are Mori, Yearn and Takano Keitaro. I'm also in the process of having a pair made at Acme.
I've been very impressed with all three, particularly with the fineness of the make, which would be good even at a much higher price.
The aforementioned pitched heels and bevelled waists are a consistent feature, while they revel in decorative touches like the edge pattern, shaped heel rubber and painting on the sole of my Takano Keitaro pair above.
But even subtle points like the segue from sole to heel on the side - often an area where makers like Alden show their roughness - are nicely done.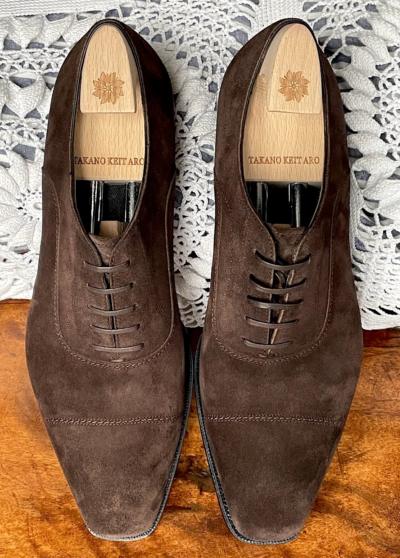 However, I have also found little mistakes and consistency issues.
The first pair of Mori shoes I tried, for example, had an issue with the sole coming away at the front. That was four years ago, and is now not an issue apparently, but I'm waiting for a follow-up pair to try again.
The Takano Keitaro pair had an interesting pattern of stitching on the upper, with three different lines in places. But the line on each toe bent in a different direction - one slightly forward, the other slightly back (above).
And the Yearn shoes I tried had an antique-like patina, but one which wasn't applied to some of the tongue, leaving a small semi-circle of colour at the top (below).
These are only three instances of course, but the makers said they were caused by production issues, so it feels fair to say that some of the workshops are having problems making new styles or to new standards.
By comparison, in the dozens of Northampton shoes I've owned or tried over the years, I've only come across a similar issue once, with Alfred Sargent.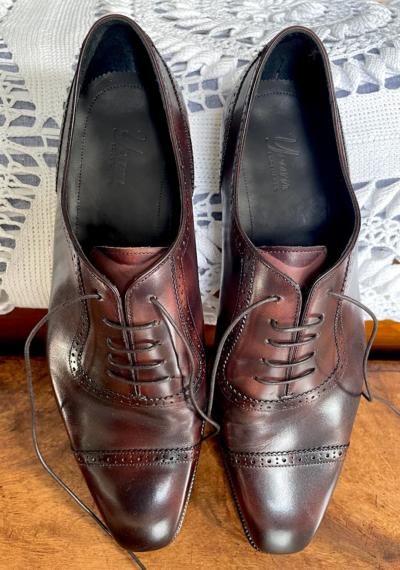 Another thing worth highlighting is that some of the Chinese makers tend towards a certain style, characterised by slim lasts, often chiselled shapes and slightly flashy styles.
The green soles on that Takano Keitaro pair are a good example, and the two Yearn pairs I tried both used a version of museum calf, with its patchy aged look. I know many shoe enthusiasts like this effect, but for me it always looks fake. Certainly, it is aimed at customers with a particular taste.
The lasts meanwhile, I found too slim for my feet in a regular E fitting most of the time, and was recommended to try something wider.
One of the brands put this down to local taste: "Asian people generally have shorter and wider feet, so they want the opposite - something that is long and slim," they said. Which makes sense, although if people have feet that are shorter and wider than mine, I would have thought these lasts would be even harder to fit.
These are all generalisations of course. Everyone does wider fittings, and there are very conservative styles alongside the bolder ones. But based on my experience so far, the tendency does seem to be more towards a French aesthetic or at least, in the UK, a Gaziano & Girling, rather than something more classic.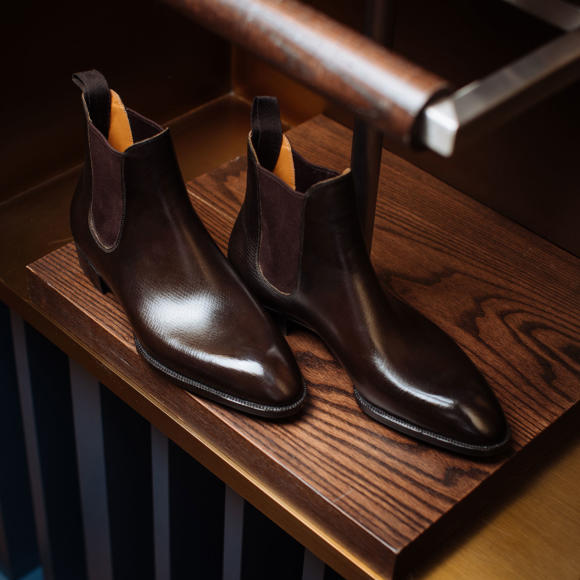 One of the people I spoke to for context, alongside a few at brands, was Justin Fitzpatrick, an old friend and the founder of The Shoe Snob. He has tried and written about several of these makers.
"The brands and their quality have come a long way in the past few years," he says. "It's all happened very quickly, and been very impressive. I have seen some have some teething issues though, which is probably inevitable when you're setting up a new operation or introducing new processes.
"I think for the moment the market is mostly limited to guys that really want a shoe with bespoke aspects, but can't stretch to those makers elsewhere. It will only be when those issues are ironed out, and the brands start to have stockists in Europe or the US, that they could become a threat to the established shoemakers."
I probably agree. As a western consumer that can afford the top RTW makers, I'm not going to ship shoes back and forth from China, particularly if there are any production issues or the sizing is hard to get right.
It's good to save the money of course, but I'd prefer to walk into a shop here and try everything, see the product up close, and have someone to go back to with any problems. And when there are stockists and shops over here - or at least trunk shows - the Chinese brands will probably be a little more expensive.
Still, that doesn't mean I won't continue to cover them, so everyone can make up their own mind. The first full review will likely be of Acme, in a month or so.
If anyone would like more detailed information on the Chinese makers, and others from around Asia, check out the articles on Justin's blog here.
The shoes pictured, top to bottom, are: Mori, Acme, Takano Keitaro (sole), Takano Keitaro (upper), Yearn, Acme, Mori.