The guayabera shirt: A report from our man in Mexico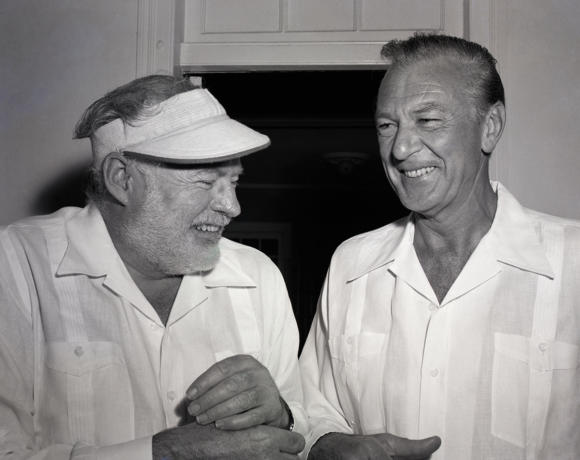 By Manish Puri
If the average PS reader is anything like me (and after nearly a decade of reading I've no reason to believe they're not) then the standard holiday wish list might read something like: good food, a nice drink, a museum visit, a friendly chat with some locals (which often follows the nice drink) and a nose around the menswear stores.
Which is why, during my recent travels around Mexico, in between drinking in culture and drinking in Mezcal, I was hoping to look at and, baggage allowance-permitting, acquire a guayabera.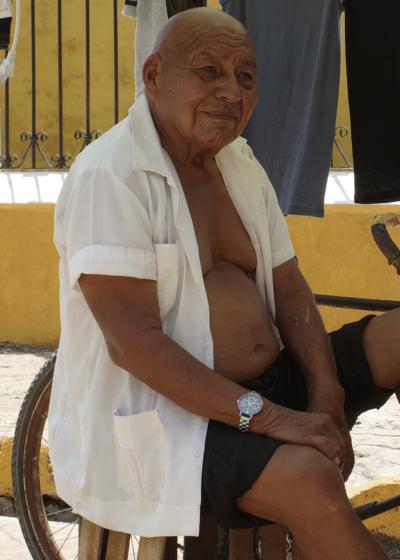 The guayabera is a men's summer shirt to be worn outside the trousers and the clásico style - as worn by Ernest Hemingway and Gary Cooper (top) and a market trader in Izamal (above) - is traditionally finished with:
Four patch pockets
Five sets of vertical pleats called alforzas – two running the length of the centre of the left and right front panels of the shirt and three running down the back.
Buttons on each of the four pockets and at the top and bottom of each set of pleats.
A western yoke across the back of the shoulders which, coupled with the three sets of alforzas, resembles the Cuban flag (more on that later).
A straight hem with button vented sides.
Most commonly made in white algodón (cotton) or lino (linen), which is the more expensive option.
Whilst cheaper guayaberas might have pre-pleated strips sewn to the shirt panels, the best will have the pleats carefully folded directly into the fabric. These pleats are a beautiful adornment to the shirts and showcase the skills of the makers, but they also allow the shirt to flex accordion-like as the wearer goes about their daily tasks.
Of course, in keeping with so much of the classic clothing covered on Permanent Style, this traditional design isn't the destination, merely the starting point.
Today you'll find a multitude of variants in the guayaberias across Mexico: no pleats, wide or fully pleated fronts (the Presidencial style below), every colour under the sun, vented and unvented sides, two pockets, jetted pockets, no pockets…the list goes on.
I also found shirts made from henequen (sisal) - a fibre derived from the agave plant. Mayan culture has a long tradition of using sisal (also known as green gold in these parts), its natural strength making it ideal for producing ropes, nets, rugs and hammocks.
The sisal shirts were soft and creamy (their natural undyed colour) and had a thick, crepe-like handle.
Most styles of guayaberas have a standard shirt collar but banded-collar shirts called Filipinas (more on that later as well) are also popular - as worn below by a young man (and the immaculate chap in the background) I saw at the weekly Serenata de Santa Lucia music event in Mérida.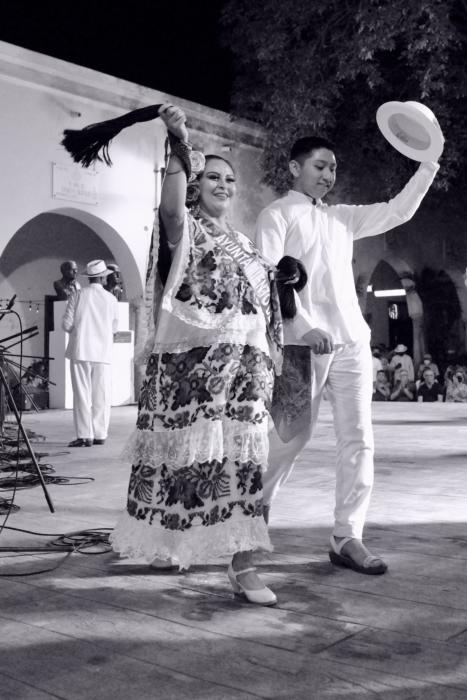 Guayaberas come in both short sleeves and long sleeves, which gives them something of a split personality.
The former is for daily use, both socially and professionally for waiters, hotel staff, big band musicians and so on. This is one of the reasons why even the finest shops will stock poly-cotton blends – there is a large demand for inexpensive and durable makes.
The latter is considered appropriate for the most formal of occasions.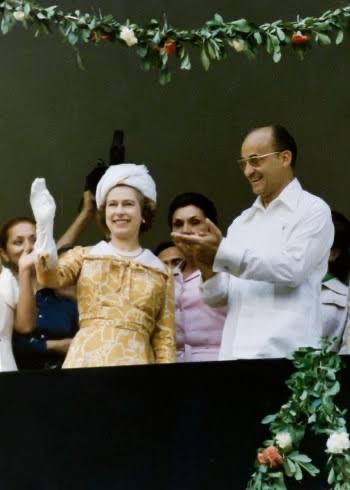 Indeed, in parts of Mexico the long-sleeve guayabera is worn by businessmen and politicians - former president Luis Echeverría was an avid proponent (above with Queen Elizabeth II in 1975, sporting a guayabera with French cuffs).
It's also typically worn by men at weddings - made from the best fabrics and replete with intricate and colourful embroidered panels.
For me, nothing symbolised the guayabera's formalwear status more than this amusingly familiar icon of ironic non-conformance - a guayabera printed on a t-shirt.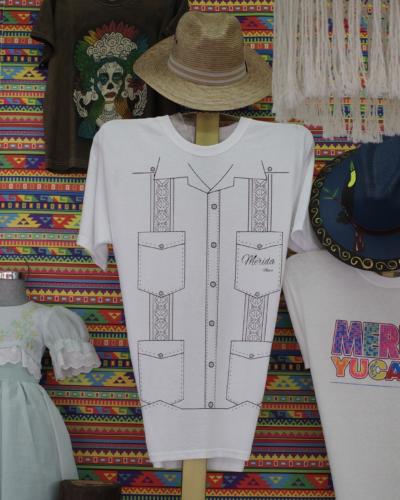 From what I could tell, the only design component that was a constant across all models was the straight hem - curved hems are only found on the shirts made for the growing women's market.
I won't go into detail on the history of the guayabera - I don't purport to be an expert or anything other than an enamoured outsider.
However, there are numerous theories on its origins. Is it a distant relation of the Filipino Barong Tagalog? Was it originally a Cuban workwear shirt designed to carry guayabas (guavas) and brought to Mexico by the wealthy Yucatecans who shopped in Havana's glamorous El Encanto department store? Was it named after yayaberos - the name given to people that lived by the Yayabo river in Cuba (and where there is now a guayabera museum).
The truth, like the alforzas, is difficult to unpick.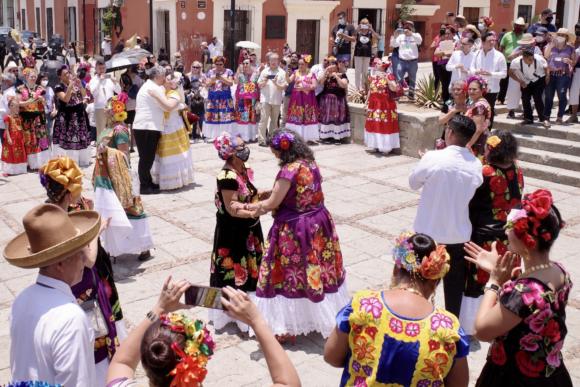 The first part of my travels took me through Mexico City, Puebla and Oaxaca de Juarez, where I saw very few guayaberas in the wild until we stumbled across a magnificent Oaxacan wedding party in the square outside the Templo de Santo Domingo de Guzmán.
Most of the male guests were wearing crisp, white guayaberas and black trousers; as was the groom, whose shirt was finished with yellow embroidered panels to harmonise with the stunning yellow and white traditional dress worn by his bride.
Despite this sighting, my research suggested that, while I would certainly find guayaberas in these cities, they wouldn't necessarily be the best places on my trip to find them. Most of the shops I visited were camiserias - shirt shops that stocked guayaberas as part of their wider range. I also found a lot of the shirts were made of poly-cotton or cotton and struggled to find any in linen.
However, I did take some encouragement from these visits: most of the better quality guayaberas had labels stitched into them that said "heche en Mérida" (made in Mérida).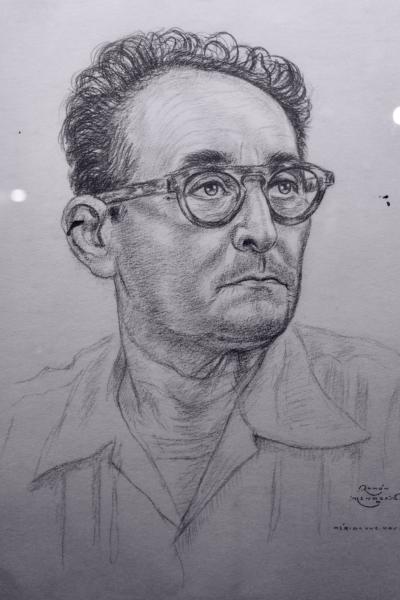 Mérida is the state capital of Yucátan and I was flying there after Oaxaca de Juarez. I'd been told that I would have little difficulty finding high quality guayaberas in the city and throughout Yucátan - the state having become a centre of production after the end of the Cuban revolution made it harder to procure shirts from Havana. Indeed, in Mexico the guayabera is also known as the camisa de Yucatán (Yucatán shirt).
The scent of guayaberas thickened in my nostrils upon landing at Mérida International Airport. I noticed that a few men (young and old) were wearing them. Whilst waiting for our backpacks to be unloaded from the plane I dashed off for a comfort break and my heart cheered when I saw the pictogram for the men's toilet was also wearing a little guayabera. The game was afoot.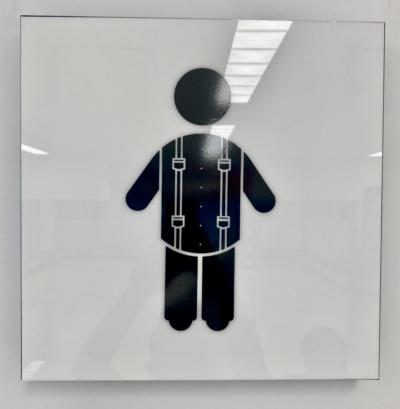 Once in town, guayabera stores were liberally dotted around Mérida's Centro district - Calle 59 and 62 in particular. In keeping with shopping in the central zone of any tourist-friendly city, one has to be careful of buying not-so-good garments masquerading as good (I was specifically warned about poly-cotton blends that are woven like linen and sold at the equivalent price), or buying good garments at inflated prices.
For a solid range of classic guayaberas in a variety of colours and cloths (including Italian and Irish linen) I liked Guayaberas Jack - prices from MX$500 to MX$2000 ($25 to $100) and they ship to the UK and US.
A lot of their stock is made on-site in a small workshop at the back of store, so when I enquired about the availability of a short-sleeve version of a long-sleeve shirt that I took a shine to, General Manager Billy pointed at four machinists taking a coffee break and said they could make the long sleeve into a short sleeve in 10 minutes.
However, of all the shops I visited the one that stood apart was Katab Guayaberas, a small boutique owned by Alberto Rello (below left) and managed by Maru Bautista (right) – prices from MX$1000 to MX$3000.
Alberto has been selling guayaberas for over 20 years and I spent a couple of hours with him and Maru discussing the brand; Maru performed sterling translation work and any gaps were filled with my Duolingo Spanish, hand gestures and Google translate.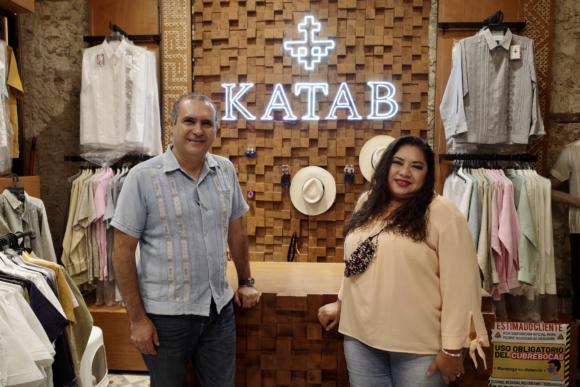 Katab carry two labels. The first is La Plaza del Recreo which is their casual line, with most shirts made from cotton and poly-cotton and designs that lean towards the simpler, more informal end of the spectrum.
I loved the classic Cubano model (below) and since my visit I've been messaging Alberto and Maru about having a short-sleeve version made up in a mustard linen.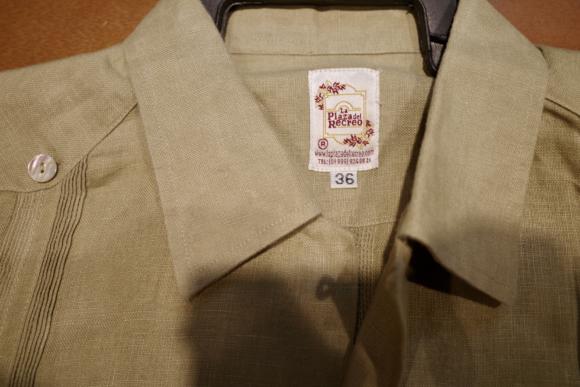 However, it was the eponymous Katab label that drew my eye. This is Alberto's premium line with shirts made in Italian linen and linen-cotton blends and finished with polished mother of pearl buttons.
These guayaberas are for more formal occasions such as parties and weddings, so the details on some of them might be a little showy for readers – contrast collars and plackets, for example – but these can be changed with made to order purchases.
It's worth noting here that these types of flourishes aren't unique to Katab: a lot of the guayaberas I saw in Mexico were aimed at younger people that are keen to wear these shirts but are equally keen to avoid looking like an elderly relative. Alberto said most of his customers are 35 to 55 years old, but the 20 to 30 year old base is growing.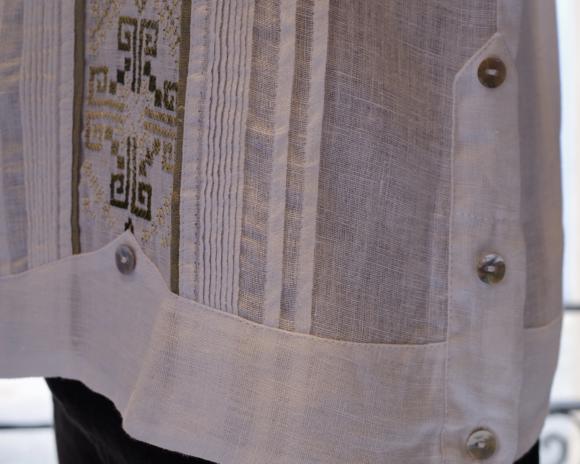 As these shirts are for special occasions they are finished with stunning hand embroidered designs, which are all the creation of Alberto and take their inspiration from pre-Hispanic culture and architecture – the pattern above, for example, represents an aerial view of the pyramid temple to the serpent deity of Kukulcán at Chichén Itzá.
It was this mix of a classic menswear garment, traditional handwork techniques and design rooted in local culture and mythology that really captured me.
Katab's shirts are made in Mérida, and they are one of a handful of makers whose guayaberas are certified as Así es la guayabera. This is an initiative of the National Chamber of the Garment Industry to protect and promote the Yucatecan guayabera, partly in response to the impact on local makers from the influx of cheaper, Chinese shirts into the US.
Any shirt bearing this certificate has been manufactured by a legally constituted company, meets certain traditional design standards and is completely made from quality materials in the Yucatán.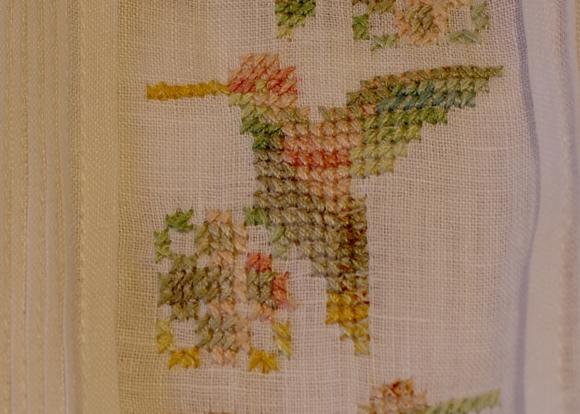 Once the unembroidered shirts are ready, Alberto drives them, along with his designs, to various small towns and villages an hour or two south of Mérida – Teabo, Maní and Tekax. There he delivers them to local artisans who are skilled in katab (the Mayan word for cross stitch).
The art of cross stitch was extremely popular in Europe in the 19th century and subsequently became one of the most prominent forms of needlework in Mexico.
The shirt above was decorated with eleven stunning hummingbirds which are believed to carry good thoughts between people, and have come to symbolise love and the remembrance of loved ones. I was told it would take around five to six days work to embroider a shirt like this.
Below you can see the reverse of a shirt and the neatness of the pleats and the precision of the cross stitch.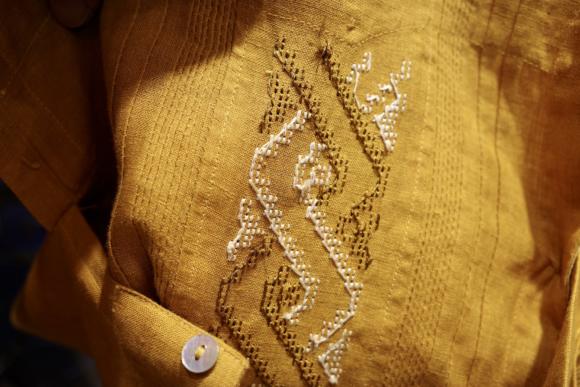 Alberto was rightly proud of his role in bringing work to the small towns and villages, and is eager to foster a connection between his customers and the artisans. Each shirt has a tag with the name of the woman that stitched the design.
It is still predominantly women that do this work - Alberto said that on occasion when he knows a man has done the needlework the tag is still returned with a woman's name on it out of embarrassment. Ultimately, Alberto wants to incorporate a unique QR code in each shirt that allows the customer to learn more about their specific embroiderer.
I hope he's successful with his ambition as it would help elevate these artisans and perhaps inspire future generations. Alberto's rueful closing comments echoed conversations I've had with tailors in Europe: the generational transfer of these skills is tapering off. I nodded in agreement, "it's incredibly hard work demanding skill, persistence and experience" I suggested. Alberto was quick to add a final essential quality: passion.