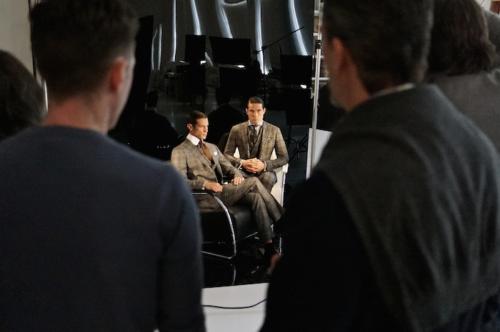 One of the most enjoyable stops last week in New York was the photo shoot for next season's Phineas Cole collection. Since its launch, Phineas Cole has successfully brought both youth and verve to Paul Stuart, under the directorship of Ralph Auriemma. So it's great now to see Ralph take over the rest of the Paul Stuart line.
Together with plans for both physical and digital expansion, it bodes well for one of my favourite stores in the world. Paul Stuart has always had quality and taste, but its style has occasionally become aged and unimaginative. Things look like becoming bigger and better.
Anyone who has been to a photo shoot can never look at a lookbook in the same way again. It takes so long to get every shot right, even with all of the preparation from Ralph, Tom and the team. A simple change of position for one of the models – which could never have been imagined in advance – requires the photographer and his assistants to shift three lights, two shades and one stand. For a few shots, a couple of shakes of the head, and one more bright idea.
Good lookbooks and fashion shoots, when they go well, are works of art. To be cut out and kept. (Or indeed scanned and shared.)