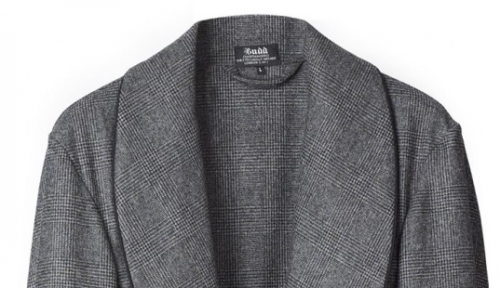 At this time of year I normally do a list of Christmas gift suggestions. Apparently last year a reader took the initiative and left a print-out of the list sitting on a coffee table at home. It did the trick – a couple of the items turned up under the tree come Christmas day.
I am also told that today is Black Friday, and in three days' time it will be Cyber Monday. These things don't mean much to a UK resident, but one up-shot is that a lot of the Permanent Style advertisers (whom we love) are doing special offers. Here, therefore, are some of my favourite items from them. Feel free to print out and leave around the house.
Drake's is doing more and more ties in an untippend, hand-rolled style. This is catching up with other brands to an extent, but I love the style, consistency and quality of Drake's. I suggest the 50oz untipped navy tie. Michael Drake gave me a plain navy 50oz years ago and it is still probably my favourite piece of neckwear. Among other ties, the white floral design from Viola Milano (left) is nice – white works well with a blue shirt and conservative jacket.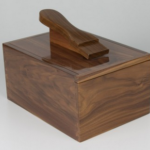 The Hanger Project is one of the sites with some big discounts coming up. My favourite item on the site, though a little expensive for Christmas, is the walnut shoeshine valet (right). Nice that it's made in Dallas where Kirby is based.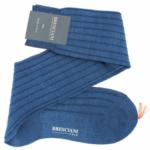 Other than Permanent Style's perfect-sock collaboration, my hosiery recommendations take in the linen stocked by Mes Chausettes Rouges (left). They soften up pleasingly over time and are great with more casual trousers, even jeans. While we're on underwear, I've recently taken to wearing the Merz d Schwanen undershirts offered by Trunk in the winter. It's an instantly recognisable lumberjack look, but again works well with denim.
For lounging around the home this time of year, my favourite dressing gown from Fox Brothers (top, made by Budd in PoW Fox flannel). Indulgent yet not showy. And of course some leather slippers from La Portegna – Jose now puts a half leather sole on the front and back, which works well.
Merola gloves remain my favourite brand – both for their quality and fantastic fit (on me). They actually fit better than the bespoke ones I had made a while ago. Try the unlined peccary from Exquisite Trimmings. Or if find Dent's fit you better, their yellow peccary. Top it off with one of Begg's Kishorn lightweight scarves. Unsurprisingly, my favourite colour is 'dark olive' (right).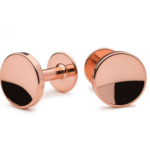 What else? I'm a fan of the naturally dyed T-shirts from Sunspel, such as the woad, although the Riviera cut fits me best. Pelikamo does some nice cotton sweaters with patched elbows. And for jewellery, Alice Made This have made me a convert to the beauty of industrial processes and materials. Have a look at the copper 'Elliot' models (left): clean, simple and highly functional.
And lastly, the Edward Sexton gold collar pins (right) are beautiful. It's often hard to find collar pins outside of vintage stores, and these are usefully split into two different qualities.
Phew. I think that's it. Happy shopping everyone.