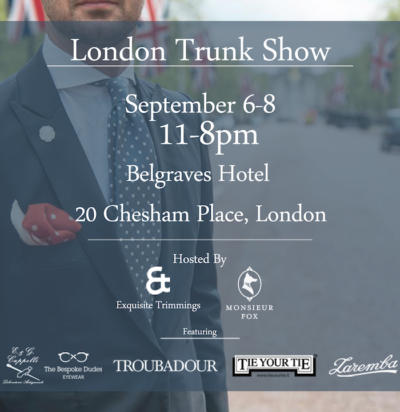 There's an interesting trunk show next week in London. Online stores Exquisite Trimmings and Monsieur Fox are combining to organise a show that will feature several of the brands they sell, plus some artisans.
The show takes place from Sunday to Tuesday, September 6th-8th, at the Belgraves Hotel.
On Sunday there will be representatives from Thomas Riemer, Polish tailor Zaremba, Codis Maya, EG Cappelli and Tie Your Tie. There will also be a drinks event that evening, in order to socialise with all the makers.
Bespoke or made-to-order options will be available from those brands on the Sunday, and ready-made the other days. Fabio Attanasio from The Bespoke Dudes will be there on the Tuesday, offering his sunglasses, and they will be selling the Permanent Style 2015 book.
The full list of brands is:
Monsieur Fox
EG Cappelli
The Bespoke Dudes Eyewear
Tie Your Tie
Zaremba bespoke
Thomas Riemer gloves
Troubadour bags
Codis Maya
Exquisite Trimmings
And the full details are:
September 6th-8th
11am-8pm
Belgraves Hotel, 20 Chesham Place
RSVP for the event here