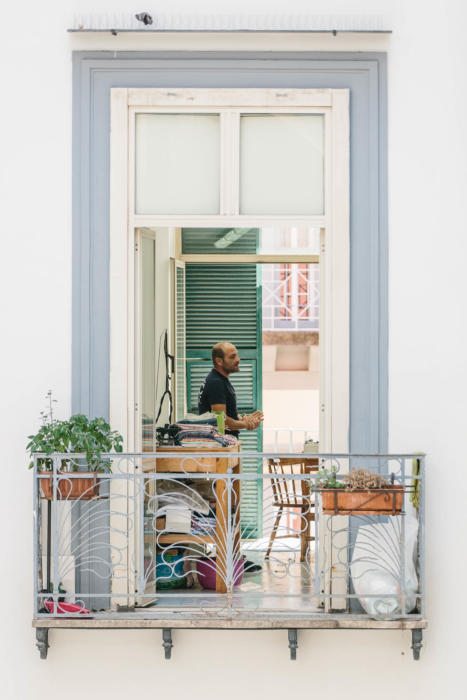 I think there is a tendency to view my reviews of artisans as binary - either 'good' or 'bad'. Perhaps because there are just so few bad reviews of luxury products.
But the reality is no view is straightforward.
Some tailors produce a great product, but need a little direction on style. Others have style nailed, but are just difficult to deal with.
My review of Salva Ambrosi's trousers back in February 2016 is one that will probably be remembered as 'bad' by most people.
But it is probably best summarised as: great fit, great style, with some silly mistakes.
The two pairs of trousers he made fitted very well (despite fairly light measuring) and his suggestions on style and cloth were bang on.
The issue was that some style points were wrong (eg leg width) and communication wasn't great on getting those right.
That could easily be enough to deter potential customers, but it's worth saying again that other tailors do struggle with both fit and style - and that arguably on style and handwork, Salva set the bar that other aspiring trouser-makers now look to.
With that in mind, we visited Salva's workshop in Naples over the summer, with a view to covering the craft and style side.
The workshop is on the first floor of a building on Via Chiaia, right in the middle of town. Big windows look out onto the courtyard (pictured top) and busy tourist-stuffed street below.
The bright-white rooms and high ceilings make for a nice working environment - as well as showing every loose thread and scrap of flannel on the floor.
Salva's father (above) is constant, watchful presence. He takes little notice of Salva, who flits from office to product to worktable, but watches carefully over his glasses at the five employees.
The bespoke product is mostly done here, but 12 people work in a separate workshop in the suburbs, producing largely ready-to-wear.
That ready-to-wear and made-to-measure product (some pictured in the header of this post) has expanded a lot in the past three years, and is hoped to do so more as Ambrosi works with Tommaso Melani and the Sartoria Vestrucci product - in which Salva is an investor.
Salva would like to see a future where a series of showrooms around the world offered made-to-measure trousers and suiting. Ready-to-wear is for shops that buy stock. Bespoke should be the ultimate product, always handled by the cutter/tailor.
On that point, it was nice to see Salva working on a few pairs of trousers - largely doing the tack stitches around the tops of the pockets.
One of the biggest things that Salva brought to the market when he became big a few years ago was this handwork: tack stitches, pick stitching down the outside seams, touches like the buttons inside turn-ups.
He wasn't the first to offer it of course, but it stood out compared to the basic (if very neat) finishing of English tailors.
Other design touches that Salva is offering include belt buckles in precious metals that fasten the extended waistband.
These are supplied by Ranfagni, a jeweller in Florence, in silver or gold-plated silver.
There are some issues at the moment with the position of the prong, and in any case the style is too showy for me, but the shape of the buckle is lovely and it's always interesting to see new ideas.
Photography: Jamie Ferguson @jkf_man