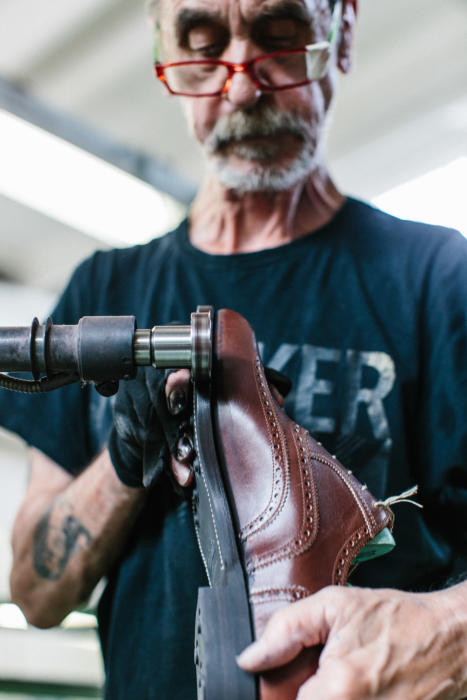 Enzo Bonafe is one of only two men's shoe factories left in the area around Bologna, Italy.
The other is Testoni, and when Enzo left Testoni to set up his own factory, in 1963, there were more than 40 factories in the region.
It has been a rapid decline.
The factories that survive in Italy today - as in the rest of western Europe - are the ones at the top of the market. Those making the best quality, using the best materials, and remaining innovative.
Bonafe is set apart in that regard (certainly compared to English shoemakers) by still hand welting and (partially) hand lasting its shoes.
The functional benefits of each of these techniques is small.
Hand lasting (above) arguably gives the shoemaker greater control over how the leather is stretched onto the last, allowing him to adjust and react to what is a natural, inconsistent material.
Hand sewing the welt means two interweaving lines of thread attach the welt to the upper, rather than the simple fetch-and-hook system of a sewing machine. It's stronger and more reliable, but only at the margins.
Both techniques, however, push Bonafe shoes towards the quality level of bespoke shoes. And they have long been abandoned by most factories.
Above is one of the two Bonafe workers that does hand sewing. Both are getting on, although there are plans to train younger people.
In total there are 25 people in the factory, which is in an industrial estate outside of town.
Five women work at home, doing the closing. Five of the 25 in the factory are members of the Bonafe family (Enzo below).
Enzo's story in shoemaking goes back to the Second World War.
His family lived in the centre of Bologna, but had to move out of town when it started to be bombed.
They moved to the mountains, and for the first time little Enzo needed shoes.
"We were very poor, and in the city you could just walk barefoot on the pavement - all the children did," he says.
"In the country that wasn't possible, so all of a sudden we all needed shoes. I realised what a necessity they were."
Back in Bologna after the war, he found work in a shoe factory - aged 13.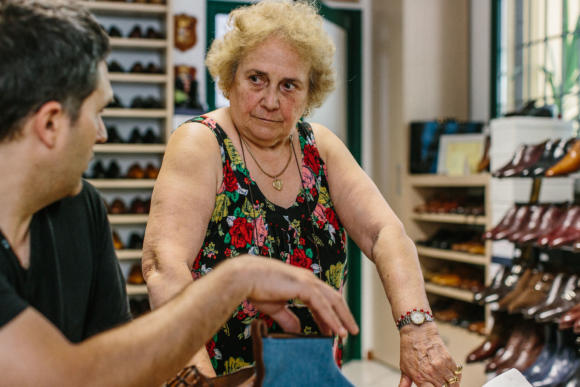 He was very ambitious, and by 1963 wanted to start on his own. His wife (above) also worked at Testoni, and she helped him with design and finishing in her evenings.
"My mother is still the most knowledgeable one around - the one who does all the pattern making is the best on leather quality," says Massimo Bonafe, their son. (Below.)
Initially Enzo sold shoes to stores in Bologna, Milan and Genoa, most of whom would use their own label.
Even today, the majority of Bonafe's white-label work (about 20% of production) is for these old, traditional stores in Italy.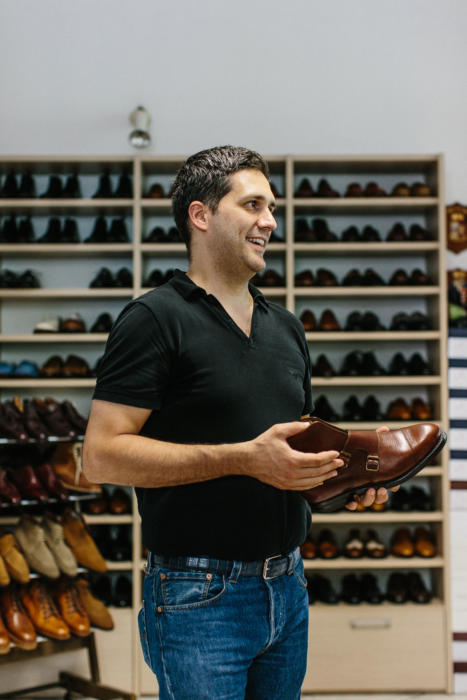 In Japan, on the other hand, Bonafe has been sold as a brand for over 30 years.
Japanese customers have always been very supportive, and there is even a collaboration with a Japanese women's designer in Italy, Le Yucca's, that has done well.
There is a full list of stockists on the Bonafe website here. Unfortunately none in the UK, but Leffot stocks the button boots (below) and Skoaktiebolaget in Stockholm has a big range.
Patrik, Gabriel, Oliver and the team at Skoak have had a big role in bringing Bonafe to wider attention in recent years.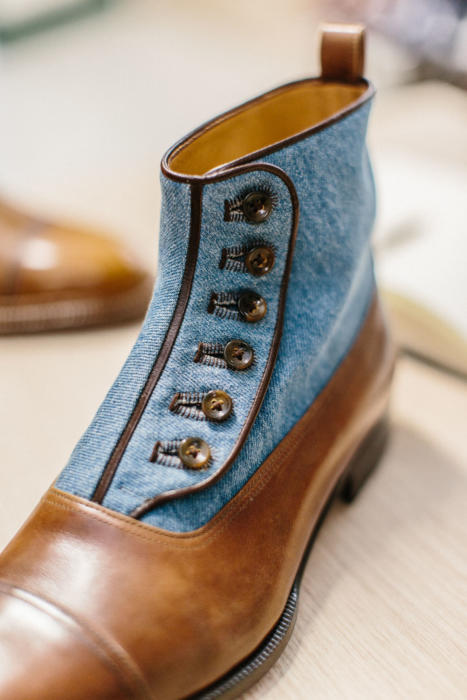 "We develop most new styles today through coordination with our customers," says Massimo.
One example is a double-monk boot in a hatched-grain leather, which consciously echoes their most famous model, the button boot.
There is also a double-monk shoe that is made out of a single piece of leather. (Both below.)
For me, this is perhaps the area where Bonafe is weakest.
Although most of the production is under their own brand, Massimo admits they still have the attitude of a factory - focusing on quality and process rather than design.
When you walk into the showroom, there is a huge range of shoes and boots around the walls, in a staggering array of materials.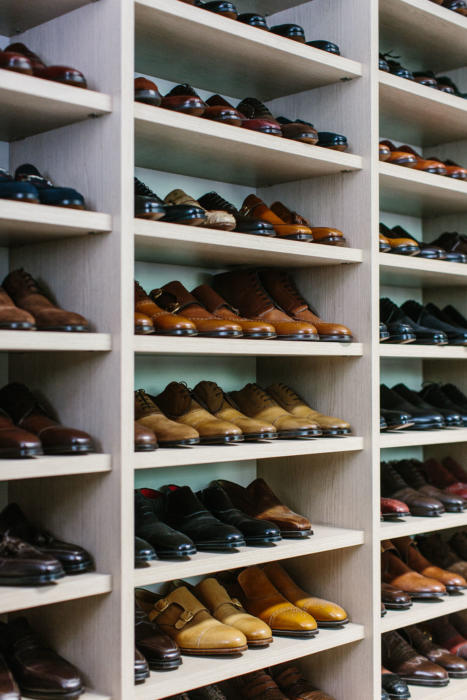 But many are a little old-fashioned. The oldest is a thick-soled wingtip from 1968, and there are models from every era since.
The patchwork alligator shoe (both below) that was made for the company's 50-year anniversary is definitely a statement of manufacturing prowess, not modern design.
This is hard because another one of Bonafe's key strengths is its flexibility.
The factory's small size and experienced staff mean that it can offer a very broad MTO programme, with different heights of its hand-built heels for example.
It also offers some customers a programme to adjust lasts, and even bespoke lasts for a lucky few.
"We don't like to do bespoke generally, because it can be so hard to get right," says Massimo. "But Enzo can still do it and we want to try and offer everything if we can."
I haven't had a pair of Bonafe shoes and cannot comment on them as a customer. I'm sure others can.
However, the company does have manufacturing quality, versatility and some great styles.
Hopefully they will be able to retain the Bologna shoemaking tradition for a long time to come.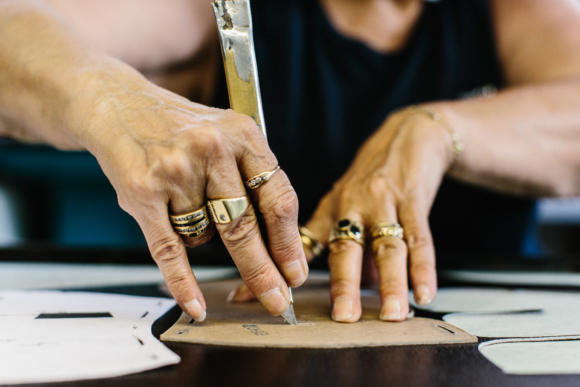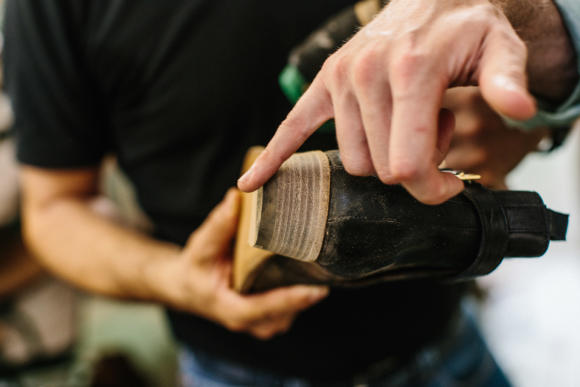 Photography: Jamie Ferguson @jkf_man