Short-sleeved Friday Polos available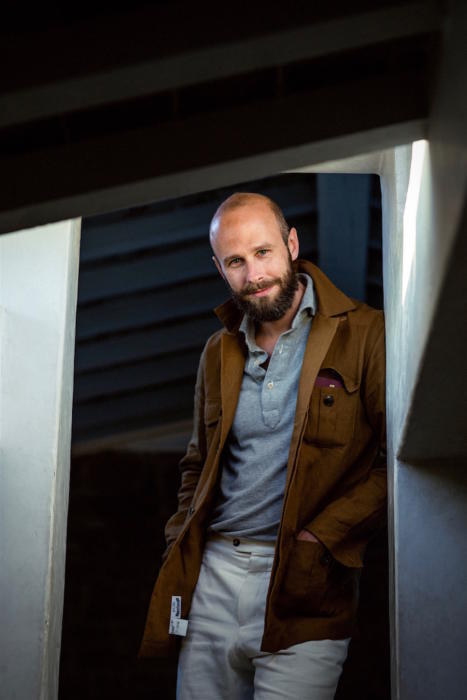 A new batch of the short-sleeved version of the Friday Polo came in yesterday - in navy and light grey.
They are available on the shop site now, though only 50 in each colour so worth grabbing quickly.
It's been hard trying to decide which variations of the Friday Polo to make each time, but I know readers have been waiting a long time for the short sleeve, so it's nice to have it out there.
I sometimes wear the short-sleeve Friday Polo under tailoring, but find it's particularly useful under safari shirts or field jackets, as pictured at top.
Under a lightweight top layer like this, the priority is clearly staying cool, and therefore a short sleeve is helpful. And as that top layer is more like a shirt, the lack of a cuff sticking out of the end of the jacket sleeve is less of an issue.
And then, of course it's more suited to shorts and the beach than the long-sleeve.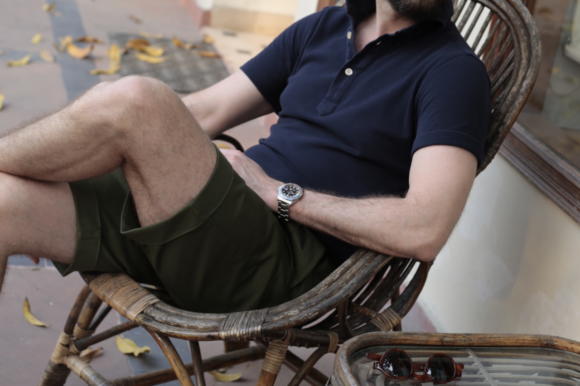 All details of the polo and its sizing are available on the shop page, here.
Anyone that has bought a Friday Polo before will be familiar with the cut (details at that link), but just a reminder that the short sleeve is also made with a slightly shorter, squared bottom, to make it easier to wear untucked as well as tucked in.
The cloth is the same as the regular Friday Polo, as is the handwork - both things that separate the Friday Polo from the vast majority out there.
Any questions, please do let me know.
The top photo and the one below were taken by Milad Abedi on a rather relaxed last night in Florence last week.
The Friday Polo is worn under an Armoury field jacket, in tobacco linen. The trousers are white cotton-denim, made by P Johnson in white denim-cotton.
As discussed before, that tobacco linen is not the easiest colour to wear, but I find it particularly nice with white and grey - both neutrals that help support the strength of the tobacco colour.