I don't wear pyjamas to sleep in. I've always found them too constricting, and prefer underwear.
However, ever since I had children (mine are now 10 and 7) I've put on pyjamas when I get up.
With kids you're more likely to be getting up to feed, to soothe nightmares, or to have breakfast at an early hour - and there's something about doing so in just underwear under a dressing gown that feels wrong.
My pyjamas have been from places like Hilditch & Key and Turnbull & Asser. They've usually been in linen, which I find comfortable in all temperatures (I just change the weight of dressing gown). And they've usually been in grey, which I prefer to the slightly old-fashioned pale blue or blue stripes.
The annoying thing about ready-made pyjamas is they have no shape.
Because pyjamas are meant to be slept in, and therefore have to be roomy, they are cut completely straight in the body. Two parallel lines, from armpit to hip.
Not only do they not have any shape through the waist, like a shirt would have, but they're not even tapered towards the bottom, as a slim-fit T-shirt would be. Just a straight, square block.
This can be irritating, and indeed feel physically weird if you're used to shirts that fit through the body.
Historically, it's meant that I often buy a Small, which will be a touch short on the arms and legs, but at least not too big in the body.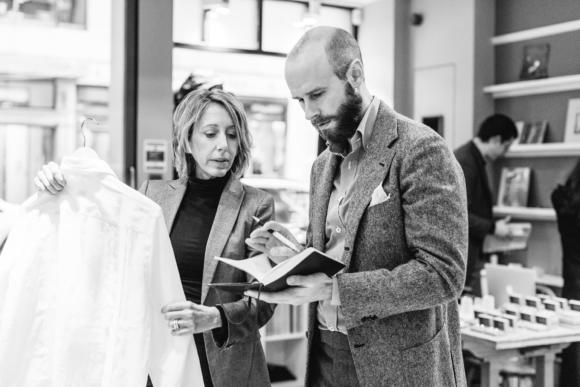 Which of course, is a long justification for buying some bespoke pyjamas - in this case from Burgos in Madrid.
Carmen from Burgos and I spent a lot of time chatting during our winter pop-up shop last year (above), discussing the various styles she has made over the years.
Such discussions are often a bespoke person's best selling tactic: eventually you're so invested in the idea that it seems inevitable that you will buy a pair.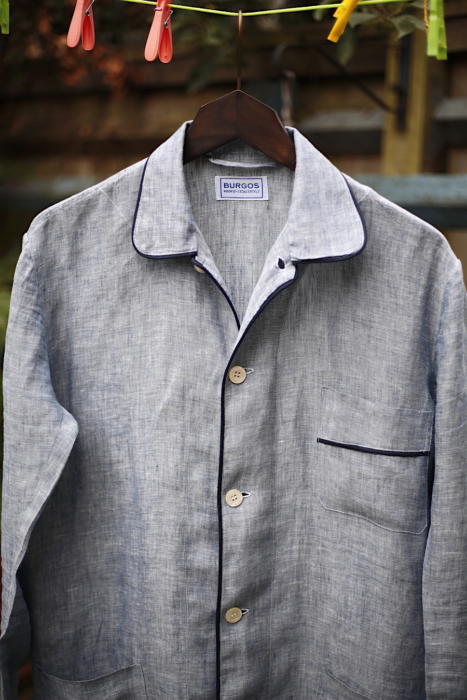 So Carmen and I set out deciding what to make.
The pyjamas would be linen, as my others are, and we would choose a non-traditional colour - here, an indigo colour with navy piping.
(The piping is one thing I might change if I commissioned them again - it has a little too much contrast perhaps, and I might go for the same fabric as the body.)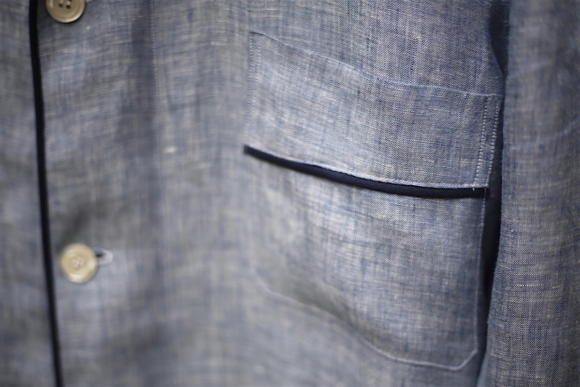 They would button all the way up, have three pockets (one outbreast, two hip) and turn-ups on the trousers.
In general, I stuck to the traditional Burgos design, which has a rounded collar, a faux flap on each pocket with piping, and a slight angle to those pockets (above).
The trousers have a button fly and a nice, wide cord at the waist (so important, that).
In terms of fit, we decided to go halfway between a regular square pyjama and a dress shirt. So not as fitted as the latter - to be more comfortable - but certainly more than the former.
Carmen already had my bespoke measurements from a shirt she made for me six years ago in Spain, but she took check measures again. Fortunately, I haven't varied much.
I'm very pleased with the result. The fabric is was a good choice (it's not easy, picking a shirt fabric for your whole body) and the execution good.
Cutting and sewing into such a loose, lightweight shirting is not easy, and the pyjamas have been regularly used and washed - but the hand-sewn buttonholes are still nice, as is the machine stitching and the execution of the piping. There are only one or two places where the latter could have been neater.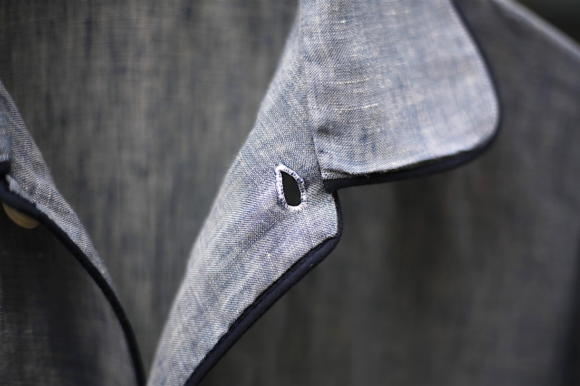 Bespoke pyjamas are definitely an indulgence. Even if you care as much about fit as I do, you could buy a pair that fits on the shoulders and just have darts put in to narrow them.
Burgos pyjamas cost €220 ready-to-wear and €320 bespoke, and much of the cost is hand cutting the fabric and hand sewing buttonholes.
But they're beautiful and personal, and unlike many things in the wardrobe you only need a couple of pairs. Something, perhaps, where it's particularly nice having great quality.
(I have a similar philosophy with my Budd dressing gown in Fox Brothers flannel, which has now been patched in a few places and feels all the more loved and personal for it.)
The fabric of the pyjamas is Thomas Mason (Albiate) Alassio Indaco 100% linen, weight 123-132g.
Burgos also make other designs of pyjama like one-piece collars, flannel pyjamas, and bespoke dressing gowns (all below).
Carmen is planning to come to the UK later in the year, but if you're ever in Madrid the shop is beautiful and worth a visit.
Photography: All Permanent Style or Burgos, except last image and two at the pop-up, Jamie Ferguson
More on Burgos: