The shoe Super Trunk in London – and best shoemaking in the world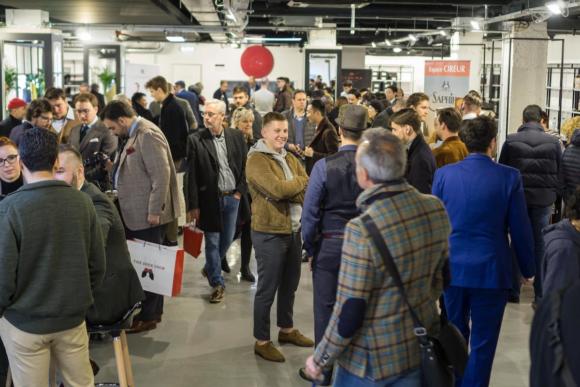 Last Saturday was the Super Trunk Show in London – an event for shoe brands and enthusiasts that has been in London twice before. (It was originated in Stockholm, where the sixth iteration takes place later this year).
Super Trunk is great fun, and Justin and Jesper of blogs The Shoe Snob and Shoegazing deserve a lot of credit for creating something that's become a real focus for the industry.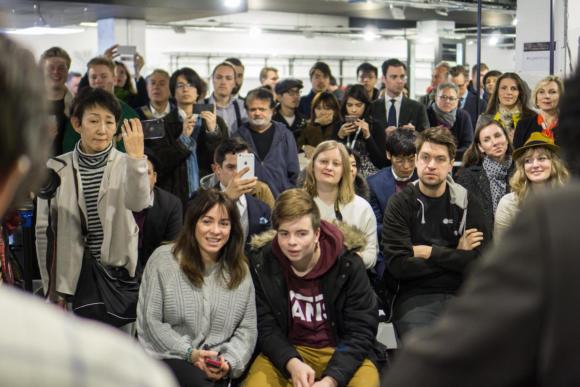 There's always a buzzy atmosphere, and quite a few consumers as well as brands fly in. Friends like Edmund Schenecker, who readers might remember from our first Huntsman dinner, was there in London, as well as Jean-Baptiste Rosseeuw (until recently, agent for Lavabre Cadet gloves).
Indeed you can imagine something similar would be nice for tailoring. It would likely focus on bespoke, and be similarly niche, but that's what enthusiasts want.
Several shoemakers take stands – and for me this is the primary interest.
Given makers like Norman Vilalta and Carmina don't have shops in London, this is the only chance to see the full, current range in person.
Even at Pitti, a lot of the new things on display are speculative - to suggest to wholesale buyers rather than sell to consumers. And of course most people that come to Super Trunk aren't at Pitti either.
Talking to Norman, it sounds like he now has the support to focus on design, which is good as he's often running around trying to do everything. There will be a couple of new releases by the summer.
And at Carmina, it was interesting to hear about a few of the shoes customers design with the made-to-order programme. Like one that had a cap-toe derby made in five different colours of cordovan.
It was nice to see JSEP (Japan Shoes Export Platform) and J Hopenstand too.
The regular shoe shining competition makes for great spectacle.
Even if you'd rarely be starting with a raw shoe, and it's not easy to tell who does what differently, there is something about seeing someone else do in person what you do at home alone, that is good to watch.
Perhaps most interesting is the World Championships in Shoemaking, which was started last year.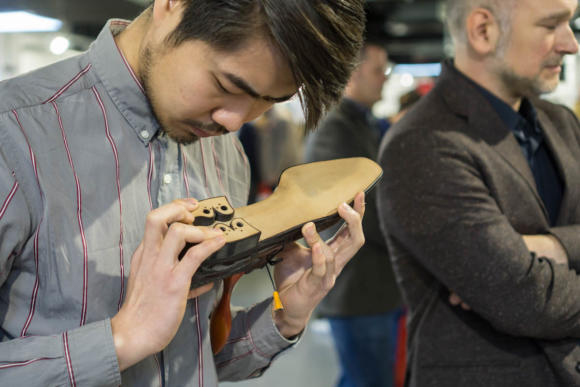 This has more depth and real long-term significance.
Depth, because there are considerations of technical prowess as well as design, and questions about the objectivity of both: it makes you consider what aspects of a shoe you think are the most impressive or deserve to be rewarded.
And significance because it has the potential to inspire young shoemakers, by showing off the absolute pinnacle of bespoke work.
Particularly because the winning shoes are displayed around the world, and because bespoke shoes – unlike ready to wear – are often only seen by the maker, customer, and a few friends.
There were beautiful pieces on display this year, as well as some slightly amateurish ones.
But the field was bigger than last year, and the standard higher. Some of the best makers in the world submitted, including Daniel Wegan (above, who won) and Christophe Corthay (below, who came second).
Interestingly, last year's winning shoe - from German maker Patrick Frei - seems to have set a precedent for decorative shoemaking. Everyone this year seemed to have some decorative metal taps or heels.
In the images of Daniel's shoe above you can see the horseshoe-shaped heel and plate, but there are also tiny details that can easily be missed, like the watermark-like pattern in the holes of the toe tap.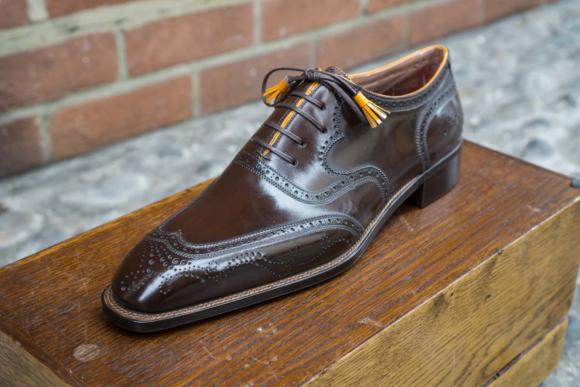 Christophe's shoe, above, had a more intricate heel (though without the metal details) and a decorative shoe tree that isn't pictured here.
The third-placed shoe, from Eiji Murata, was more classic and just beautifully made.
Daniel's win was well deserved for all the detailed work that went into the shoe, most impressively the hand-sewing of the entire upper.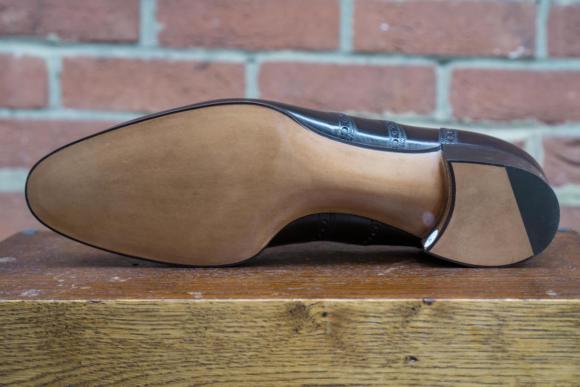 In the future, personally I'd also like to see consideration of last design, and therefore more of a connection to real shoes.
Christophe and Daniel's entries were both very slim, while another entry had a large, bulbous toe. They were beautifully made – probably some of the best shoes made in decades from a technical point of view – but were perhaps disconnected from the proportions of normal footwear.
There is something beautiful for me, and also artistically impressive, in creating an attractive last. It's akin to sculpture, and arguably a different skill to the other aspects of make or design.
The suggestion is not that the shoes should be wearable. In the history of such competitions, the entries have never been wearable. But they have been idealisations of a regular shoe. They have been relatable.
It's a personal view, but I think broadening the criteria to include everyday last design might give the competition even greater impact.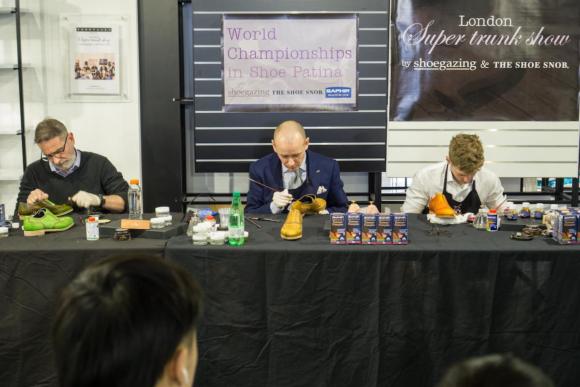 Congratulations again to Jesper, Justin, and all the others involved in making Super Trunk. I only wish I could make it to Stockholm for the Swedish instalment.
There will be a full list of the results of the shoemaking competition and the other parts of the event on Jesper's blog soon here.
You can also see the full criteria for the competition here.
Photography: Shoegazing.se