A Pitti diary: The experience, the brands, the parties
Pitti is a long trade show: four full days, when most are usually three. As a result, by Friday everyone is exhausted, with selling, talking, and late dinners.
Although it does depend on why you're there. Most people fall into one of three groups:
Exhibitors, who have to be there are 8:30am every morning on the stand, and so aren't always out late;
Those meeting them, such as buyers, photographers and journalists, who don't have to get up quite as early, but still have to work all day;
And tourists and hangers on, who are largely there to attend the parties and take pictures of themselves. They can do whatever they like.
One of the helpful things about this Pitti for me was that I was staying with three guys in the middle group: photographer Jamie Ferguson, journalist Aleks Cvetkovic, and PR Jon Holt.
We were all up and out in the morning, but would be back in the late afternoon to write or edit, and then out to the same parties in the evening.
For me, work means seeing brands and artisans, which I'm covering for Permanent Style or other freelance work.
So there will probably be four or five exhibitors that I've known for a while but haven't written about – with whom I make appointments to meet, learn their story, see their product, and cover in some depth.
This time two highlights were Rifugio and Orazio Luciano.
Both are probably names that readers will know. Rifugio is a leather-jackets manufacturer and Orazio a tailor, both based in Naples. Both are also sold around the world.
Things that particularly impressed me were Rifugio's range of leathers, including incredibly soft baby goatskin, perforated calfskin, and deerskin that is treated to allow it to be unlined (most deer is too thick and fibrous to make an unlined jacket).
And at Orazio I started the process of having a jacket made, in order to construct a review.
Even at the first meeting, though, it was interesting to see the exclusive fabrics Orazio has – which of course is one thing a brand often has over bespoke (pale-grey cotton shown above).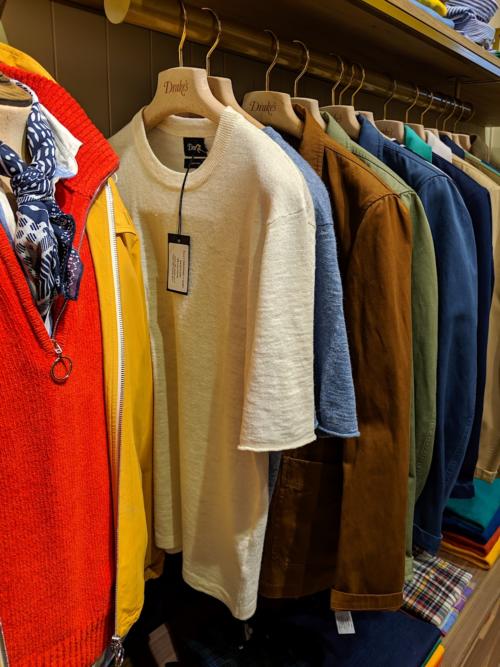 Scattered around these appointments are catch ups with makers I know well, but want to know what they're offering for this season next year.
(I normally only cover these on Instagram – so follow @permanentstylelondon posts and stories there to see them all.)
At Drake's, there was a new line of knitted T-shirts (above) – which feels natural for where they are now, but is still a completely new category.
Begg were doing more with artists, which makes sense when you have such a blank canvas as a scarf to work with. And makes new collections easier when you already offer almost every colour imaginable.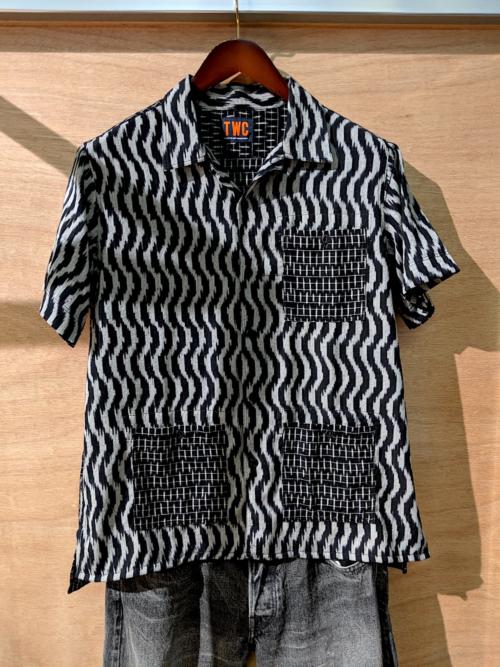 The Workers Club had shirts made in India using local print techniques (above), which looked very cool. I also learnt that ikat is a rope-dying process rather than a design.
Chapal, meanwhile, are doing biker jackets in their typical thick sheepskin – which is a nice combination of thick leather that will wear in well, but without the stiffness of horsehide.
And Craftsman Clothing had more pieces in indigo (below), including bandanas, chore jackets and shawl-collar pyjama-like jackets.
I always stop by Seraphin, the Parisian leather-jackets maker, just because I can't see anything in London.
The piece I loved best from Henri this time was a hand-dyed leather bomber that looked like watercolour (below). A bit showy, but such a lovely texture and colour combination.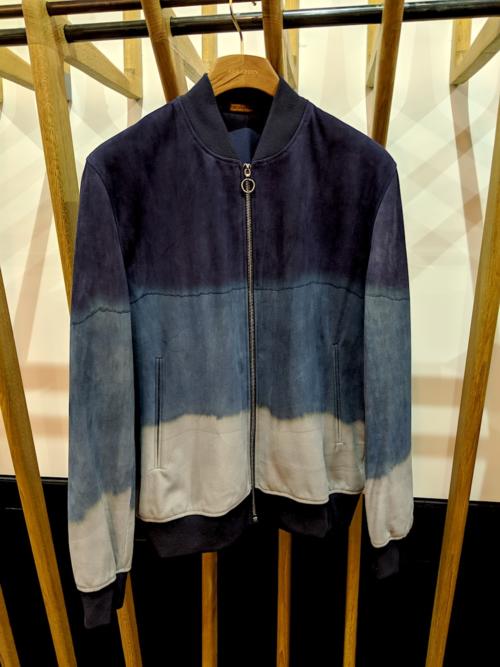 It was also nice to catch up with Thomas Brunschwig, who is now working and designing with Ducal shoes in Italy, after a career that has taken in Corthay, Gaziano & Girling and Stefano Bemer.
Ducal don't do all their own making anymore - they design, cut and finish in-house, while using an external workshop for the stitching - and some of their designs are a bit loud for me. But I liked their Blake-stitched Belgian loafers and white grain-leather oxfords/lazymen (below).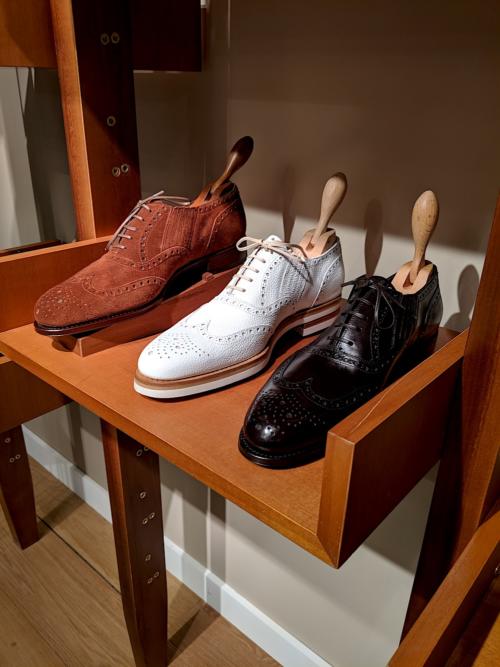 In recent years I've aimed to spend one afternoon wandering around the whole show, deliberately avoiding places and brands I know best.
This is both to gain a general awareness of where the market is going, and to try and remain as open-minded as possible.
Testing your own style and preferences is what keeps them strong.
Nigel Cabourn is always interesting in that regard, as a modern workwear brand working at high quality.
I also saw the full ranges of a few of the brands carried by Trunk and No Man Walks Alone that I rarely cover: Monitaly, Barbarulo, De Bonne Facture and so on.
And I stumbled across Meindl (above), the German deerskin specialist that makes traditional hunting leathers, lederhosen shorts and a huge volume of hiking boots. Apparently they're the largest leather manufacturer in western Europe.
I knew the name from Connolly, who carry a couple of Meindl leather jackets and trousers. I'm still not sure I'd ever wear any of it, but the feel of the deerskin is amazing, as is the dark, bark-like colour that comes from hand-dying. You really have to feel it in person to appreciate it.
There were many more. Troubadour's hyper-technical bags; high tops at Paolo Scafora; the lovely shrunken leather at Acate (below). Visiting Pitti is terrible as a consumer, but as a journalist it's amazing.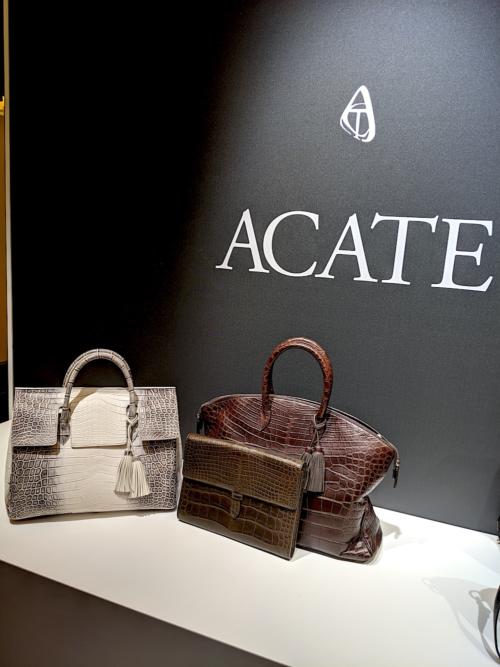 Then of course there are the dinners and the parties. Particularly enjoyable when you can avoid talking about menswear after eight hours of nothing else.
This year there was a dinner on the Tuesday hosted by Scandinavian Man – a fashion magazine founded by ex-Plaza editor Konrad Olsson, and which made a big deal recently of taking no display advertising.
Matt Hranek hosted everybody on Wednesday alongside Fox Brothers, showing the new edition of his magazine, Wm Brown. It's the second time he and Douglas have done it, and it's becoming the best party of the week.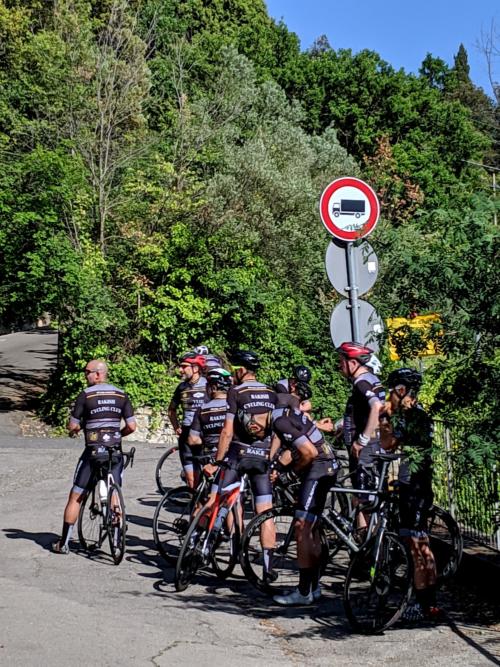 And on the Thursday, there was a bike ride organised by Colnago bikes, Pissei cycling clothing, The Rake, Fox Brothers, Stefano Bemer and Sartoria Vestrucci.
A group of us got to ride on some new Colnagos, in Fox/Rake/Vestrucci/Bemer branded kit, and finish in the Florence velodrome for a party.
There's nothing nicer than getting out of the city, and getting some exercise, after several days walking round a baking city in tailoring.
Pitti is a long show, but there are definitely perks.
Photography: Permanent Style, except top two images, @littlefatyaa
More on those two outfits in separate posts. Below: new Drake's jackets