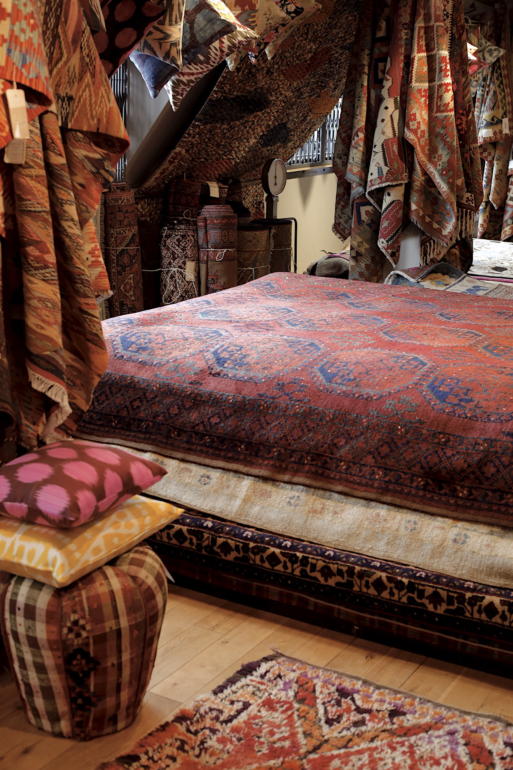 Here's some information and a little story from a recent visit.
The biggest factor in a rug's quality is being hand knotted. Familiar territory, really, for men used to thinking of hand-sewn shoes and hand-padded jackets.
It's fairly easy to tell if a rug is hand knotted. Just look on the back, you'll see the squares that make up the pattern are filled with slightly irregular knots of the wool (below).
A machine-woven rug is a lot more uniform.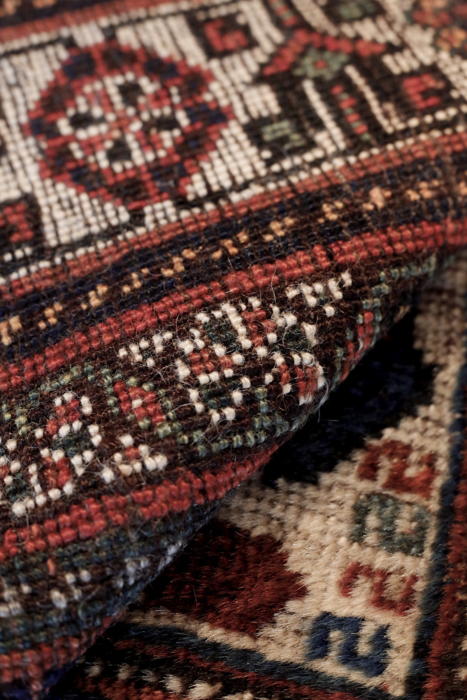 Actually, if we go back a step, I'm assuming any rug you'd be looking at would be wool.
Perhaps silk, if that's your taste, but certainly not synthetics. Wool looks better, cleans better, and ages more attractively. It can also be repaired effectively.
"After those two factors - fibre and hand knotting - we get into attributes that are aesthetic and a bit more personal," says Bruce Lepere. This piece was born out of a chance conversation with Bruce and his team, Iliya and Matthew, in Liberty's last month. (Pictured below, left to right.)
"Western taste tends to be towards wools in colours that are rich but not necessarily bright," Bruce continues. "People want something that looks old and traditional."
"Eastern taste is often for shiny, intricate silks," Matt continues. "An Iranian coming in here is much more likely to want something that looks fresh and new."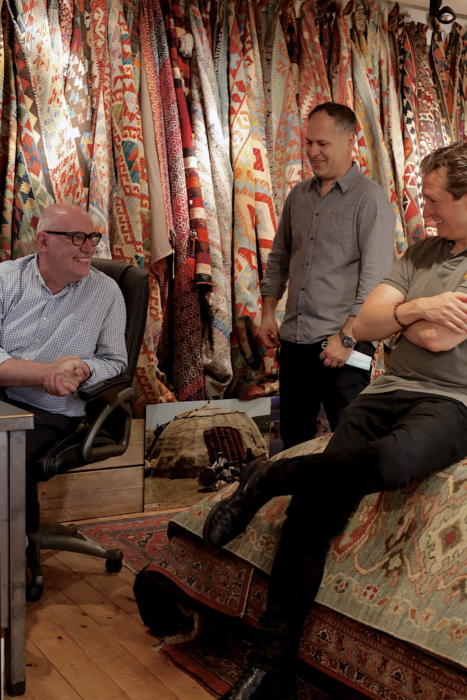 Liberty Oriental Carpets (actually a separate business to the department store that houses it) doesn't sell many of this type of rug.
Most of its stock is tribal rugs, which means ones woven by individual people or families, in their homes, according to their tribal traditions.
It's a cottage industry basically, like tweed weaving on Harris and Lewis, or the hand framing of shetland sweaters.
The alternative is often called a 'city' rug, as it is woven in towns or cities, by large groups of weavers, and usually to the same pattern under the direction of one master weaver.
"This means every rug is the same," says Bruce. "Whereas women weaving at home, from similar traditions but all taught by different ancestors, will do things their own way."
Given it also takes that woman one to two years to complete a rug, little variations also creep in over that time.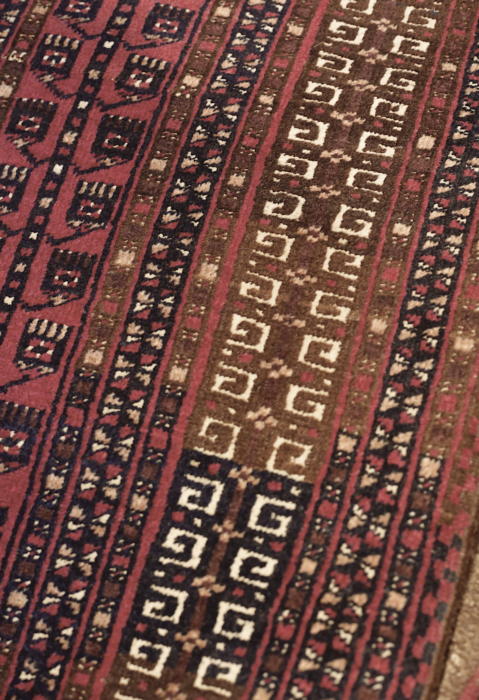 Another effect of that long weaving period is that the yarn colour varies.
With a tribal rug like this the yarn is usually dyed by hand, with colours matched by eye, and only enough is done each time for a few weeks of work. It would be too expensive to do two years' worth at the start.
This means that colours will vary across the rug. In the example above, for instance, you can see that the colour of the strip with white, curly figures on it varies along its length. One rectangle is very dark brown, the next mid-brown, and the next slightly darker brown.
You see this variation particularly in red areas of rugs, because the pigment varies more naturally. The effect is also artificially reproduced in lots of modern rugs.
"How much people like this variation is again a matter of taste," says Bruce. "But a little bit, across a patch of colour, gives the rug texture and life that you never get with flatter, mass-produced rugs."
So hand dying, of hand-spun yarn, is another attribute the team would include a list of characteristics of a good rug. That's partly because of the attractive, natural variation, but also because of the way the rug ages.
Which brings us onto an interesting area, in terms of preference and aesthetics.
The current fashion is for faded rugs. Ones that look look old and very worn in. New shops and clubs are full of them.
The thing is, what this normally indicates is that the rug is poor quality. "An inferior rug won't be woven as densely, or knotted by hand," says Bruce, "which is what causes it to wear down and fade quickly."
(By the way, density of weaving is another to add to the list of quality attributes.)
To a purist, a faded rug is a damaged rug. There's nothing wrong with fading over a good period of time but, rather like patina on shoes, this is something personal, that you create yourself.
"The worst thing of all is the trend for over dyeing - taking those cheaper faded rugs and then dying the whole thing one colour, like green. That to me is just graffiti," says Bruce.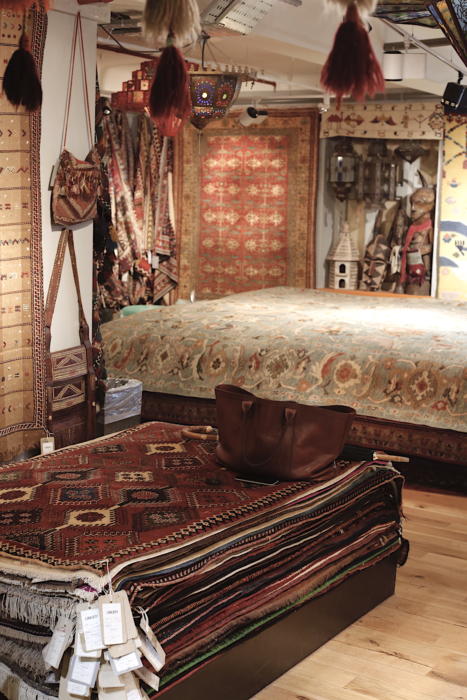 Not everyone will be as extreme about over dyeing as Bruce is. But it's hard not to appreciate the beauty of these handmade, tribal rugs when you see them in person. And just like handmade shoes, the quality makes them easier to repair.
The team like to tell the story of a Scottish client who came in with a very precious rug, with a large hole in it. There had been a fire at his castle, and a piece of the ceiling had fallen on top.
The master repairer came, took it away, and the rug was delivered a few weeks later. "It look us a long time to identify the repaired area," says Bruce. "Finally, we all pointed it and remarked how seamless the work was."
Then the repairer arrived, and asked them what they were all looking at. "We said we were admiring the work, how it was almost unnoticeable," says Bruce. "Only for the repairer to say, 'but that's not the repair, it's over here' indicating somewhere different entirely."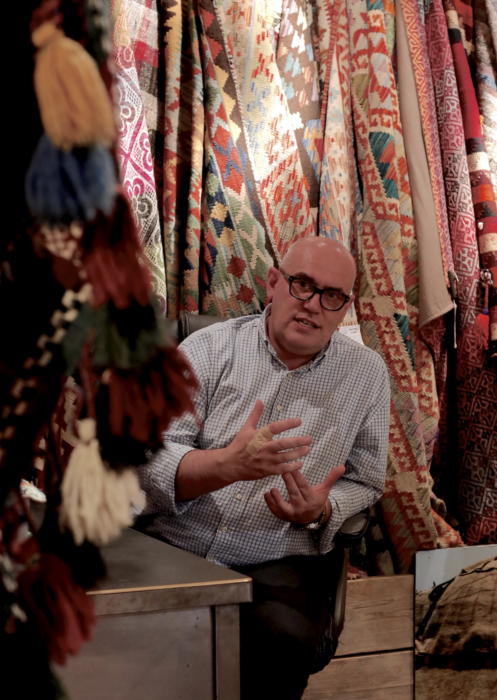 It was lovely talking to Bruce and the team. I've been a bit intimidated in the past, given I know nothing about rugs, but they were unpretentious, helpful, and mostly just happy to explain everything about their work. It helped that it turned out Matt was a PS reader as well.
"I've been here since the Liberty family were here," says Bruce, "and I'd even dare to say we're more Liberty than Liberty. We're more old-fashioned. The store was founded to import Eastern crafts and sell them in the West, to showcase that work, and we're continuing that tradition."
The old images of what Liberty's used to look like - shown in the black-and-white photography below - are wonderful.
The current department specialises in antique tribal rugs from around 1880 to 1930. Before that, rugs are apparently rarer and prices go up exponentially.
After then, the quality usually wasn't as good, and of course they are no longer antiques, not being more than 100 years old. But they do sell new works as well - such as the large red piece below.
Antique rugs are mostly in the region of £2,000 to £5,000. Smaller and new ones can be cheaper, but not necessarily. Either way, it's always worth talking to the team, as there is little information on the website.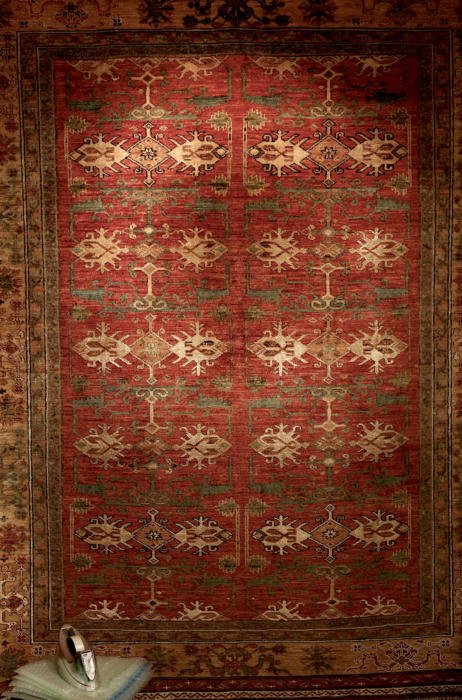 I didn't buy anything, as our house is already pretty full with new, thankfully hand-knotted rugs. But there are gaps here and there, and I wish I had taken the time to go to Liberty with all those earlier needs, if only to learn.
"The state of the market right now is not a good one," says Bruce, who also lectures on carpets for the V&A. "Until 10 years ago John Lewis was our biggest competitor, the largest seller in the land, but most of what they sell is now machine woven or even printed."
The rug market is also full of euphemisms (just like menswear) such as pieces that are described as 'hand finished'. "Which basically means they've sewn a fringe on the end by hand," says Matt.
The fringe, by the way, is often a good thing to look at to see what the rug is made of (second image below). That's the warp of the woven material, so you can see what runs through everything else.
One more for the list of what makes a good rug.
You can read much more about Liberty Oriental Carpets, and see examples, at libertyorientalcarpets.com. There's also a couple of videos talking about the craft in person.