Subtlety and drama: The appeal of the purple sock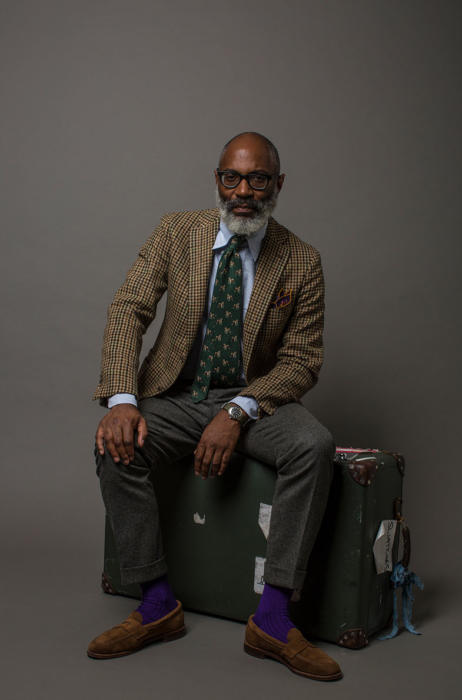 Today's article - a debut for someone I've long admired, Jason Jules - is an excellent example of why I like having these contributions on PS.
I rarely wear contrast-coloured socks these days, particularly purple. But it's still a look I admire, especially as a sophisticated alternative to brighter, more garish colours.
I first wrote admiringly of purple socks in 2009, and none of my views have changed in the interim. It's just that I tend to wear more muted, often tonal combinations, and strong colours fit in less.
So it's great to have Jason, who wears them with such aplomb, remind us of their virtues. There are many tastes, and many ways to be tasteful.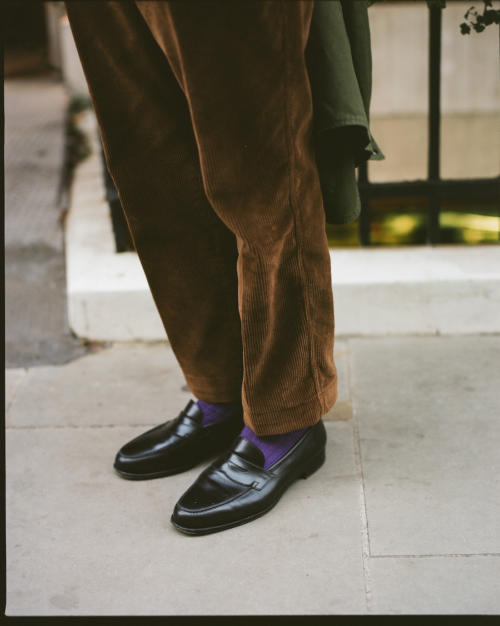 By Jason Jules
Have you joined the purple hosiery brigade? Are you one of the men who have cottoned on - literally and metaphorically - to the almost infinite possibilities of wearing purple socks?
While it might not have the power of Joseph's Amazing Technicolor Dream Coat, I find that when it comes to classic modern menswear the purple sock comes a close second, magically complementing almost every combination of casual clothing.
Tradition has it that the colour of one's shoes should relate to one's belt and the sock to one's trousers. The purpose of this is to achieve a kind of seamless flow, where there's a sense of continuation, like one uninterrupted line.
But while I'm not saying we should abandon tradition altogether, I, and many others it seems, are of the belief that breaking the line, especially with the advent of the shorter trouser length, offers one opportunity for a more contemporary approach to elegance.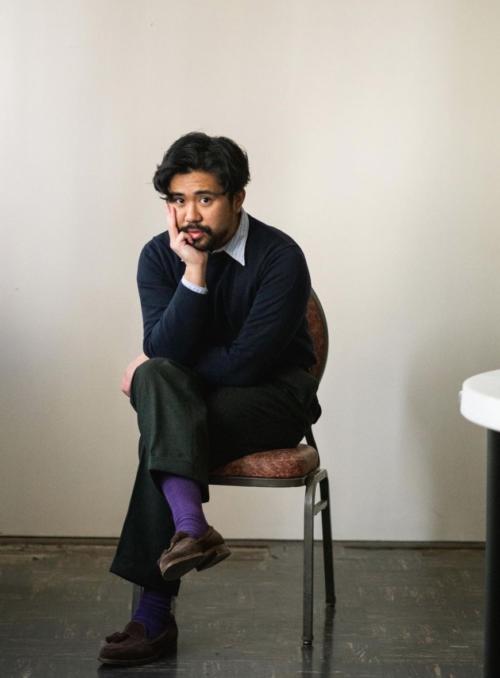 Imagine.
Right there in front of you is your fav grey-linen suit. You're in a kind of casual mood today, even though you're off to lunch with some high-flying business dudes. So it's a light-blue spread collar shirt, worn sans tie, and dark-brown suede Alden loafers. What socks do you wear? Brown? Grey? Blue?
The following day you're heading down to the pub, for a lazy gastro meal with some old college mates. Ecru jeans, a navy merino-wool polo shirt, an olive twill overshirt and light-brown tassel loafers. What socks do you wear? Brown? Cream? Blue?
It's date night - nothing too fancy just a tweed sports coat, pastel-pink button-down Oxford, grey flat-front flannels and choc-brown desert boots. Socks - grey? Navy? Red? Burgundy?
While all these options might be appropriate, what they fail to provide is a deft combination of subtlety and drama - which is where purple comes in, - the colour favoured by clergymen, kings and princes.
Although there's a playfulness about purple, it still imbues almost any ensemble with a sense of restraint and maturity by not drawing too much attention to itself - especially red, which can pack too strong a punch and dominate or even derail a look.
Purple on the other hand is tonal and tasteful - and looks good alongside almost any colour combination you can imagine. In fact, I'd suggest that along with browns, khakis and greys you'd be surprised how well purple works with black apparel and also black footwear.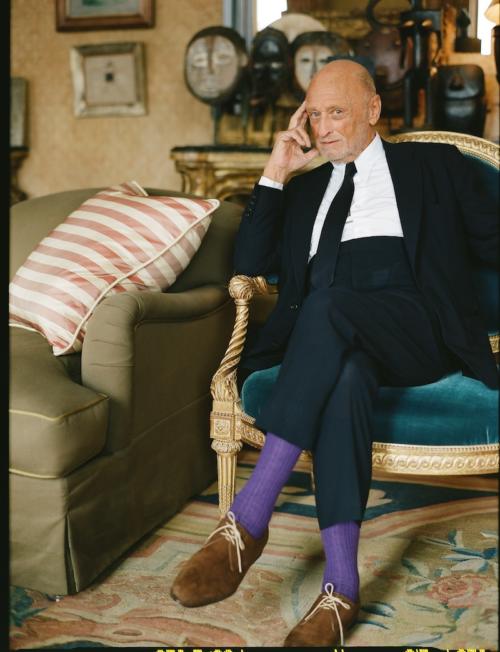 That's not to say all purple socks are created equal or that one style is suitable for every occasion. It still makes sense to wear ribbed or cable-knit cotton socks with heavier shoes, and finer socks for more elegant affairs.
Of course, the question you're bound to ask is whether this is simply a passing fad, a soon-to-fade purple patch. Rather, I'd suggest it is a trend that has come of age, a new style staple.
Two industry contemporaries and menswear legends - Michael Drake and Michael Barnes (above) - have been purveyors of the style for years. In fact, when it comes to wearing purple socks, Mr Drake often credits Mr Barnes as his inspiration.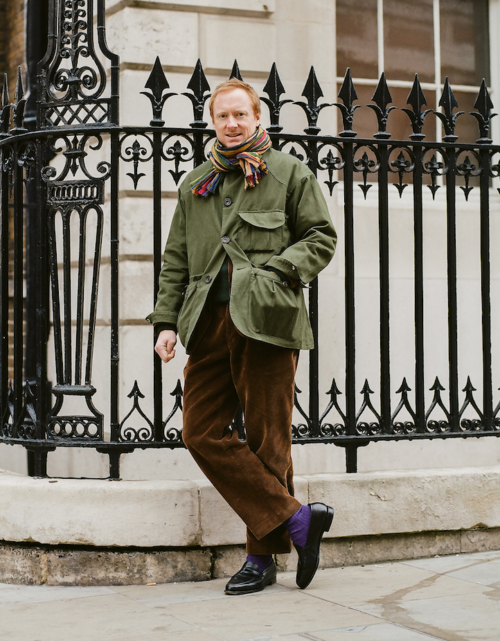 Today, that lineage is taken on by others, some of whom are pictured here. Michael Hill, Aleks Cvetkovic, Kevis Manzi, Mark Large and Ethan Wong are all great examples of the dexterity of the style.
While socks will always provide men with the chance to play with colour and pattern, allowing us to express personality and personal taste, I'd say even with all the other options available, purple socks are likely to become a kind of wardrobe essential, providing what often seems like a stylistic fait accompli with an elegant solution.
It's still relatively hard to find purple socks of a certain standard. Top of the list I'd say are Drakes and Pantherella. They can be found at those links.