Sartoria Ripense: Visiting Andrea Luparelli in Rome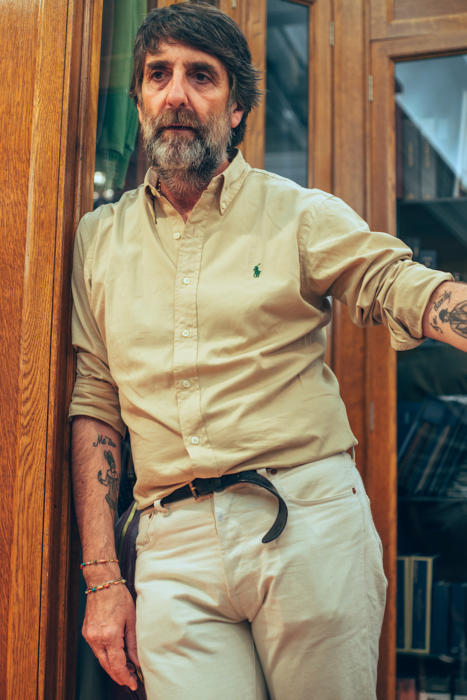 By Manish Puri
Whenever an article related to Rome is published on Permanent Style I've noticed there's usually a reader comment or two about Sartoria Ripense – either asking about their style or praising their work. With this in mind, I decided to stop by and meet Ripense's founder and cutter Andrea Luparelli on a recent visit to the eternal city.
Andrea's grandfather was a tailor, and so after a brief stint working for an electric company, he chose to pursue his passion, follow in his grandfather's footsteps, and opened Sartoria Ripense on the Via di Ripetta in 2000. Ripense's tailored offering is bespoke only – Andrea has toyed with introducing made-to-measure but thinks having one line offers the customer greater clarity and certainty.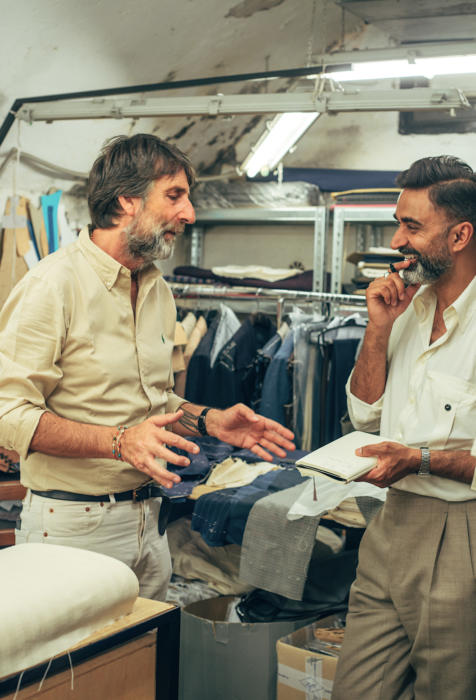 On the afternoon I visited, Andrea was busy conducting final fittings for a couple of local clients and boxing finished garments for a business trip to Paris. Ripense have previously held trunk shows in several European and Asian cities, but their current trunk show schedule is Paris only. Nevertheless, he was most accommodating as I quizzed him on the particulars of the house style.
Even though I didn't commission anything on this occasion, I have included my thoughts and the experiences of two long-time Ripense customers. As always, it would also be great to hear the experiences of readers in the comments section below.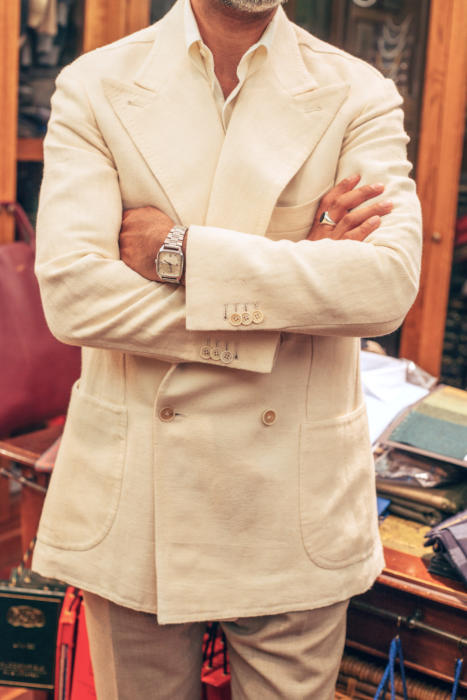 It's always fascinating (and quite revealing) to see which topics people elect to open a conversation with; in Andrea's case he instantly leapt onto the notion that the best bespoke tailoring begins with "a beautiful idea". To illustrate, he showed me one of the jackets he'd recently made for himself – a 6x1 double breasted (modelled above by me).
Andrea had been searching for a cloth that was "both heavy and soft – like chewing gum". One day, in a local fabric warehouse he spotted a weighty cream linen in a wide herringbone pattern stippled with pale brown.
Unusually the cloth was only available in a narrow width, 70 cm (typically tailoring fabrics are woven at 140cm to 150cm) – the reason being that it had been woven for a manufacturer of dish cloths. Andrea purchased the remaining length anyway, gave it a good wash to soften it up and made a jacket for himself and a few of his customers.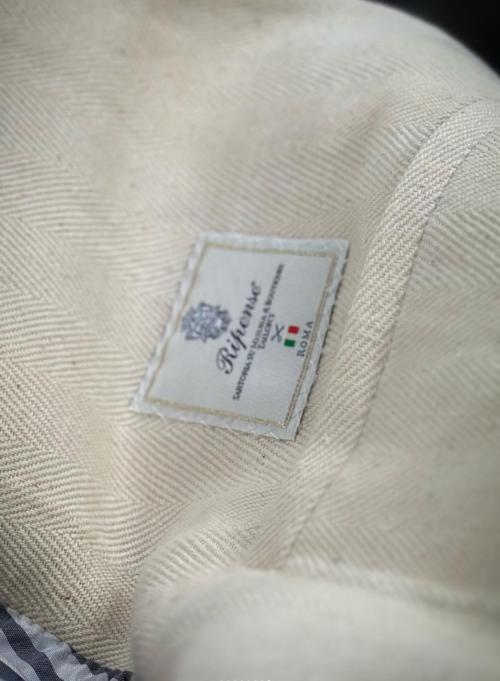 With similar enthusiasm, Andrea showed us a field jacket made from deadstock WWII-era cotton bedding. I got the impression that he found the classic navy two-piece a little prosaic - not that he isn't happy to make them, there was a whole rail lined up to deliver to Parisian customers - but Andrea is clearly someone that likes exploring the full possibilities of bespoke.
He also said he prefers to use materials that aren't widely available in ready-to-wear: "I try to use exclusive bunches whenever possible. How can I go to dinner with a client and explain my price when someone at the next table is wearing a jacket in the same cloth for €1000?". Outside of this, he tends to prefer British mills and merchants: Fox Brothers, the Harrisons group and Bateman & Ogden.
Trying on a few of Andrea's jackets also helped to assuage a concern I had that the Ripense jacket might be a little close in the body. To be honest, I think this concern was based purely on Andrea's slimmer casual style which I had wrongly assumed would translate to his tailoring. In reality, Andrea's jackets were very comfortable to wear and move in.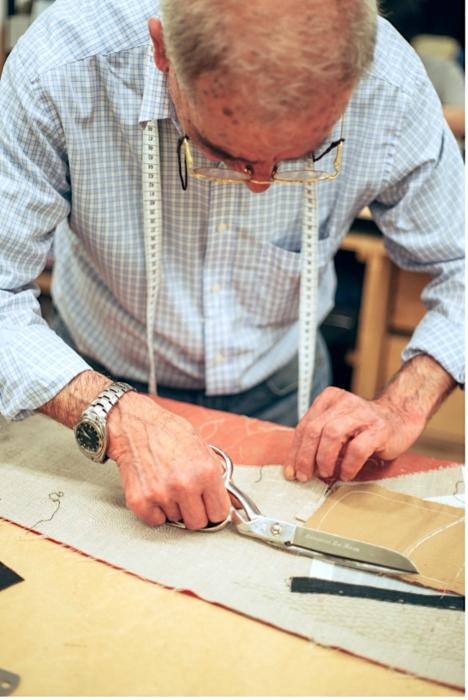 Andrea led me downstairs, below the shop, to one of Sartoria Ripense's two workrooms - the other is located about 200 metres away – where four tailors (out of a total staff of seven) were preparing garments.
Later that afternoon I observed the benefits of having the tailors so close to hand: when a customer had a minor trouser issue Andrea summoned a couple of colleagues from the basement and an ad hoc tailoring quorum was assembled to agree on the best approach.
As to Ripense's house style, Andrea was reluctant to categorise it as Roman or otherwise. "When bespoke tailoring began, there was no Neapolitan style or Roman style. There was only classic style – something that looks good this year and in 10 years."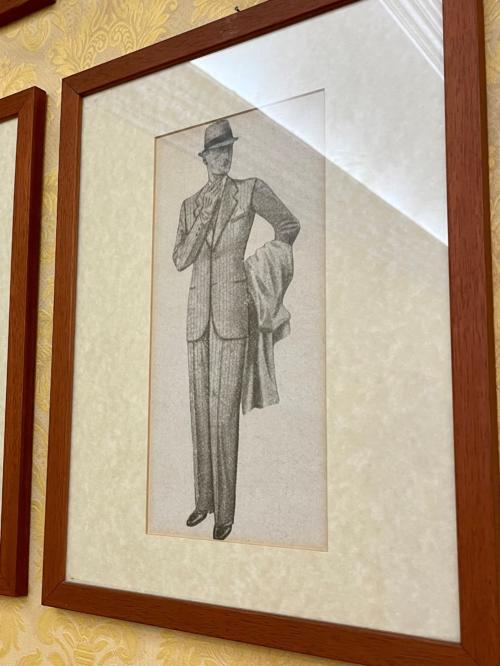 To bolster his argument Andrea pointed to some framed Apparel Arts-esque illustrations that were hanging on the wall – the gentleman depicted clearly wearing neither Roman nor Neapolitan tailoring. "Look at his quarters – a little open but not too much. A very similar line to how I cut my jackets. Classic style. Looks good then and looks good now."
The preferred shoulder style is rollino (aided by a layer of canvas rather than shoulder pads) but spalla camicia is also frequently made. Upon enquiring about a 3-roll-2 jacket Andrea light-heartedly countered: "Why? What do you need the extra buttonhole for?"
While discussing other aspects of style, I found Andrea and I frequently gestured using our thumb and forefinger curved into a C-shape: the universal indicator for a little or un po'.
Lapel width? Moderately wide. Lapel line? A very gentle curve. Button point? Slightly lowered. To my eyes, it's a well-balanced jacket (with two darts through the front) where no single element dominates.

However, the detail most emphasised to me (and although small, could be considered a Ripense signature) was the seam between lapel and collar. On a Ripense jacket, the point of the lapel is cut at a strict 90-degree angle, but when the top of it meets the collar, it twists sharply up towards the neck (as you can see in image on the left).
The intention here is for the collar piece to be of uniform width as it snakes from one lapel and around the neck to meet the other lapel – an aesthetic Andrea prefers. When the lapel line is straighter (as is the case with the jacket on the right) the collar piece starts slim but must widen to ensure a good fit around the neck (shown by the red markers).
A typical Ripense suit is worn above by regular customer Max Poux (below). I reached out to Max to get a client's view of the Ripense experience and product, and he was most generous with his time.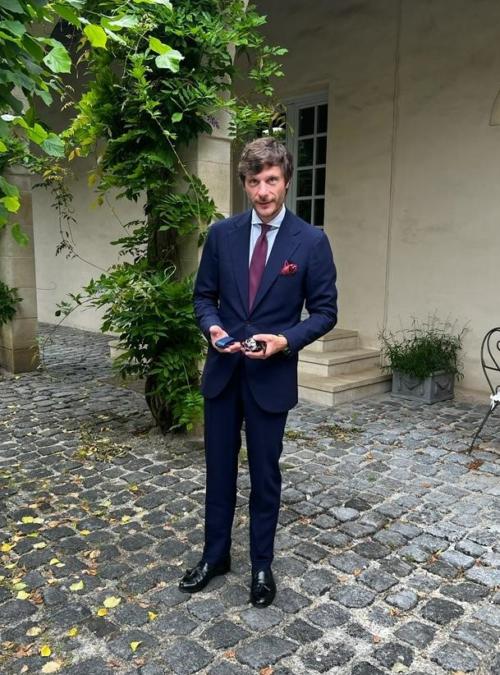 "I've been a customer of Sartoria Ripense since 2016 when I was introduced to Andrea through a friend. We bonded over cars and watches first, then I asked him to make me a suit and since then he's been my only tailor and become a very dear friend.
"Previously my bespoke tailors were Terry Haste and Anderson & Sheppard (who I used for many years: 2007-2015). I've also commissioned made-to-measure tailoring from Sartoria Partenopea and Orazio Luciano.
"Haste was a little too structured and I couldn't ride my motorcycle! I found A&S too 'old school' with too much drape. For me, Ripense is the best looking fit, a modern style, and the most comfortable I ever had.
"Since 2016, I've built up an extensive wardrobe made by Andrea. My favourite pieces are a tuxedo (above) and a Solaro double-breasted - simply because these are garments worn for special occasions and aren't work related. But the piece I wear most is a blue hopsack blazer jacket (above).
"They put so much work into tailoring the garments that the only changes I usually ask of Andrea are to simplify - not putting buttons in the trousers cuffs, or not necessarily stitching a buttonhole in overcoat lapels.
"What I like most of all about Ripense is Andrea's eye. He has impeccable taste, brilliantly mixing English elegance with Italian nonchalance! Anything he wears immediately becomes an inspiration and knowing you can trust your tailor's taste brings real peace of mind for any customer who wants to look his best without having to overthink it."
I also spoke with Paul Fournier (above) who has been a customer since 2010. "I discovered Sartoria Ripense, in 2010, and it was love at first sight. The craftsmanship exhibited in their garments is unparalleled, a true testament to the art of bespoke tailoring.
"I have commissioned garments from Cifonelli, Camps de Luca, Anderson & Sheppard, Gieves & Hawkes, Sartoria Dalcuore, Sartoria Panico, WW Chan, Orazio Luciano and many others I would rather forget.
"What sets Sartoria Ripense apart is the ability to understand one's lifestyle, making each piece a reflection of one's individuality.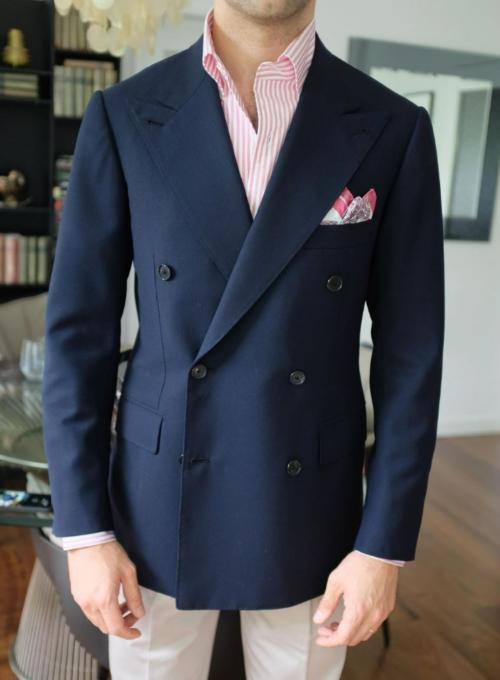 "My favourite piece from Ripense would be a double-breasted jacket in a 4-ply open weave wool fabric from Vitale Barberis Canonico (above). There is an undeniable allure to their double-breasted jackets.
"While my overall experience with Sartoria Ripense has been exceptional, there was a period where I had some concerns regarding their trousers. However, they have since made changes to their trouser maker.
"Unfortunately I haven't had the opportunity to try the new trouser offerings, as I currently have all my trousers made by Salvatore Ambrosi, in my eyes the best trouser maker out there. Nonetheless, it is encouraging to see that Sartoria Ripense is attentive to feedback and continuously strives to improve their craft.
"Above all, what sets Sartoria Ripense apart is the unparalleled consistency of their tailoring. I have yet to encounter another tailor in the industry that consistently delivers such exceptional results.
"I am fully aware that I am using an unreasonable number of superlatives. They are deserved."
I would echo Paul's enthusiasm for the Ripense double-breasted cut – above you can also see the Solaro suit referenced by Max alongside another customer's 6x1 jacket – and were I to commission anything from Ripense, it would almost certainly be a double-breasted suit.
The lapel line, with the peak arrowed towards the shoulder crease, seems to strike a pleasing balance between a louche, low-slung vibe and the over-excitable antenna look.
For international customers, Andrea's English is perfectly serviceable - certainly far superior to my Italian. If you have very specific requirements or want to get into technical details it might prove challenging, but otherwise I wouldn't worry about a language barrier.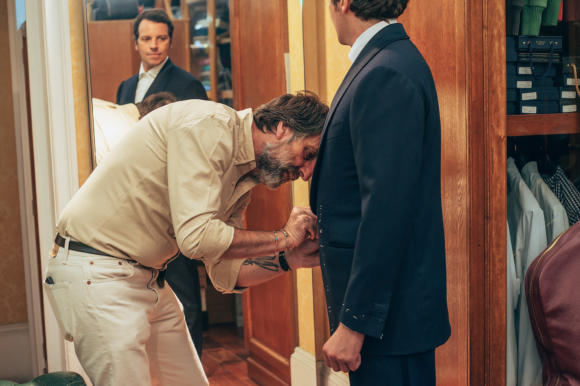 And if words do fail, Andrea isn't shy of resorting to a bit of theatre to make his point. At one stage in our conversation, he was on his haunches re-enacting the evolution of man: from hunched knuckle-dragger to upright biped, his hangdog eyes running the gamut from bewildered agony to spine-straightened ecstasy.
I think the purpose of this natural history lesson was to demonstrate how subtle shifts in one's posture can fundamentally alter the balance of a bespoke jacket. But to be honest, I was laughing too hard to fully comprehend.
Sartoria Ripense's prices start from €3000 for jackets, €4000 for suits and €5000 for coats.
Photos by Olimpia Piccolo @lollipiccolo
Additional images courtesy of @sartoriaripense, @maxpoux and @paulluxsartoria
Manish is @The_Daily_Mirror