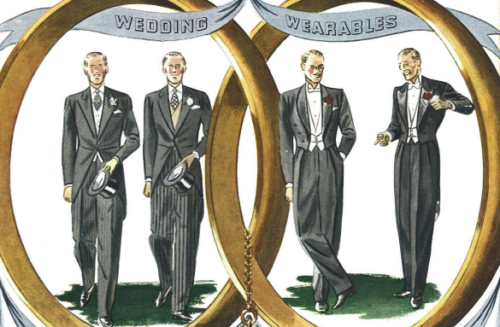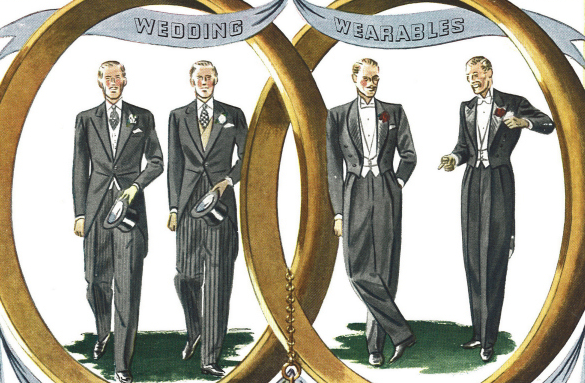 Michael, Atlanta: I'm a long time reader and have greatly enjoyed your posts, and have even more enjoyed applying their message.
I'm about a year away from my wedding and am looking to have a suit made for it. I am looking at either a black with a white chalkstripe, or a medium grey with a white chalkstripe. A standard three piece, with three-button jacket, slanted unflapped pockets with a ticket pocket on the right, and an eight-button double-breasted peak lapel waistcoat. This will be accompanied by an unadorned white spread-collar shirt and plum tie and pocket square.
That, I'm aware, is quite a lot of look (stripes, peaks, buttons, and pockets) even though we are looking to incorporate throwbacks of vintage styling. I'm uncertain about the pairing of the waistcoat and the jacket – is having both peak-collared something that will look ridiculous? And the combination of single and double-breasted seems to make sense in my head, but is it commonly borne out?
Lastly, would black and white spectators work, or pull the whole thing apart and make it look even more like costume?
Dear Michael, you are right in your description of this a lot of look. To be honest, I think it is too much. But it can also be saved fairly easily I think.
Let's start with the colour of the suit. Go for the medium grey, not the black. A black suit with chalk stripe can too easily make you look like a wide-boy trader or a gangster, and besides, black as a colour suits almost nobody. The mid-grey should be more flattering, seem more formal at the wedding and provide better use later on.
The pockets need to be quietened down a little as well. Unflapped pockets may look a little odd with a suit that isn't that formal elsewhere, and a ticket pocket produces the opposite effect. Equally slanted pockets. It feels like you are trying to throw too many quirks into one area. I would pick just one: two unflapped, straight pockets, for example, or three with flaps.
On the waistcoat and jacket, don't worry about the double and single breasted, but do worry about the lapels (the collar is the top section, around your neck by the way). Having both peaked will look too much – like you are trying to wear two outfits instead of one.
Instead I would go for a collarless waistcoat – I have a suit and waistcoat in exactly that configuration and the sweep of the waistcoat underneath the jacket adds subtle verve without being over the top. If you must have a collar on the waistcoat, make it a shawl collar – a very traditional look on a double-breasted.
And the advantage of paring back in all these areas is that it is the only way you'll be able to get away with wearing spectators as well.