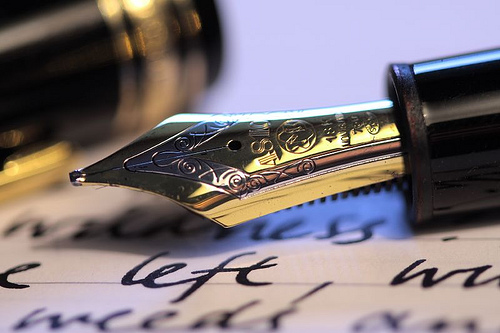 Last month, a reader asked for some recommendations of "affordable luxury". By this, I think he meant items that weren't necessarily that expensive, but were nonetheless luxurious. The best (a little) money could buy.
Buying the best you can afford is a founding principle of this blog. Spending that little bit more often leads to acquisitions that look better and feel better, and do both for longer. Things that age well and reward investment every day.
Here is my top five of "affordable luxury". Depending on your wallet and generosity, it could even be a Father's Day list.
A gold-nibbed fountain pen – from £200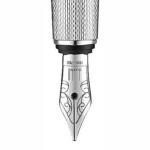 This is my number one. The difference between writing with a good fountain pen and any other instrument might be greater than any other comparable upgrade. Literally every time I write with my pen (a Dunhill Sidecar) it produces a conscious pleasure, in the smoothness of the action and the flow of the script. A good fountain pen, of course, should have a gold nib. It's what produces that smoothness and it adapts to your writing style over time. An ebonite feed is a nice extra. Read my guide to buying a fountain pen here.
Perfume – from £80
Given the effect that a beautiful fragrance can have on your mood, it's incredible that you can buy the best in the world for less than £100. I've become increasingly obsessed with perfume in recent years for just this reason. It's like hunting for the perfect capsule collection of shoes: you don't need many – just a few for different occasions. But perfume is a lot cheaper. Check out Byredo, Frederic Malle, Creed, Etro, Bois and (yes) Tom Ford. Guide to how to wear fragrance here. And how to buy it.
Silk/cashmere socks – from £50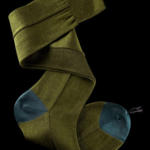 After a while, you don't need more socks. Good ones last a good while, and unless you're into pink or paisley, they are pretty versatile. The lovely thing, then, is to very occasionally upgrade to something truly luxurious. A silk and cashmere mix is wonderful for hosiery: the warmth and comfort of wool, the durability and smartness of silk. A few places stock silk/cashmere socks, but my favourites are from William Abraham. A huge step up from everything else in the market, which is reflected in the price (his start at $120).
Horn shoe horn – from £50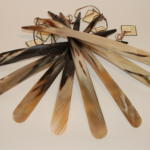 You use it every day (or should). And while the upgrade might not be quite as high as a fountain pen, for example, there is a definite pleasure in using a slice of buffalo horn to put your shoes on every day. Hang it on the door handle, use and replace, and watch it age nicely. For my money, it's worth investing in the longer variety, 14 inch at least, but not attaching the stag-horn handle. Sold by most of the sartorial retailers that advertise with Permanent Style.
Hand-rolled linen handkerchief – from £15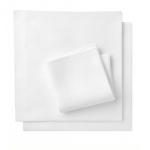 Just on the off chance that you don't already have one. By far the most versatile of handkerchiefs, dresses anything up and a slice of luxury for the price of a few drinks.