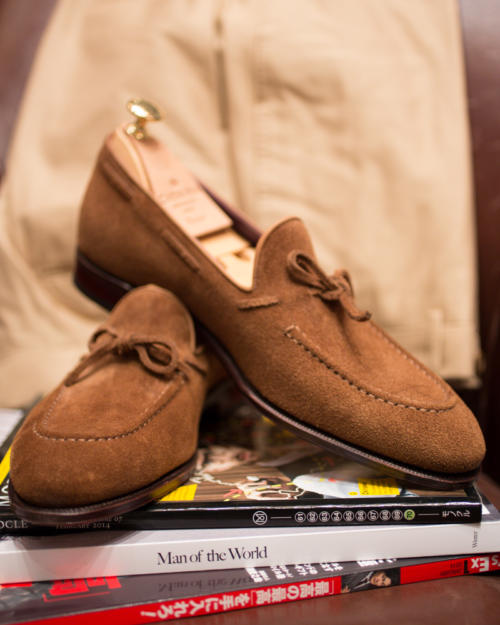 When the temperatures rise, one of the most uncomfortable things can be your shoes – particularly when dressing informally.
The key to keeping cool is to have light, preferably unlined shoes, and wear them without full socks wherever possible.
The unlined loafer
The summer staple for tailoring, preferably in suede. Dark brown is the most versatile, followed by tan. The more casual the loafer, the more suited it is to summer clothing and to wearing without socks. And as a general guide suede is more casual than leather, paler colours are more casual than dark.
Having loafers unlined makes them cooler and lighter, but be aware that they will stretch more without that lining (and side stiffeners). So buy a snug size, and watch for any odd bumps where your joints push against the side of the shoe. That can ruin the line.
My favourites are from Edward Green, but Lobb and Carmina (pictured top) also make great models.
The espadrille
The best shoe for the beach, and to/from the beach, espadrilles are light, breathable and cheap. Sandals can be simple and well-designed, but men always look better in shoes.
My favourites are from Zabattigli di Capri, but espadrilles are pretty cheap to make and anything found on location will suffice. Just avoid paying for a designer brand.
The boat shoe
The construction and soft rubber sole of a boat shoe makes it a great option with shorts – similar to trainers (such as my Common Projects), but both lighter and easier to wear without socks.
On the subject of socks, cut-off versions that sit just below the top of the shoe – sometimes called sockettes – are extremely practical. If you're not going to wear them with summer shoes, at least carry a pair around in any bag you have with you. They're a great fallback when feet overheat and become uncomfortable. (Avoid versions that finish halfway up the foot.)
…and not driving shoes
I love driving shoes, but they should be worn at home. Unless you have a genuine problem with driving in normal shoes. If worn outside, the rubber nubs will quickly wear away and the leather begin to be destroyed. If you care at all about having and looking after good shoes, do not wear drivers outside.
Image of Carmina loafers courtesy of The Armoury