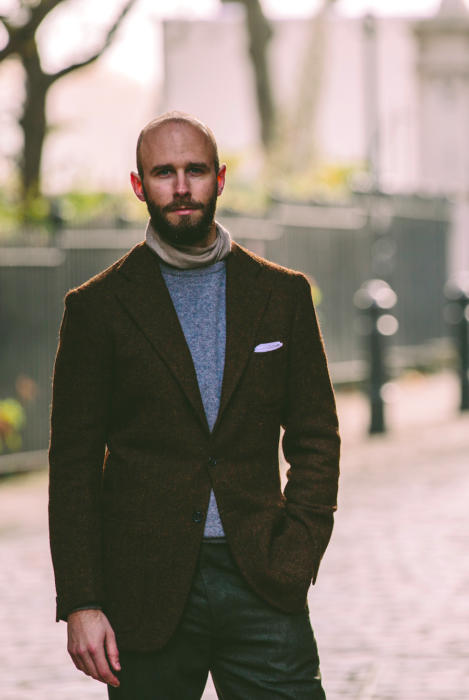 A quick reminder that our Permanent Style squares – unique, stylish, luxurious, and pictured above – are still available.
So far just over half have been sold, and there is stock available in both the navy and 'natural' colours. Begg is still offering free shipping, and they are of course the most wonderful Christmas present for the guy that has everything.
For more information on this, the latest of our exclusive collaborations, please read the original post here.

I found that outfit above, by the way, to be a nice example of the practicality of green.
To take it step by step:
I had already chosen my brown, Caliendo tweed jacket as a nice partner for our natural-coloured PS square.
The knitwear had to go with both, and be fairly neutral. The most versatile knitwear colours are grey and navy, but navy was too strong. So grey.
I picked a grey lambswool sweater from Anderson & Sheppard, as its relative roughness went well with the tweed. A fine-gauge Smedley was discarded as too smart.
With brown, grey and tan ('natural') already gone, there weren't many colour options for the trousers.

Navy is the one major menswear colour missing, but it rarely works well as an odd trouser. (Perhaps as a chino, but that was too casual for what I wanted.)
A richer tan – more caramel – would work as it would have been far enough from the colour of the scarf. But I only had chinos in that colour.

So this subtle green flannel was perfect. (Holland & Sherry flannel, made by Elia Caliendo again.)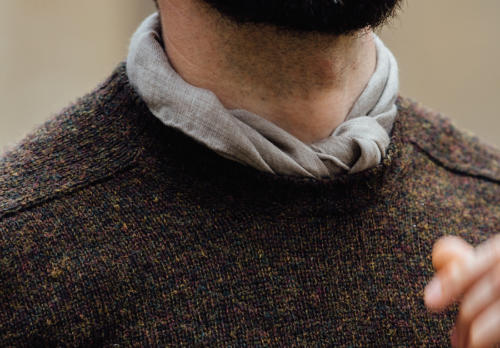 Photography: Jamie Ferguson @jkf_man