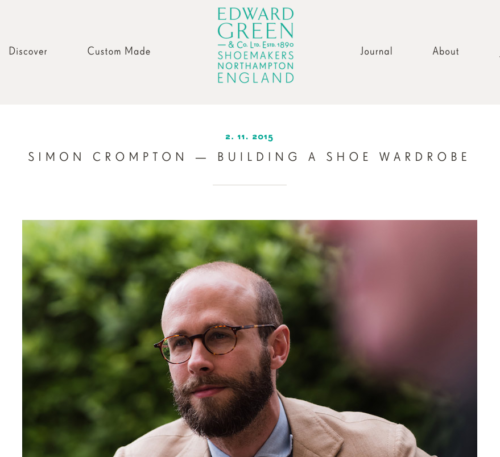 The new Edward Green website launched last week, and it's very impressive.
Unusually for the fashion industry, the site is both attractive and highly functional. The photography and colour palette are lovely, but it also has useful things like 'My collection' that includes all historic purchases by registered customers. And you can browse shoes by colour, style, last or material.
Edward Green asked me to write an article for the launch about building a quality shoe collection, so I chose to relate the story of a friend who began investing in shoes a few years ago. Every year, he added another good shoe, slowly building up a collection that became not only more beautiful, but more efficient. The more shoes he had, the less each got worn, and therefore the longer they all lasted. He was so pleased with the accumulative value that after a while he wouldn't shut up about it.
You can read the full story, and his purchases, here.
Other things worth noting about the new site:
Delivery by courier with DHL ensuring next day delivery in Europe.
Free international returns for 14 days.
No current shipping to the US. US-dedicated site launching soon.
Full retail range available, meaning the great Edward Green widths (B-G) available.
No hierarchy to the collection, so browsing my last, colour, material etc as mentioned.
The site has been a long time coming, so it's great to see it finally come to fruition. Every time I saw Euan in recent years, one more issue had reared its ugly head.
And I mean it when I saw such sites are rare in our industry. The big designer brands never get it right – focusing too much on 'recreating the store experience' and not enough on functionality. People don't want the store experience online. Digital is not analog. As a product manager it's one thing I find very frustrating.

The photo used on the site is taken from our Tailoring Symposium back in June.
There is a detailed post on the clothes in that shoot here.