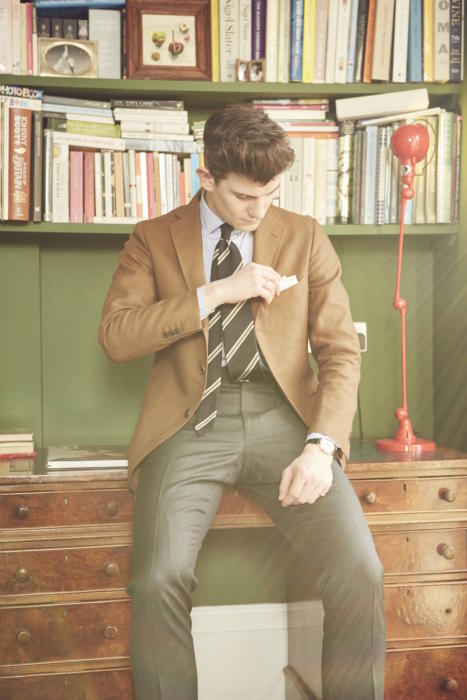 Drake's will always be best known for their ties, then handkerchiefs, then perhaps knitwear. But for the past few years they have also been doing a nice little range of jackets in the Clifford Street store that deserve attention. (£895-£995)
When Drake's first started doing tailoring, there were few soft-shouldered jackets around. The Italian high-street brands are always a little sharp and flash, and the Neapolitans (mostly Kiton) were ludicrously overpriced.
There is more now, particularly online – Formosa, Stile Latino, Eidos etc (the latter available in Trunk for the first time this season). But the Drake's aesthetic has always been a little different. There was more heavy cotton and tweed in the winter; more linen and denim now in the summer. It is a slightly more rumpled, more English look. To wear with chukka boots and cardigans.


The jackets all have a floating (half canvas), hand finishing around the collar and sleeve, and a neat unlined look inside. They are made by Belvest, which makes to an excellent level. (See my piece on the background to Belvest here.)
In fact, one of the nice aspects of the jackets is how they bring the Drake's story full circle. As those who read this 2012 Permanent Style post (or The Finest Menswear in the World book) will know, Michael Drake and his team founded the company while agents for Belvest outside Europe.
Michael forged the market for Belvest tailoring in the US, but eventually left to concentrate on the scarves and then ties he had been accessorising with those Belvest jackets. The two companies have remained close ever since.
When Drake's originally launched its jackets, they were made by Caruso. But as Mike Hill and his team developed the block and style they wanted for the tailoring, they found they needed more flexibility – and headed to Belvest.
As a result, the Drake's jacket is just as soft-shouldered as any Italian competitor, but is a touch longer and has a few recognisable quirks – such as the ticket patch pocket on the right hip (very useful for a mobile or small wallet).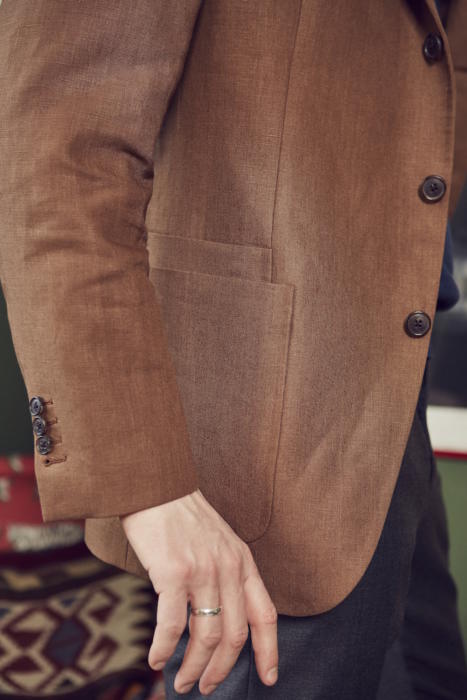 Drake's also offers a pretty comprehensive alterations service, which is one reason I'm happy to recommend them alongside the made to measure and bespoke I normally write about.
The jackets can be let in or out at the waist (as far as the inlay allows), have their sleeves shortened or lengthened (from the cuff or shoulder) and even do things like square the back neck if it is sitting away.
There is also a made-to-order service that is being tested out at the moment, and will be fully launched later in the year. Under that, customers will be able to pick from a range of fabrics and tweak the block more than with simple alterations (though not as far as to really call it made-to-measure).
More than anything, I recommend looking at the Drake's tailoring on the basis of style. I know there is a sizeable section of the readership that doesn't have the budget or time for bespoke – but wants a jacket to wear when all around him are in T-shirts and jeans.
They should consider the tobacco-brown linen jacket shown here (very similar to my Sartoria Langa one that is so popular), the natural linen, and the indigo cotton (below). The latter in particular is a nice option with chinos or flannels, and an open-necked shirt.