Sky-blue tweed jacket from Steven Hitchock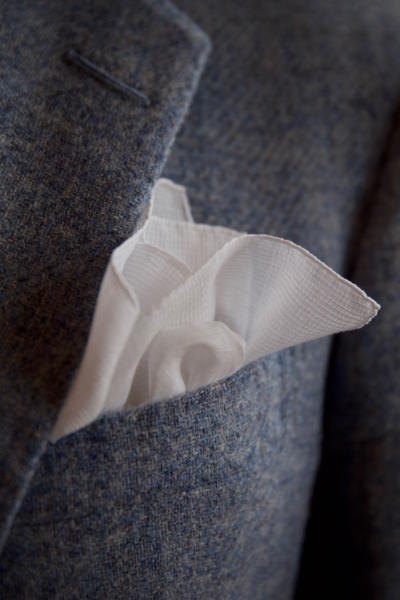 A couple of readers e-mailed yesterday to ask about the jacket I was wearing in the images of visiting Simonnot-Godard.
It is the jacket I had made by Steven Hitchcock back in 2012 - a sky-blue tweed from Holland & Sherry's Harris Tweed bunch. (Funny looking back at those old posts. Steven and I both look rather younger...).
The jacket has done very well, and continues to be as fantastically comfortable as the other drape jackets Steven and his father cut me. But it's not the easiest colour to wear, as you might suspect.
Blue shirts are never quite right, so it's whites or white/blue mixes. Here a blue/white striped bespoke shirt from Drake's.
I also like the colour of the buttons (a mid, orangey brown) but together with the gauntlet cuffs, they make it even more unusual. I must get round to changing the first and taking off the second.
You can see the lovely colours in the tweed below. Worn with a Simonnot-Godard 'smoking' in the top image, and with one of their vintage 'fil de bouche' hanks below.