Introducing: The trunk show calendar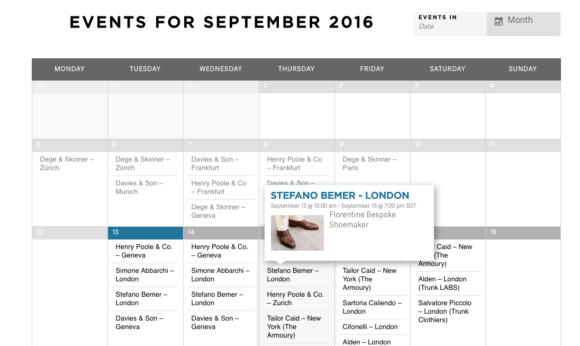 Today we launch something rather different on Permanent Style: a live Trunk Show Calendar.
The calendar is a central, coordinated listing of bespoke menswear trunk shows around the world.
It lists, month by month, who is visiting which city, when, and offering what. It has times; map locations; prices; and contact details to go straight to the makers.
For those makers where I have personal experience of them, it also links to Permanent Style coverage.
You can access the calendar here, or select it from the navigation bar at the top of the site.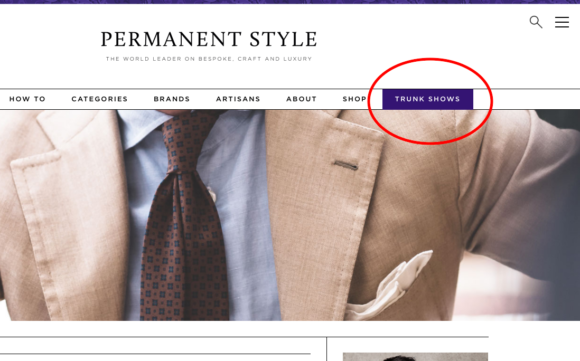 Several readers have asked me about creating something like this in recent months. As more men become interested in bespoke, and the number of travelling craftsmen increases, it gets harder to keep track.
In September, for example, London has a new joint visit from Stefano Bemer and Simone Abbarchi, a first visit from Norman Vilalta and a rare show from D'Avino, as well as all the regulars. And then it gets really crazy in October.
New York and Hong Kong are no less busy - and there are events as far flung as Baltimore, Tokyo and Vinkeveen.
I had run a similar calendar in my Outlook for a while, simply so I could remember which days the tailors I use were in London. It seemed to make sense to expand that into something for everyone, in every city.
One reader, Jeff, commented today: "Today I noticed a new tab 'Trunk Shows' that I had not seen before. You've just made my life easier. Prior to this I was hunting and pecking and keeping the dates of trunk shows coming to Chicago on my homemade excel spreadsheet. I'm new to bespoke clothing and find your website a most useful guide and your writing style has a nice delicate touch that I enjoy."
The calendar is set up to view one month at a time, with trunk shows listed on each day. You can hover over each one to see a quick view of the details, and then click through for more.
The filters at the top of the page allow you to select your city, your country, or a type of maker. We have quite a lot of cities to filter through, and there may be guys that just want to look at tailors, for example.
If you want to look at future months, simply click on the next month at the bottom right of the calendar.
You can also switch to a 'photo' view, enabling you to see all the events in a list, by selecting 'Photo' rather than 'Month' in the top right.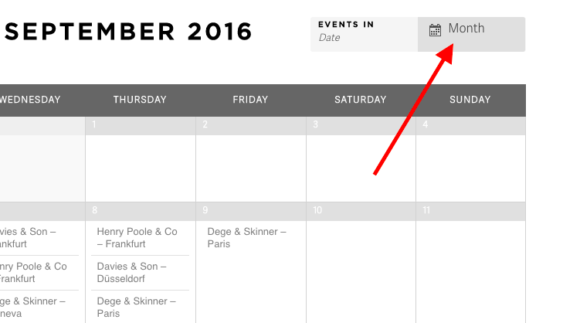 The calendar will be updated regularly - certainly as often as the artisans themselves announce their dates. We will also be manually chasing them, so hopefully we can spur some prompter announcements as well.
There are a lot of tailors, shoemakers, shirtmakers and others in the calendar, but certainly not everyone. If you or a maker you know would like to be included, please email us.
There is no cost to being featured. It is simply an editorial resource aimed at Permanent Style readers.
And as ever, we welcome any feedback on how this could be made even more useful.
Thank you
Simon