Patrick Johnson sent me this response yesterday, in reaction to the review last week and comments that followed.
I make no comment on it, and I don't think it's worth going into the questions or issues all over again.
But I do think it's worth having this statement, as readers noted last week.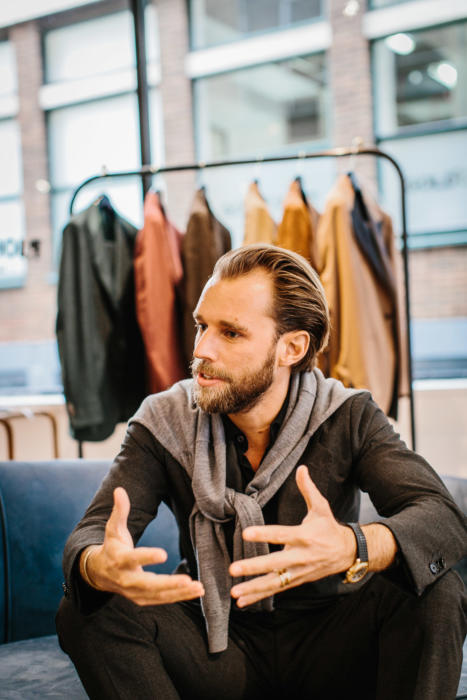 "As a business, we have never knowingly mislead anyone. We have, since the very beginning, worked with a range of different partners around the world and have been very open about this across both our P Johnson and Suit Shop brands.
As the business grew, we decided to move P Johnson to produce wholly made-in-Italy tailoring, with the Suit Shop brand to be made in China. So for us what we see in this made-to-measure suiting market as the best of Italy and the best of China. We focused on working with a number of workshops in Italy (including our current Carrara workshop which was then called Sartoria Toscana).
In time we made the decision that we needed to ensure greater control of this Italian supply chain. At this point we entered into a joint venture, Sartoria Carrara, where our P Johnson tailored garments continue to be made today.
We do still offer a P Johnson Roma line through one of our legacy workshops based in Lazio but by far the large majority of P Johnson tailoring is still made in Sartoria Carrara. This legacy workshop is still a great value product but not as artisanal in its make as the Carrara garments and we always make it clear to clients which workshop their garment is being made in.
In response to some of the other points raised in the comments regarding the size and capacity of Sartoria Carrara: Sartoria Carrara is not a small workshop, actually after D'Avenza (now Cucinelli) we are the second largest maker in our local area, something we are proud of in a time when our industry in shrinking locally. At Sartoria Carrara, we have a team of over 60 full time staff. The workshop is artisanal, but it's not small, being over 10,000 square metres in size.
In regard to the comments on hand work, we employ handwork where we feel it makes the biggest difference. We do cut everything by hand and most of our stitch work is done by hand. However, we do not attach the chest canvas by hand, as we feel for this type of made-to-measure product it is not essential.
We are able to produce a garment fully hand made in our workshop, and we do this for some clients, but our goal is to produce a beautiful garment made by artisans, that has a significant amount of handwork, but at the best possible value at the price point we sell at. We are not trying and have never claimed to be bespoke or fully handmade across our business.
Suit Shop suits are machine made with some hand elements. Here the goal is to make the best of what we feel China can offer, the best factory-made suit with hand finishing. We use all Italian ingredients, cloth, canvass, lining buttons etc. in Suit Shop but construction is in China. This information is all available on our web in the FAQ section and in our Craft section.
In regards to turn around times, P Johnson suits take around 6 weeks (but closer to 10 weeks over the August break) and Suit Shop garments take around 5 weeks with a week's delay over the Chinese new year period.
Suit Shop & P Johnson tailored garments are not made in the same workshop. We will happily produce for our clients a Suit Shop garment made in China, through our P Johnson showrooms, if that is their desire and vice versa. However, we are always transparent about this.
We do make shirts for P Johnson in both China and Poland, we make knitwear in China, casual wear (what we call leisurewear - drawstring trousers and shirt jackets) in China and ties and accessories in Italy.
In regards to house style/fit, we can accommodate the client's design preferences e.g. length of jacket, lapel size (we offer 14 standard lapel shapes but can make any desired style or size for a surcharge) etc. We don't do 1 block, but rather can accommodate both softer or more constructed garments. If we had a house style, it would be a deconstructed/soft garment as we feel it works well for a large number of our clients and stylistically we are attracted to it, particularly for our Australian climate.
Regarding training, we train our teams in all the technical aspects of fitting and construction thoroughly using the classical system taught by our head tailor based in London (ex Savile Row Academy-trained) and in the past have only used the term 'tailor' to indicate their skills in fitting a suit and their intimate understanding of how it works. We prefer the term 'fitter' and promulgate it's use now throughout the business.
I am and very proud of the product and service we offer."
You can read the full review article here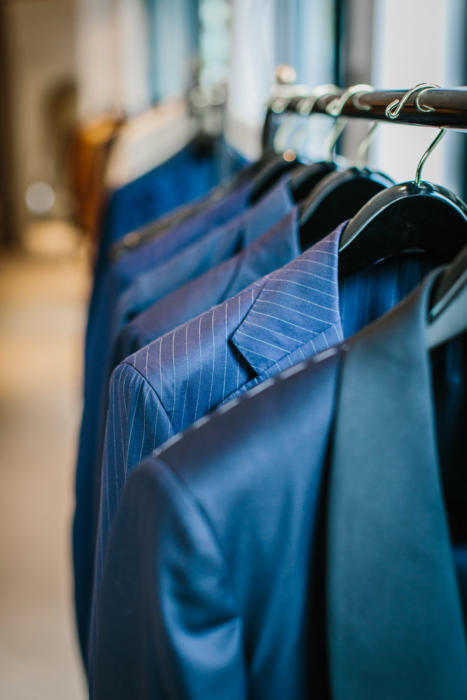 Photography: Jamie Ferguson @jkf_man