New daily email and comments page, plus 1.2 million and counting!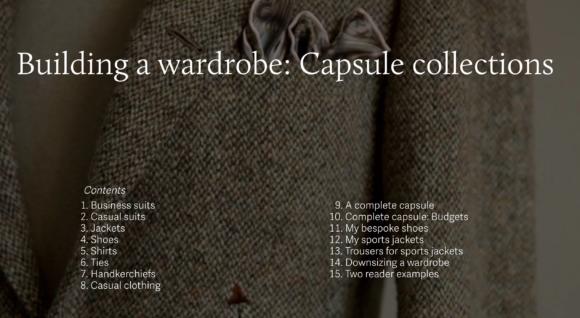 Over the past six months, we've made several improvements to the website based on requests in last year's reader survey.
Some of the new pieces of functionality will not be that obvious, so I wanted to highlight them here to make sure everyone can benefit.
Please do comment if you find any errors, or there's anything new you'd like to request.
I'd also like to take this opportunity to say thank you for the incredible year we've had, in the face of such adversity. Traffic on Permanent Style has grown to 1.2 million unique visitors a year, with over 670,000 page views a month.
I find this quite staggering, and I want to repeat that expression of thanks: you make PS what it is today, and always have done. Thank you for your support, your comments and every other form of contribution.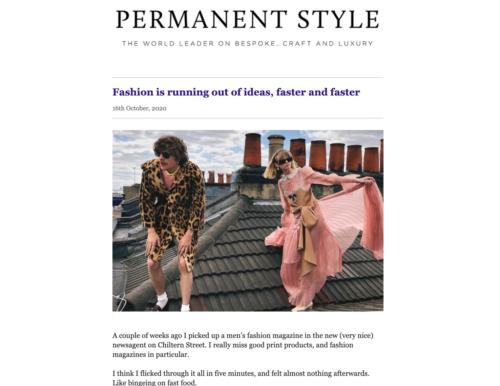 New daily email
One of the things readers asked for last year was a new email - one which went out with every new article, rather than just our weekly summary.
The weekly summary is popular (just over 20,000 subscribers) and suited to those that don't want to have to visit the site every day, or want to make sure they haven't missed anything.
But a new-article alert is perhaps better suited to enthusiastic readers, or those that want to avoid missing a new product launch. The latter was a point made in the survey - that if something launches on Wednesday morning, some sizes might be sold out by the time the newsletter goes out, on Thursday afternoon.
So you can now sign up to the new-article alert here. You are of course welcome to sign up to both as well - and let us know if there are any other means of delivery you'd like.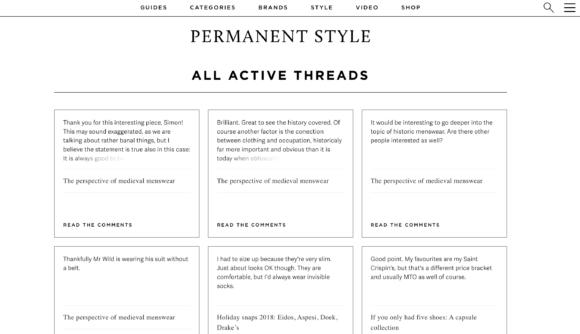 Read all comments in one place
This new piece of functionality has been available for a few months, but I've never written about it - so I'm sure some readers don't realise it's there.
We've basically created a page where you can see all the latest comments from readers, and my replies. Given most comments are on articles that are more than a month old, chances are you'll miss them unless you've subscribed to comments on a particular post.
And I think these ongoing conversations are a big part of the benefit of Permanent Style.
Several readers have left feedback on our Bridge Coat launch article here, following its availability again last year. There are now over 200 comments there, providing valuable advice and experience for anyone thinking of investing in one.
Another popular post is 'If you only had five shoes', the shoe chapter of our Wardrobe Building series. That gets new questions almost every day, and now has 216 comments. This is a perennial topic for young guys buying their first quality shoes, so it's great that that resource carries on evolving.
Sometimes readers apologise about commenting on an old thread - don't! The whole point of articles like those in the Wardrobe Building series, or Guide to Cloth series, is that they are extensive and nigh-on definitive - so they don't go out of date and will always be useful. Your comments only make them more so.
The 'Active threads' page that lists all recent comments can be found here. There's also a selection on the homepage, with a link to the full list. And that selection can be found under the adverts on all post pages too.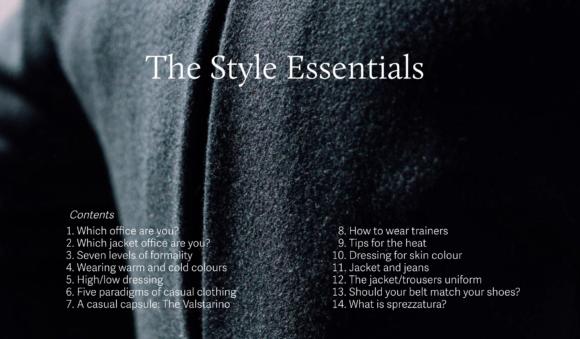 New guides and collections
Speaking of those Guides pages, we have introduced a few more in the past year, again following reader requests.
The first is called 'The Essentials' and is under the Style section of the site. This section deals with how to put clothes together - rather than how to buy, assess, or look after them. And the Essentials is the starting point for any new reader. It does what it says on the tin.
The second new section is Summer, which again is quite self-explanatory. We get so many questions from readers about how to dress for hot weather - often just in tropical countries, rather than in hot seasons. This is the destination for all those questions.
And third is the newest section, the Guide to Shirt Style. This is a partner to the Guide to Shirt Fabrics, looking at things like design and cut, rather than cloth. It will eventually be similar to the Guide to Suit Style in size, with its partner of the Guide to Cloth.
Finally, I find I often recommend 'The Rules' guide to readers, given how many of them ask about white in Winter or wearing shoes that aren't darker than trousers. The articles in that guide set out why a rule exists, so you can understand what you lose when you break it (which everyone should do, just with that awareness).
The Video page, better Brands page, and better images
A lot of the other enhancements to the site have been small, but are no less useful.
There's

a new Video section

, where all our practical and style-focused video coverage can be found in one place. I know lots of readers like to watch these together.

The

Brands page

has been corrected, so the brands there actually appear in alphabetical order, and other errors have been cleaned out. Look out for new filters on that page coming soon (that tagging has been a lot of work!).

The

Shop site

now makes it clearer that we quote prices excluding VAT, and it now accepts both Apple Pay and PayPal.

There's also an FAQs page, which should be a first port of call for anyone with a question related to the shop.

And a tiny thing: the top post on the homepage now shows a higher-resolution image. You probably never noticed it didn't, but it was bugging the hell out of me
Oh, and if anyone has any questions about how Brexit will affect shop orders, you can find the answers here. The short answer is, it doesn't much. The way we're handling it, those in the EU just pay local VAT rates now, rather than the UK Rate.
That's it. Thank you everyone for your recommendations last year, and more will be coming in the next few months - including a 'PS favourite' brand list. Watch this space.
Simon