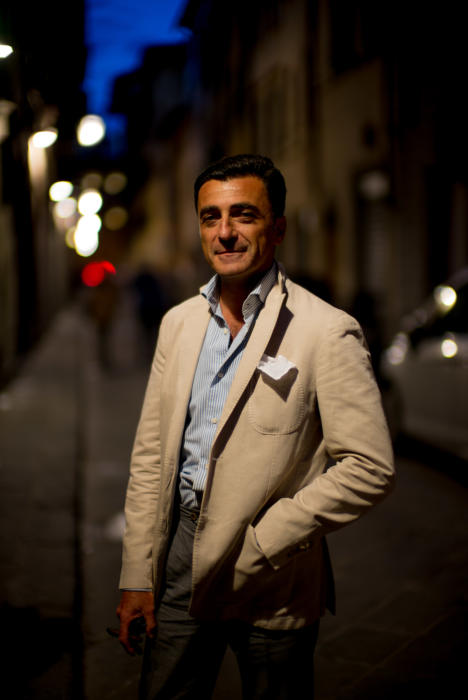 A reader commented recently (or rather, berated me) for not keeping my jacket buttoned.
I understand the feeling behind this, but I also want to emphasise that just because it usually looks better, it doesn't mean you have to follow this rule slavishly.
It sounded like a perfect candidate, in other words, for our 'Rules and how to break them' series, of which there are now 11 chapters.
The argument that underlies this series is that rules are more like conventions – ways of behaving which exist for a reason. They don't have to be followed, but it's nice to understand the reasoning first, so you know what you're giving up when you break them.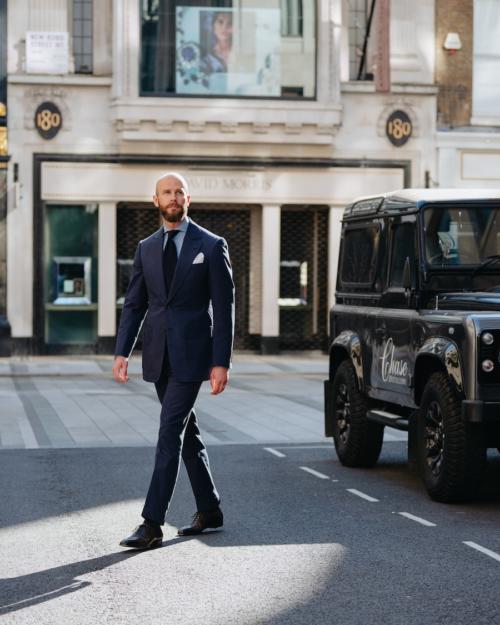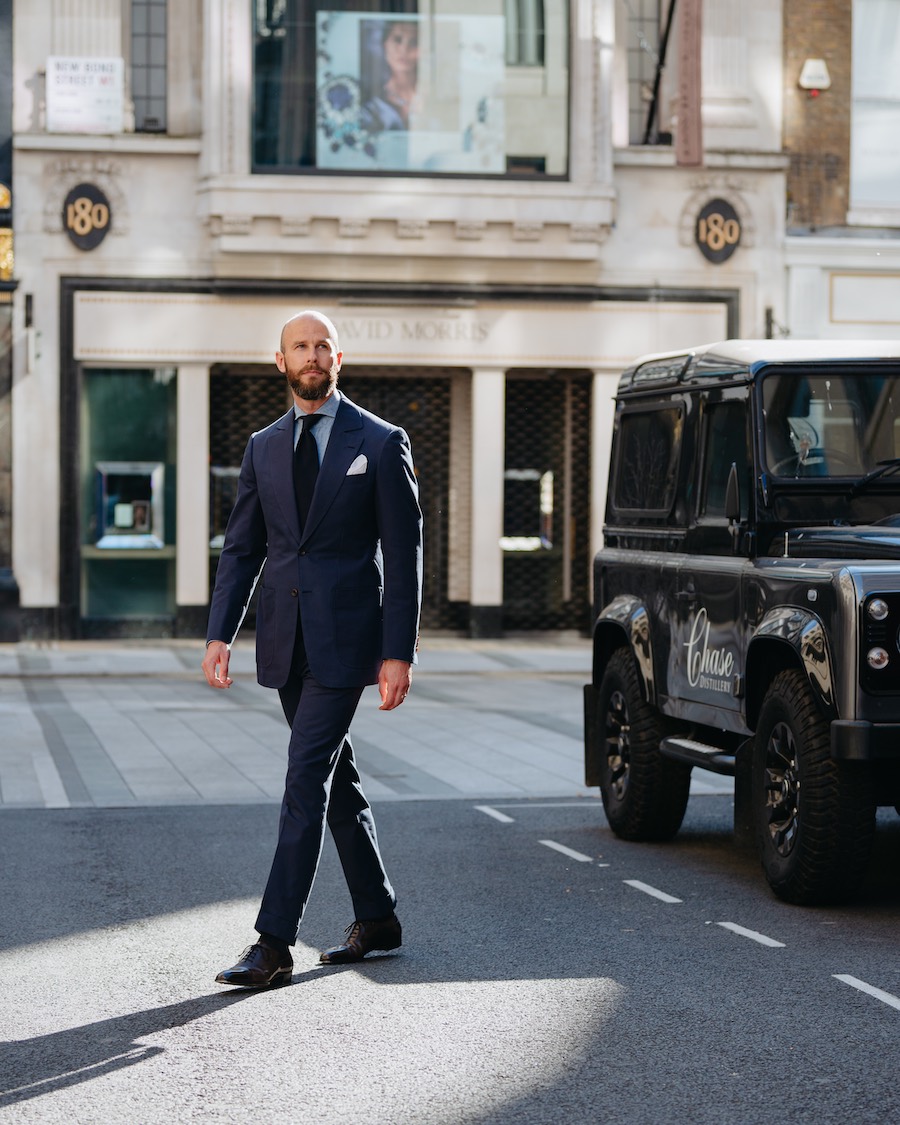 OK first, why does it look better to keep your jacket buttoned?
Well, because everything about the way the jacket has been cut and made presumes that it is. The shape from the shoulder, onto the chest, through the suppressed waist and into the skirt, has all been carefully designed to make you look good, on the basis that the waist button is fastened.
That button serves as a fulcrum, from which the fronts flow downwards around the hips, and the lapels run upwards towards the shoulders, emphasising width at the top and slimness in the middle.
The lapels also frame the shirt, or shirt and tie, reinforcing the V-shape of the chest. And they hide the often puffy shirt, creating an uninterrupted line from the waist down through long, straight legs.
Once the jacket is unbuttoned, a lot of this falls away. The jacket flaps open; the carefully sculpted shape, particularly in the bottom half, is lost.
Whatever you think of Tony Blair, the ex-Prime Minister (and please don't tell me what you think), he knew this well. Blair would always button his suit jacket as soon as he got out of a car, even mastering the one-handed technique, with the other hand raised in a greeting to the press.
It made him look better, but it also conveyed a sense of authority.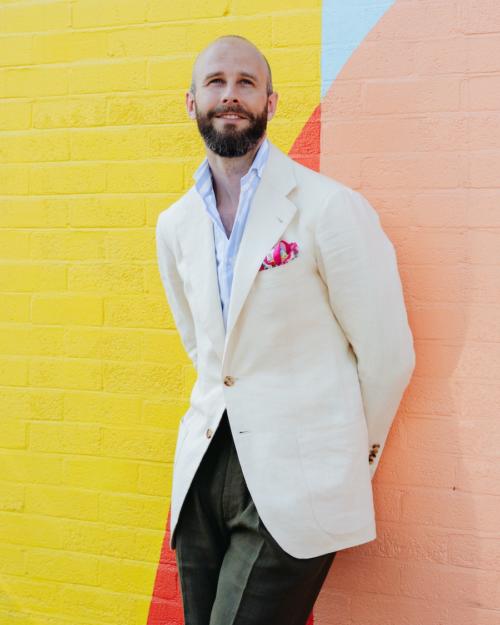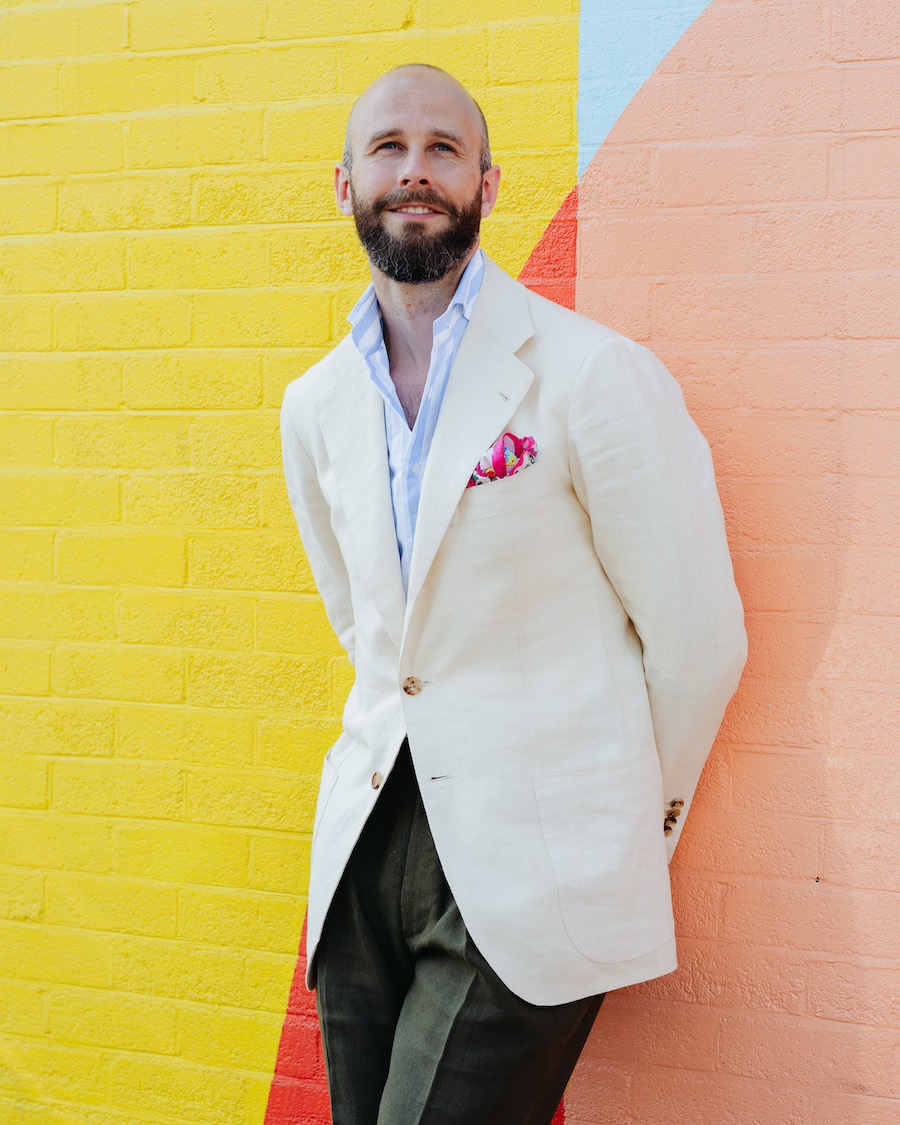 There are obvious arguments on the other side.
When you sit down, obviously you undo a (single breasted) jacket. If you're stuffed after a particularly generous client lunch, you undo it too.
If you're boiling hot, at the end of a walk through the streets of steamy Hong Kong, there's nothing wrong with unbuttoning your jacket. Other things, like not fainting on the side walk or simply appearing comfortable, are more important.
In fact, comfort is key here.
We all know that appearing fussy, constrained or uncomfortable are the biggest killers to looking good as a man. Elegance requires ease.
Therefore if buttoning your jacket, for whatever reason, makes you uncomfortable, it's a good argument to not do so. Just bear in mind the points above about what you're giving up, and button it again when you're back in an air-conditioned office. Or have it let out so it's easier to wear.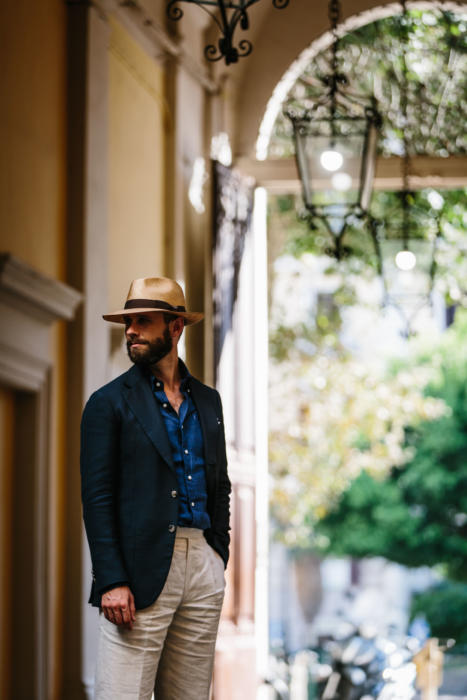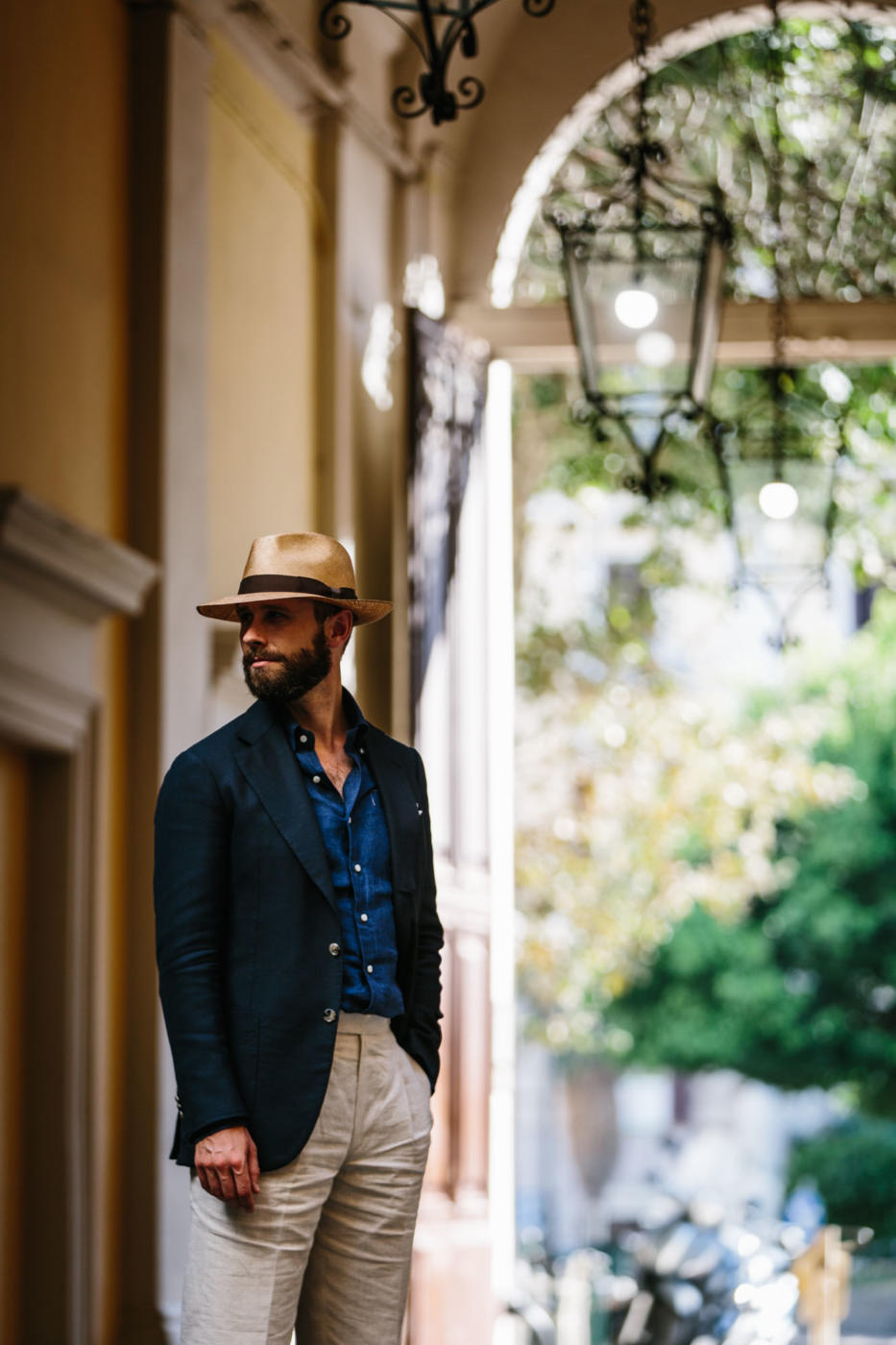 The more controversial argument for keeping a jacket unbuttoned is that it looks more casual – more suited to soft tailoring in soft materials, worn with casual things.
There is something in this. A Neapolitan jacket often looks better unbuttoned than an English one, with the latter's hard, sharp edges hanging a little awkwardly. The typical canvas used stops it from having much flow.
And it's certainly true that the more casual the tailoring is in other ways – hairy tweed rather than worsted wool, sports jacket rather than suit – the more fitting it looks to sometimes leave the jacket open.
On the other hand, a Neapolitan jacket arguably needs that anchor at the waist more, given there's less keeping it in place. And it will still always be more flattering on the wearer when it is buttoned.
This point is more a question of your priorities, I think.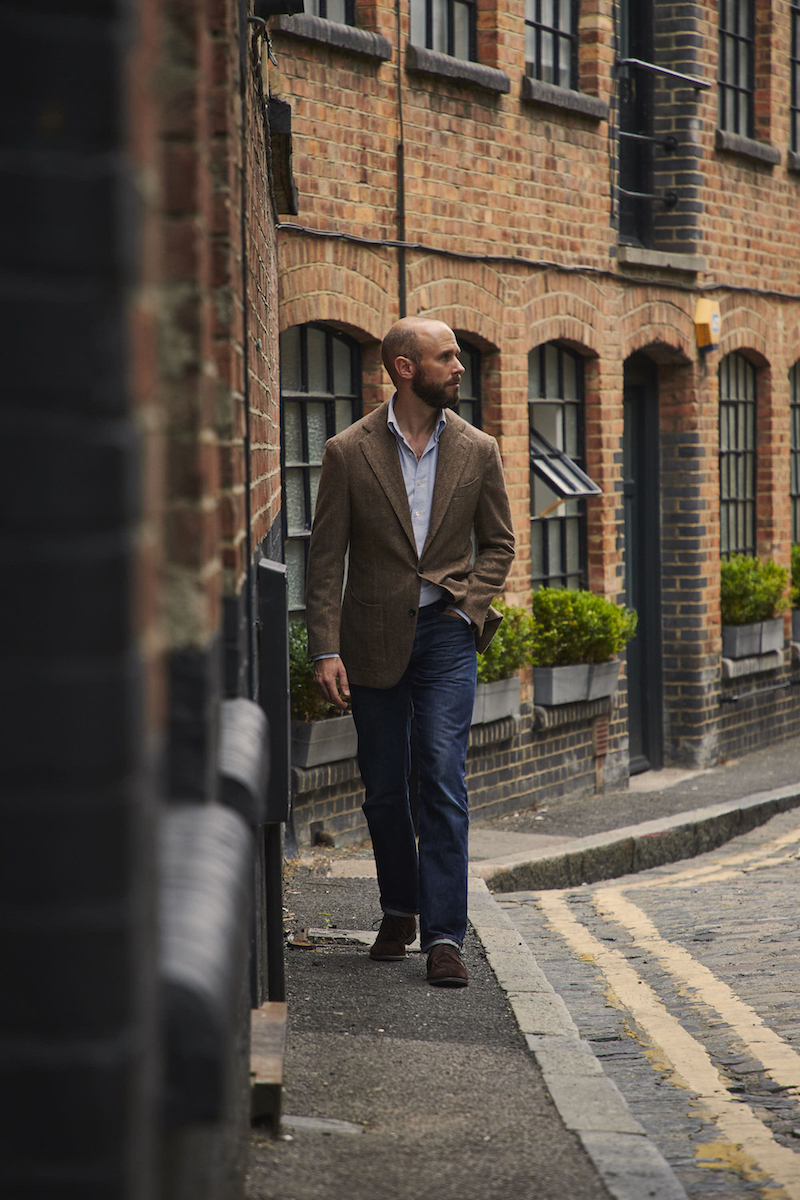 A better argument might be that an unbuttoned jacket is easier to wear with the most casual of trousers, such as jeans.
It's perfectly possible for a buttoned jacket to look good with denim. I've shown an example above, from an article back in 2018. (Although I have to say that today, I would wear rather higher-waisted jeans.)
However, it is much easier to do so if the jacket is open, more like a cardigan. And given your trousers have no straightness or sharpness any more, there's a good chance that the shape of the jacket is less of a priority as well.
The jacket-and-jeans look is one I know readers often pursue, but not always (to their mind) successfully. I'd suggest that it's worth keeping the jacket unbuttoned, and ignoring that purist nagging at them in their head.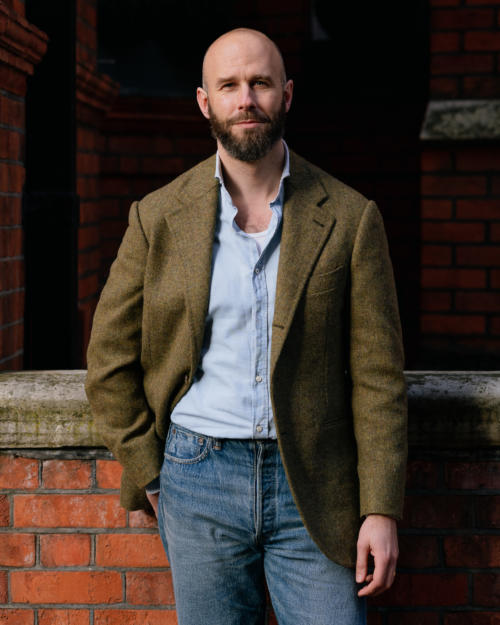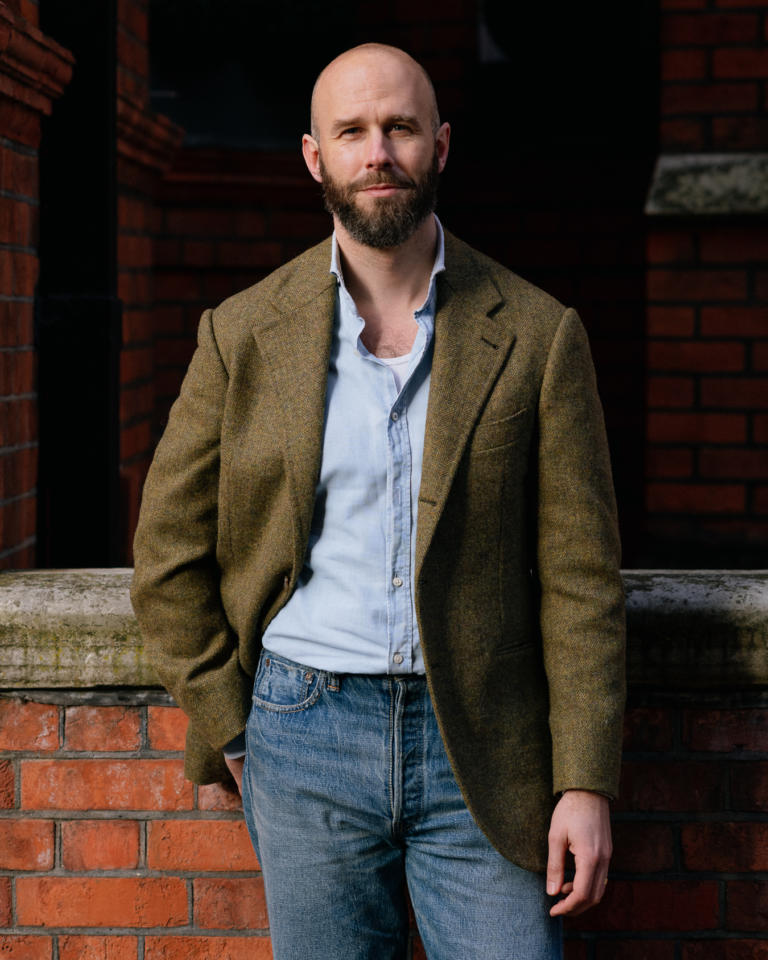 There are lots of men out there, working in a suit in an office, who never do their jackets up unless they're cold.
To them, I'd say, make more of an effort. Button your jacket when you get up from your desk, and chances are you'll look better for it. It will hide that incipient paunch if nothing else.
But there are also a few men – more likely readers – who know you should always keep your jacket buttoned. Because that's the point of a jacket, and why buy a good one if you're not going to wear it to its best advantage?
To them, I'd say you're right, but loosen up a bit. Style is about how you wear your clothes just as much as which ones you buy. That's why the men you admire look great when they pop their collar against the wind. Being relaxed is just as important as lines, fulcrums and silhouettes.
Don't be so buttoned up.