Introducing: The New Friday Polo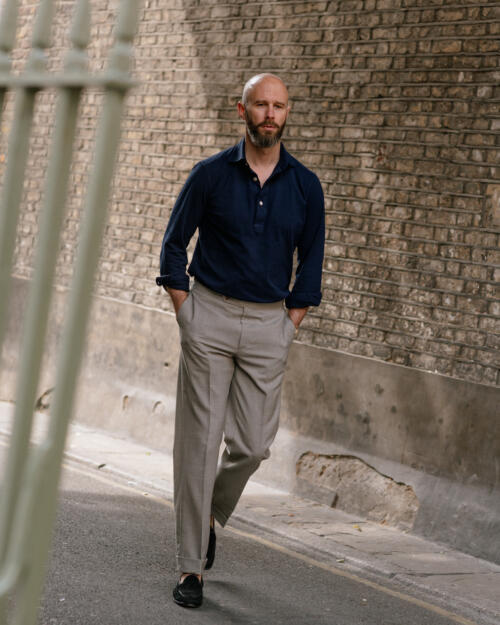 The Friday Polo was one of the first proper products we ever developed on Permanent Style and has gone through several iterations - spread collar, button-down, lightweight and heavy, short sleeve and long.
But in the eight years since it launched, my style has also broadened and changed. I'm at the point where I'd like our hand-made, luxury polo shirt to be able to do more than just fill a particular tailoring niche. I'd like it to be more adaptable - to still be great with a jacket but also easy with jeans, chinos and shorts.
For this latest iteration of the Friday Polo, that's been my aim, and I think the result works very well; it's certainly the most versatile one we've done.
The New Friday Polo is made from a mid-weight piqué cotton, with a straight hem and a spread rather than cutaway collar. It's a tiny bit more relaxed, with a tiny bit wider sleeve, and has a tiny bit lower collar stand. All small changes, but significant in the whole.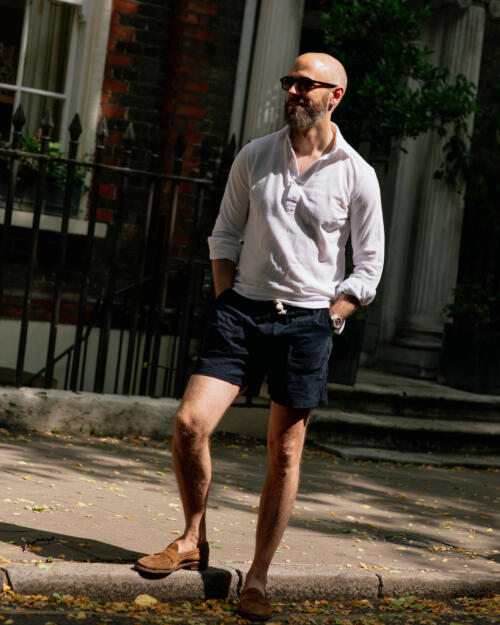 The result, which you can see on the shop site, does such a good job of versatility that I love it both with a suit (below) and beach-ready with shorts (above). Few pieces of menswear are this adaptable.
I've also shown the navy (it's coming in navy and white, to start with) elsewhere in this piece with jeans and with tailored trousers. So it covers whichever office dress code you have to abide by, and indeed whichever occasion or requirement there is within that.
It's still a luxury piqué cotton (as always seems to be the case, more expensive than the last one) and still has the collar stand that separates it from the vast majority (more like a dress shirt, better with tailoring).
It still has the functional handwork that comes from being made in Naples, by a shirtmaker (Luca Avitabile): bigger sleeve eased into smaller armhole, collar attached in the round.
But it's lighter, easier and more functional.
Material
The material is an 150g cotton piqué, woven in Italy by Maggia, which feels soft and luxurious. It still has a nice drape, but that softness is the biggest difference compared to a cheaper, high-street polo.
This weight is a tiny bit more than those mainstream offerings, but a reduction from the 180g of the old Polo. So easier to wear in the heat, but definitely still wearable through the rest of the year too.
This was an important feature to retain, because the old model was specifically made to be wearable outside of summer, and provide a subtle alternative to a dress shirt. (On a Friday, hence the name: remember dress-down Fridays? How times have changed.)
Hem and collar
The new Friday Polo has a straight hem - the bottom is cut straight across, like a normal polo, rather than longer at the back and front, like a shirt.
I wasn't sure whether this would work, as it was essential that it remain tucked in when worn with a jacket (that was why it was cut more like a shirt originally). But the friction and natural stretch of the piqué make it work. The result is something I'm equally happy to wear tucked or untucked, again as illustrated.
Next, the collar. The original Friday Polo had a cutaway collar, which looks a little bit of-its-time now. The last one had a button-down. I wanted something easier and more regular than both, and went for a fairly average spread.
It still sits up proud out of a jacket, because it has that collar stand and hand-attached construction. It still rolls around the lapel of a jacket, much like a button-down. But otherwise it's the kind of style that's simple and easy.
I also lowered the height of the collar very slightly (4cm to 3.5cm) with the aim of hitting this same average between smart and casual. I like a higher collar on my bespoke shirts, but I know I'm not average in that regard.
Fit
The fit of the Friday Polo has been relaxed, very slightly (by 2cm in the body).
There are two reasons for this: one, it's in line with the less-slim, less-fitted shapes we've brought to other pieces like the Finest Polo and Dartmoor. And two, it makes the Polo look a lot less like a dress shirt when you wear it very casually. A shirt with a sculpted waist and flared skirt rather gives the game away.
The sleeve is also a tiny bit wider in the bicep, simply because I found it tight (and I'm hardly muscly). A tight sleeve on a short-sleeved polo has its place, but less so on a long-sleeved one.
Finally, a little design change was to lengthen the placket on the front, because I think it creates a more flattering shape - more like the lines created by jacket lapels, less like the little V of a normal V-neck sweater.
Here's a summary of the New Friday Polo, its features and details.
A luxury long-sleeved polo shirt, handmade in Naples

Soft piqué cotton by

Maggia, weighing 150g

Hand-attached collar, yoke and sleeve, giving 3D shape and enhanced fit

Hand-sewn buttons and buttonholes, just cause they're nice

Cut straight at the bottom, to be worn tucked or untucked

Shirt-like cuff and placket, enabling it to be rolled back

Long front placket
Available in white and navy, ships from London, price £195 plus VAT.
Sizing:
Regular to slim fit, compare measurements below to a shirt of your own to get the best idea of which size is right for you
| | | | | | | | |
| --- | --- | --- | --- | --- | --- | --- | --- |
| | Chest | Waist | Yoke | Sleeve | Bicep | Length | Neck |
| Small | 51cm | 46 | 41 | 60 | 16 | 70 | 38 |
| Medium | 55 | 50 | 43 | 61 | 18 | 71 | 39 |
| Large | 60 | 55 | 45 | 63 | 19 | 73 | 41 |
| X-Large | 62 | 58 | 46.5 | 64 | 20 | 74 | 43 |
Clothes shown:
With white Friday Polo:

Taupe cotton suit, bespoke by Elia Caliendo in Holland & Sherry 9oz pure cotton

Brown suede loafers, unlined Piccadilly by Edward Green

Navy needlecord shorts,

Trunk Clothiers

Snuff-suede loafers, LHS by Alden

Clan sunglasses via Connolly

With navy Friday Polo:

Grey high-twist wool trousers, bespoke by Cornacchia in two-ply Drapers 'Ascot'

Black suede loafers, Sagan Grand from Baudoin & Lange

Light-wash blue jeans, vintage seventies Levi's via Le Vif
For watches see 'My Watches' post.