By J Patrick Truhn, with contributions from Maximillian Mogg and The Heritage Post.
'Berlin' and 'sartorial' are not words one is accustomed to seeing in the same sentence. This "poor, but sexy" (to quote a previous mayor) haven for hipsters has become more expensive during the decades since reunification, but the irreverent, anarchic strain remains. While Berlin is not likely to challenge Milan, Paris or London for sartorial supremacy anytime soon, there is no shortage of talent turning out first-rate clothes and accessories, often off the beaten path.
There are, of course, the inevitable international designer boutiques that line several kilometres of the Kurfürstendamm (usually abbreviated 'Kudamm') and Tauentzienstraße, the main axis of former West Berlin, while an attempt to turn Friedrichstraße in the East into a similar hub has largely failed, for economic as well as urbanistic reasons.
But beyond both of these areas there is much creativity and independent excellence in menswear – the focus of these Permanent Style guides – to be discovered.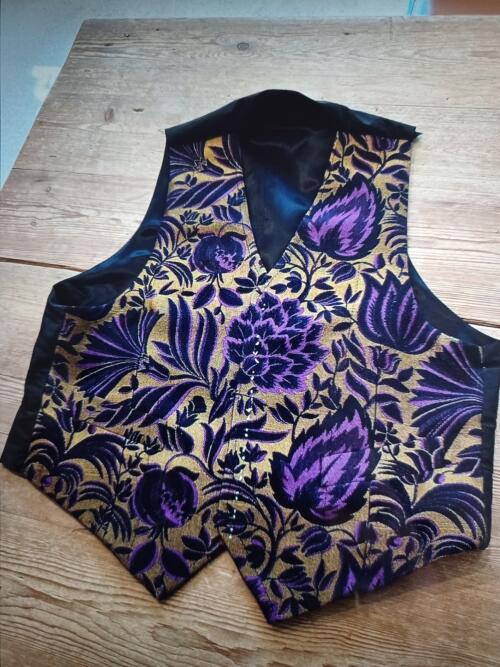 Bespoke tailors
Egon Brandstetter
http://www.egonbrandstetter.de
Chausseestraße 50, Mitte
Egon Brandstetter has recently gained renown for appearing – as himself – in the motion picture Tár (he made a green jacket for Cate Blanchett), but has been creating bespoke suits and shirts in Berlin for 15 years, working with a team of apprentices at the massive wooden table that serves as the shop's centrepiece. He began his career making costumes for the English National Opera and Vienna State Opera, with additional stints at the Salzburg and Bregenz Festivals. Above is a nearly finished waistcoat from a vintage fabric designed by Dagobert Peche for Backhausen.
Maximilian Mogg
Bleibtreustraße 27, Charlottenburg
Mogg has a major social media presence, regularly posting 'Mogg TV' episodes on his Instagram site. Within their Tommy-Nutter-esque house style – featuring pagoda shoulders, wide, belly-shaped lapels and high-waisted trousers – they offer factory-made made-to-measure with hand details and fully handmade bespoke; the latter being cut by Savile Row-trained and Golden Shears winner Riki Brockman. There is a second outpost in Cologne, and regular trunk shows in the United States, UK and elsewhere in Western Europe.
James Whitfield Bespoke
Wilhelmshavener Straße 7, Moabit
A former cutter for Anderson and Sheppard, Whitfield is the most experienced Savile Row-trained tailor working in Germany today. He initially led the tailoring operation at Purwin & Radczun (see below), but set up on his own in 2019. His shop and studio are located in the warehouse of the noted contemporary art gallery Galerie Kewenig, a former battery storage facility. In his own words, his philosophy is "elegant design, exquisite materials, beautifully made".
Purwin & Radczun
Torstraße 147, Mitte
Martin Purwin was a fabric salesman for Kiton and Armani, and Boris Radczun was the founder of two of Berlin's most successful restaurants (Grill Royal and the recently closed Pauly Saal); they opened their bespoke tailoring operation – with James Whitfield as their chief tailor – a decade ago. The website has not been updated for years, but their frequent Instagram posts (@purwinradczun) provide a good selection of their style and work. A ready-to-wear line is sold occasionally at Torstraße 106.
Herrenschneider Amann
Kiefholzstrasse 14, 12435 Berlin (Alt-Treptow)
Alexander Amann was trained at the infamous Düsseldorf bespoke tailor Heinz-Josef Radermacher. Modern, sleek lines with a touch of rock 'n' roll, fully handmade on the premises.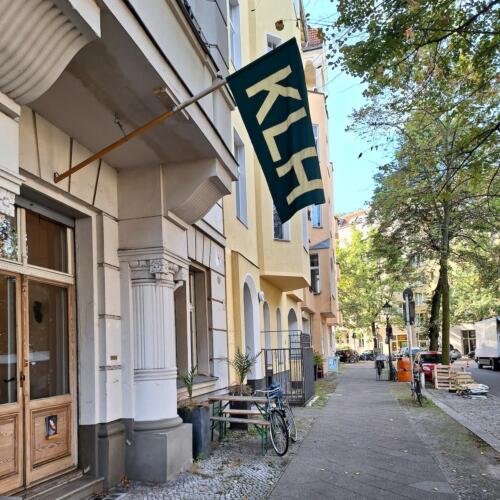 Bespoke shirts and shoes
Maßatelier Fasan
Giesebrechtstr. 18, 10629 Berlin, Charlottenburg – but currently closed, moving to a new location
Maßatelier Fasan has been making bespoke shirting for over 70 years. They offer bespoke shirts, blouses, pyjamas and morning gowns, and make on the premises in Charlottenburg's exclusive Giesebrechtstraße.
Campe & Ohff
Leibnitzstraße 53, Charlottenburg
A tiny but charming shop on Walter-Benjamin-Platz that is dedicated above all to custom-made shirts, which are produced in the firm's workshop in Lauterbach, Hessen. In addition, there is a small but excellent collection of silk neckwear, pocket squares, boxer shorts, handkerchiefs, and socks. Campe & Ohff also have a store in Hamburg.
Korbinian Ludwig Hess (KLH)
Hohenzollerndamm 201, Wilmersdorf
A bespoke shoe workshop with makers trained in Vienna, London and Florence. Waiting times of at least six months, and rather traditional styles, but shoes that are built to last a lifetime. There is also a small selection of ready-made shoes and small leather goods that can be ordered online. Pictured above.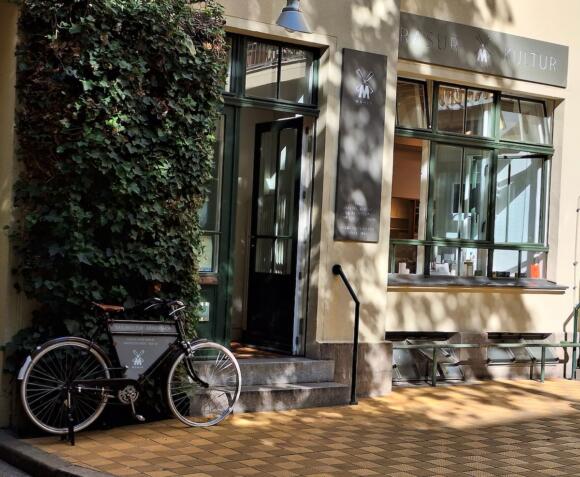 Other artisans
The Hackesche Höfe in Mitte is the largest courtyard complex in all of Germany. Built between 1905 and 1907 and under historic preservation since 1977, it consists of eight courtyards with entrances on Rosenthaler Straße and Sophienstraße. Most of the shops contain local artisans, many of whom have workshops attached to their stores. Of particular note:
Askania (Hof I)
Founded in 1871 as a manufacturer of precision instruments such as naval and aviation chronometers, the company was re-founded in 2006 and manufactures watches in Berlin. The flagship store is in the original, late Jugendstil party room of the Hackesche Höfe.
Auerbach (Hof III)
Ties, braces, ascots, scarves and pocket squares, produced on the premises in an underground atelier.
Hoffnung Berlin (Hof IV)
A belt shop founded in 1985, offering 40 different leathers and adjustments, with which one can design handmade belts or buy ready-made models. Pictured below.
Mühle Rasurkultur (Hof IV)
Founded in the Erzgebirge, southwest of Dresden, in 1945, Mühle ('Mill') produces top-notch razors and shaving brushes. The store also features arguably Berlin's finest barber, who offers haircuts, beard treatments, and straight-razor shaves. Mühle also has a shaving store on Newburgh Street in London. Pictured above.
Schirm Schirmer
Kieler Straße 6, Steglitz
Rolf Lippke is Berlin's last umbrella-maker and -repairer. The trade was officially removed from the list of training occupations in 1998.
Salon Hüte und Accessoires Herrensalon
Mommsenstraße 2, Charlottenburg
In addition to selling hats, both hand-crafted and those of such brands as Borsalino and Stetson, this shop provides repairs such as re-banding.
Fiona Bennett
Potsdamer Straße 81-83
A British-born hat designer that makes men's and women's bespoke, often in striking designs.
Classic Shoe Care Service (Valentin Zamora Lopez)
Kaufhauf des Westens (KaDeWe), 1st floor (men's shoe department)
and
Shoeshine Europa Center (Alisan Genccagi)
Tauentzienstraße 9-12, Charlottenburg, ground floor
The last two shoeshines in Berlin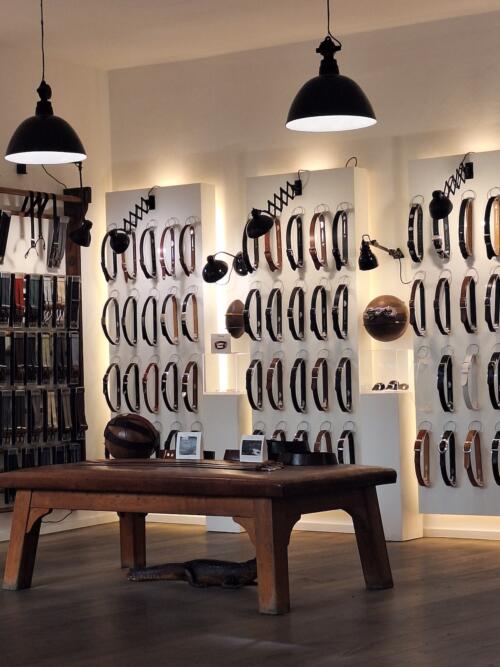 Retailers
14 oz
Münzstraße 21/1, Mitte
14 oz is a menswear retailer with real character and great curation. The store focuses on urban high-quality ready-to-wear. Brands include Drake's, Ludwig Reiter, Levi's Vintage Clothing, RRL, Barbour, Mackintosh, Alden and Tricker's.
Claudia Skoda
Mulackstr. 8, Mitte
Claudia Skoda is a German knitwear designer who has been an icon of the Berlin underground scene since the 1970s. She is known for her spectacular, avant-garde fashion shows as well as her collaborations with artists and musicians, such as David Bowie. All pieces handmade in Berlin.
Mientus
Wilmersdorfer Straße 73 (flagship) and Kurfürstendamm 52
Berlin's largest multibrand shop, offering under one roof most of the major designers whose stores line the Kudamm.
Patrick Hellmann Collection
Bleibtreustraße 36, Charlottenburg
Berlin's leading menswear designer, whose ready-to-wear and made-to measure suits clothe many of the local elite. A 'casual' store has opened nearby at Kurfürstendamm 44.
Herr von Eden
Alte Schönhauser Straße 14, Mitte
Berlin branch of a Hamburg-based company selling rakish, retro-looking suits with colourful linings, as well as dressing gowns and accessories.
Hannes Roether Berlin
Torstraße 109, Mitte
Understated, comfortable pieces in a subdued palette of black, grey, navy, and earth tones. Roether is a Munich-based designer whose work, along with that of similar German designers, can also be found at:
Müller + Reitz
Fasanenstraße 61, Charlottenburg
Andreas Murkudis
Potsdamer Straße 81, Tiergarten
A curated presentation of over 300 brands in a vast, light-filled, gallery-like environment (the former printworks of the Tagesspiegel newspaper). From Inis Meáin knitwear to Yohji Yamamoto pleats to playful Dries Van Noten prints, it has broad appeal. Pictured below.
Harveys Böhnisch
Kufürstendamm 56, Charlottenburg
A multibrand shop run by Frieder Böhnisch that has specialised in avant-garde fashions for more than 50 years. In recent decades the focus has been on Japanese menswear, from the likes of Issey Miyake, Yohji Yamamoto and Comme des Garcons.
Trüffelschwein
Rosa-Luxembourg-Straße 21, Mitte
Like the eponymous truffle-hunting pig, this store's manager often sniffs out up-and-coming manufacturers (at present the likes of Armor Lux, Hansen, and Universal Works) before they make it big.
Schuhkonzept
Bleibtreustraße 24, Charlottenburg
The "concept" is to offer a selection of high-end shoe brands such as Lobb, Church's and Carmina, an expert repair service and an intensive shoe care service, all under one roof.
Budapester Schuhe
Kurfürstendamm 43, Charlottenburg
Carries a wide selection of models from Crockett and Jones and other prominent shoemakers.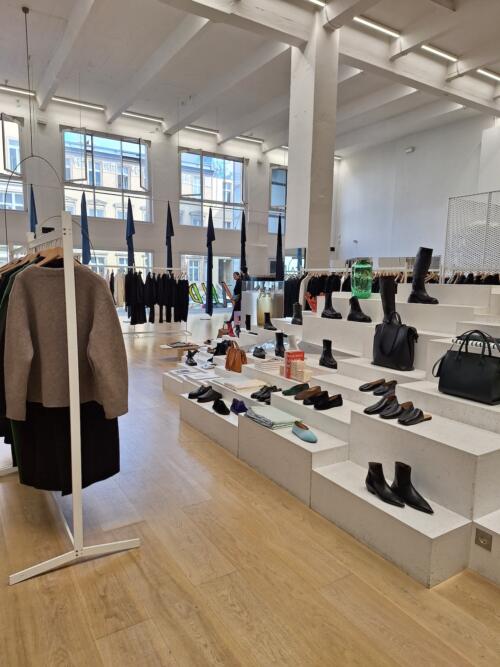 Department stores
Kaufhaus des Westens (generally abbreviated KaDeWe)
Wittenbergplatz, Charlottenburg
Founded in 1907, KaDeWe is the second-largest department store in Europe (after Harrod's), and has recently undergone a comprehensive renovation. The menswear department is on the first floor. Some luxury brands (Hermès, Louis Vuitton) have their boutiques on the ground floor. The 6th floor is devoted to food and restaurants.
Galeries Lafayette
Friedrichstraße 76-78, Mitte
Located in a landmark nineties building by the French architect Jean Nouvel, Galeries Lafayette anchored a new upscale retail presence in the centre of the former East Berlin following German reunification. The men's department is on the first floor, and is particularly good for French manufacturers.