Summer outfits at the Huntsman dinner 2018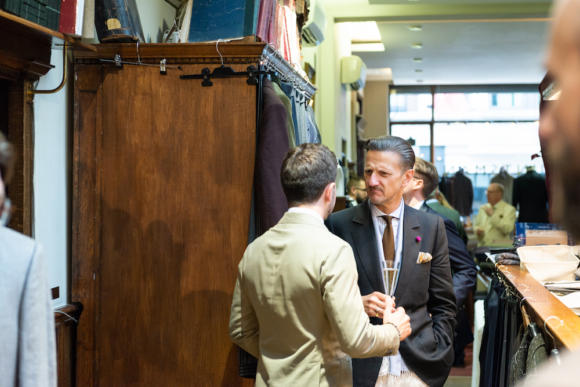 "The therapy I never knew I needed." That was how one reader described our reader dinner at Huntsman last year, and this year's was no different.
Ten winning readers came to the event, with four flying in specially from Spain, Italy and Germany. (Thank you to the dozens of others that submitted and weren't selected.)
They embraced the opportunity to talk about their love of clothing, their experiences with different brands and retailers, and the attitude of their peers.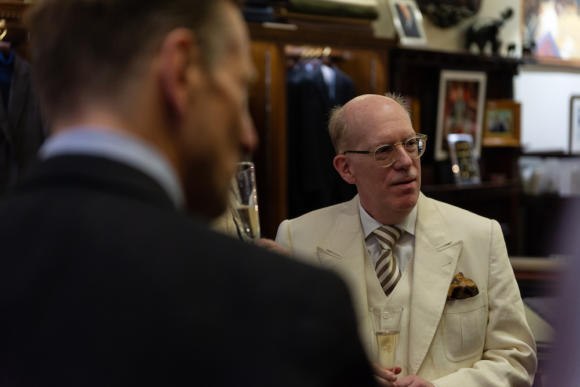 One popular topic was propriety in clothing: how much what you wear should be shape by people and place.
On the one hand, readers expressed dismay at how casually men would often dress to go out to a smart dinner, or attend a celebratory event. Making an effort in how you dress is a compliment to your host, after all.
But on the other hand, if everyone dresses casually, then you inevitably have to dress down a little to avoid standing out too much. Is it almost as rude to hugely overdress as it is to underdress?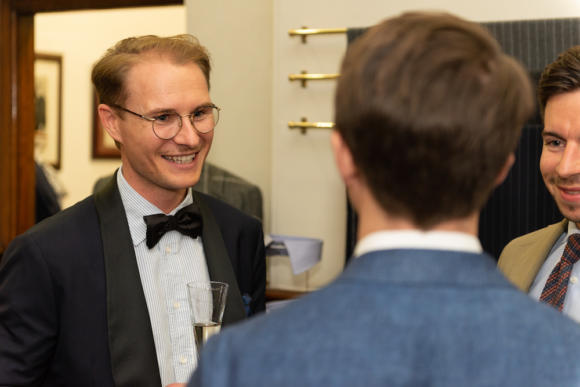 We all met initially for drinks downstairs at Huntsman, where the readers were given a mini tour and history lesson about the house.
That's easy at Huntsman, where every piece of decoration has a story. The breeches, for example, that are the only remaining piece made for Henry Huntsman - and which had been handed down, repaired and adjusted, through several generations.
Or the stag's heads that were left at the shop by two customers who left for a boozy lunch, and never came back. They've been mounted on the wall ever since.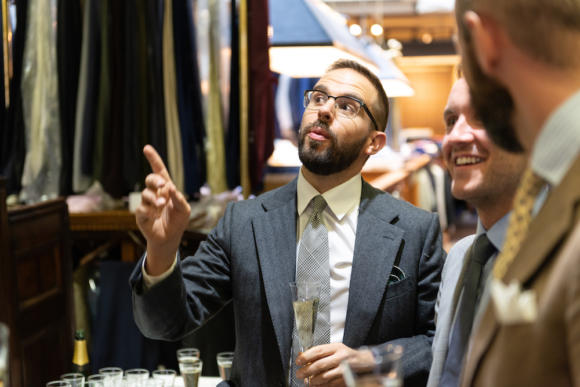 One of my favourite parts of the evening is halfway through dinner, when we ask everyone to stand up and talk briefly about what they're wearing.
This is clearly something everyone enjoys, given the amount of thought they put into their submission.
There's Mattia (below) for instance, who is interested in expanding the opportunities for wearing evening wear - and therefore likes to wear his midnight-blue tuxedo from Massimo Piombo with more casual items like a striped oxford shirt.
The shirt was from Aspesi, and he wore black tasselled loafers on the feet.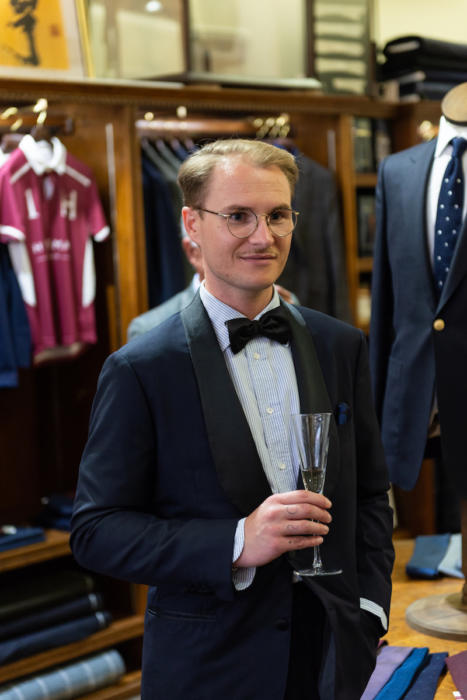 Or there was Daniel (below) who finds he favours more and more muted colours in the summer - and therefore liked the combination here of blue hopsack jacket, beige trousers, white shirt and cream tie.
The jacket and shirt were made by bespoke artisans in Rome, where Daniel lives, while the trousers were made-to-measure by Lanieri. Below them he wore brown Velasca loafers.
Both Daniel and Mattia came in from Italy.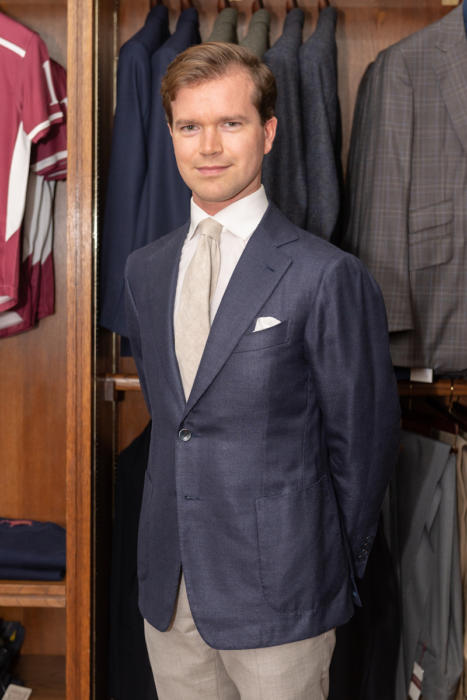 Clive (below)'s fascination is with second-hand discoveries, and he is justly proud of his bespoke black-linen jacket from Smalto, which he found in a charity shop and had altered.
He wore it with cream Brioni trousers, Turnbull & Asser belt and tie, Chester Barrie striped shirt, Mulberry pocket square and Bestetti loafers - all vintage or from outlet shops.
My favourite piece was his flower, however, which had been picked from his garden and preserved by wrapping the end in damp tissue, and containing that in tin foil. It stayed fresh all night.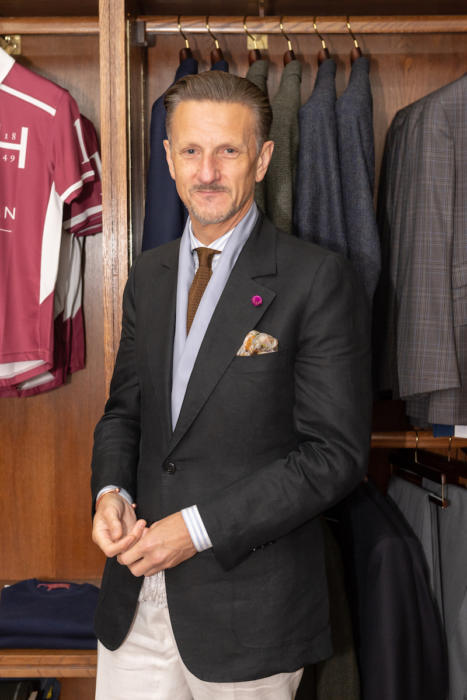 Marinus (below) came in from Munich, and talked about his tweed jacket - which was woven in 100% silk, rather than the wool one would immediately think.
That made it extremely cool, and he picked up a green in the weave in his green tie.
Marinus works in finance in Munich and likes to push back a little at the conservatism of his colleagues - in this case with the blue-suede shoes he wore below his blue trousers.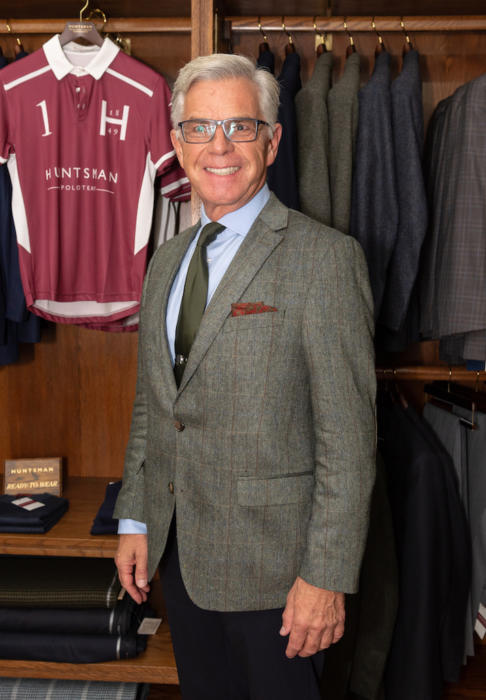 Andy (below) flew in from Madrid but spent many years living in New York, having to carry in his suit jacket on the Metro every day in the hot summer.
He finally had a specialty summer jacket made - this grey/brown hopsack from Sartoria Formosa via No Man Walks Alone. It makes a good backdrop for stronger shirt colours and patterns, such as the stripe here made by Thom Sweeney.
Patrick's suit was rather special. Made by the late Italo-American tailor Michele Savoia, it is a three piece in cream linen with various 1930s details: action back, pleated pockets, half belt with pleats, and high-waisted, full-cut trousers.
Patrick was the consul-general for the US in Naples for a time, and had many anecdotes of trying to work with the local organisations (state and non-state!).
His accessories were full-on as well: brown/cream satin tie, vintage silk handkchief, and brown/white spectator shoes.
Tom Vause (below) was the only other man in a cotton suit other than me, which he had made at Tailormade in London.
He was a particular fan of the multi-coloured grenadine tie, made by Spacca Neapolis.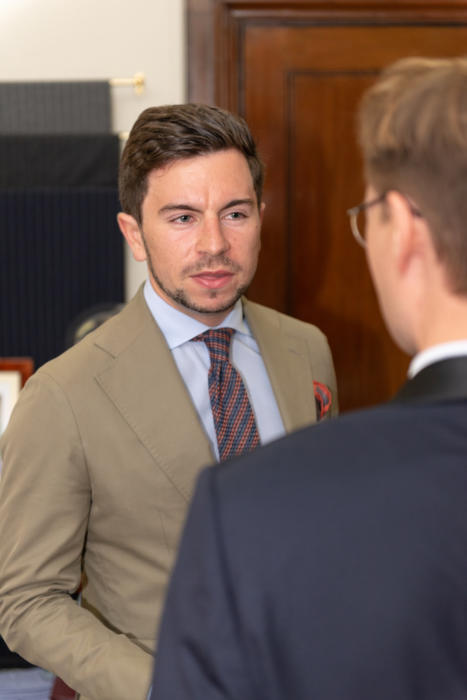 Not all the tailoring was bespoke or made to measure - the emphasis is very much on summer styles rather than craft - and Fearghus (below) wore a Ralph Lauren suit that (rather typically of RL) had a beautiful texture the like of which I've seen nowhere in bespoke books.
A pure linen, it was loosely woven and didn't crease that much during the evening. He wore it with basics elsewhere, to tone down the brightness of the suit (the opposite approach to Patrick) - white buttondown shirt and navy tie.
Tommy took the same route, toning down his sugarbag-blue linen suit with a white shirt and navy spotted tie.
Perhaps the most conservative of the outfits on display during the evening, but no less elegant for it.
And last but by no means least, Jonathan, who wore a grey high-twist wool suit with a windowpane pattern. For a windowpane the suit is very subtle and - as Jonathan put it - it doesn't feel like it's wearing him.
The jacket, he also pointed out, is very softly structured and half-lined, which helped with the heat on what was a very warm evening.
Orange silk tie and white linen handkerchief, with white braces hidden underneath the jacket.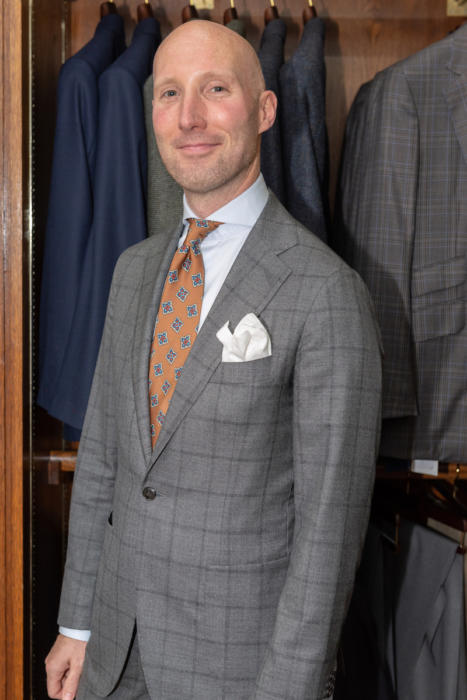 I might use my outfit for a separate post sometime.
For now, I'd just like to say a big thanks to Huntsman - to Poppy, Poppy and all - and to everyone for coming.
And again, sorry to those that didn't win this time. I didn't anticipate when I set this up how much more I'd have to disappoint people than congratulate them!
Simon