Welcome to our small but regular selection of interesting things this Autumn/Winter.
As ever, this is a highly personal list, which makes it both idiosyncratic and entirely without commercial angle - no one can ever and will ever be able to pay to appear. (They still ask, and readers do too - so it feels worth restating.)
Some previous names, some new ones, but all things I've tried out myself and can therefore recommend directly.
1 J.Girdwood cordovan notebook
https://www.jgirdwood.com/collections/leather-goods/products/cordovan-notebook-cover-burgundy
£425
I bought one of these from James during the pop-up, and it is beautiful to use. There will already be many big fans of cordovan out there, but the material is particularly nice when held and handled like this. Smooth yet tough, quickly moulding and ageing.
It's expensive, but neither cordovan nor hand-sewing are cheap. And you only need one (if you can be that restrained): it refills with Moleskin soft-cover notebooks. I particularly recommend the grey lined ones, as the grey elastic goes nicely over the top of the deep-red cordovan.
2 Linnegatan 2 / 100 Hands brushed cotton shirt
http://www.linnegatan2.com/100-hands-black-line?blockid=5&catid=93
£247
Winter is an excuse for cosy shirts in a flannel or other brushed cotton, and this cloth is a particularly nice example. I have it in a bespoke shirt, and it's warm yet not much bulkier than a normal oxford shirt, for example. The colour is also close enough to white to be very wearable.
Linnegatan's shirt, made by 100 Hands, is a one-piece collar made with slightly longer collar points than usual, to allow it to curve nicely out from the neck and remain tucked under a jacket collar.

3 Yard-O-Led Perfecta ballpen
https://www.yard-o-led.com/product/the-perfecta/perfecta-victorian-ballpen
£410
The decorative art that adorns Yard-O-Led pens has always appealed to me (as well as the fact they're still made in Birmingham), but it wasn't until last year that I finally got one. It now serves as attractive decoration to my desk - or even to a jacket pocket, supplanting the handkerchief with something no less beautiful but rather more useful.
Given that the decoration was the appeal, it shouldn't be a surprise that I chose the Perfecta from the Victorian range, with its swirling design, flared top and undulating clip. The only downside of this model is that it is a ballpen rather than a rollerball (oil-based rather than water-based ink, and therefore a little stickier/blobbier). I do also have fountain pens, before anyone asks, but find them too impractical when making notes on the hoof.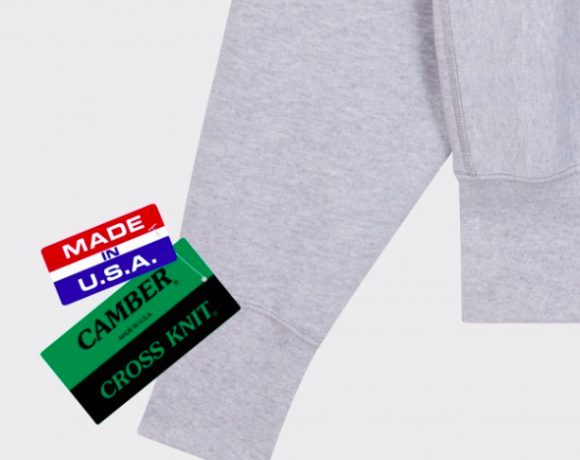 4 Beige / Camber USA crewneck sweater
https://www.beige-habilleur.com/en/sweat-shirts-and-t-shirts/889-camber-usa-crewneck-sweatshirt-heather-grey-.html
€110
I visited Beige Habilleur while in Paris a couple of months ago, and tried on both the Barbarian and Camber products. They're heavyweight, made for work and sport. Personally I have yet to accept rugby shirts as part of my wardrobe, but I got one of the Camber sweatshirts and it is really interesting.
Oversized (even a Small, on me at 6 foot) and really tough, it's the kind of thing to hike in or play in the park in (assuming you're not do construction work in it, as originally intended). It's 10% polyester, which helps with the toughness; cross-knit, which gives it horizontal stretch; and heavily brushed on the inside, making it warm. Different to other favourite hoodies like Merz b Schwanen or Loopwheeler in many ways (including price) but I'd readily play football in this, where I'd hesitate with either of the others.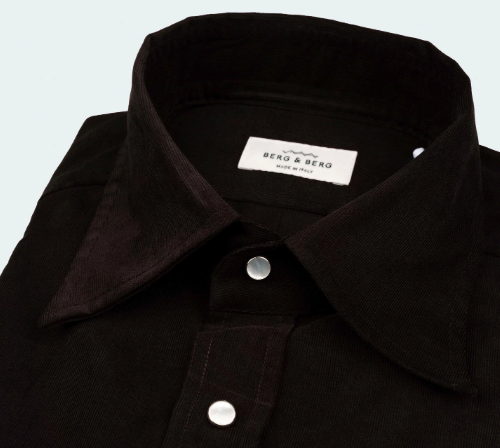 5 Berg & Berg western corduroy shirt
https://bergbergstore.com/products/fernando-turndown-collar-shirt-black
£219
Lightweight corduroy, like brushed cotton, is a cosy material in winter and I recently had a tan one made that has been lovely. The only downside is corduroy's friction, which means it can stick a little under a jacket.
Berg & Berg's 'Fernando' shirt will probably not always be worn under tailoring, but the cut and collar do work well as such, and the combination of cord and western styling feels original. The breast pockets, too, are distinctive and perhaps subtler than similar shirts. The colours are interesting: white and navy will be quite simple to wear, but I'm trying black. Which might be just a little easier than burgundy.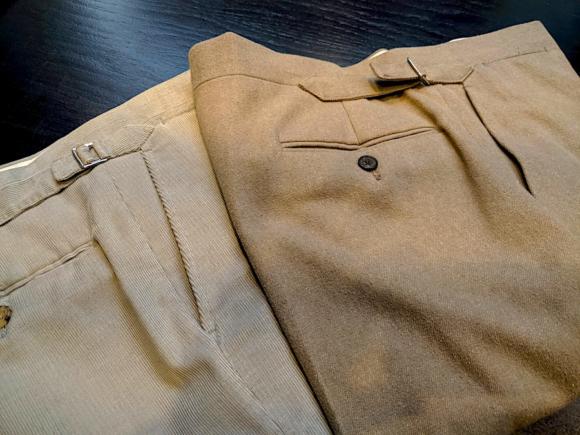 6 Richard James pale-grey cord trousers
£155
I've mentioned before that I find Richard James worth a look each season for its variations on classic menswear. I don't like some things (eg curved fronts on DB jackets) but the colours are often unusual and there's always tailoring at the heart of it.
In the bespoke shop recently (opposite the RTW shop) they've had a selection of ready-made trousers in a really good range of colours and materials. Pictured above are a pale-grey cord and olive Loro Piana Denim. Hems are unfinished are finished for free; other alterations can be paid for. The ones left are currently on sale, at £155 each.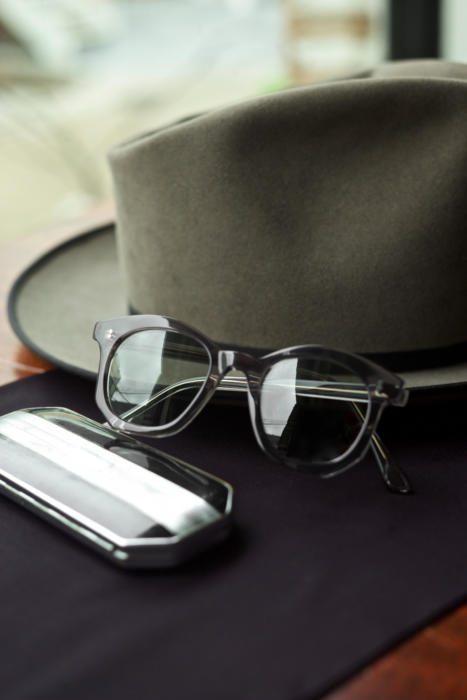 7 Bryceland's sunglasses
£345
Ethan has just brought out a range of Bryceland's sunglasses, made with fellow Tokyo-resident Solakzade. I think they're just on the line between distinctive and dandy.
Cut from vintage acetate and inspired by a 1950s French design, the frames are chunky and fairly conservative were it not for two sharp corners around the outside bottom corners. And except for the colours. I like the green (very dark, almost black, shown top) with a dark lens, but they're also offered in a light grey and pink (with dark or light lens options; grey above, pink below). The pink is the right pink; but it's over the other side of the line - particularly with a light lens.
8 P Johnson merino hoodie
https://row.pjt.com/collections/knitwear/products/navymerinohoodedjumper
$195
Whatever one might think about their tailoring or branding, I've always liked the ready-to-wear products at P Johnson, as well as the styling. This hoodie is a good example, made in a fine merino wool (and so harder wearing as well as not too expensive) and designed to be a layering piece under tailoring. There are also nice touches like the overlapping opening of the hood.
I've liked fine hoodies like this for years, initially having some from Al Bazar in Milan, before upgrading to MTM ones from Saman Amel. I don't usually wear them under tailoring though - more usually a gilet or shirt/jacket.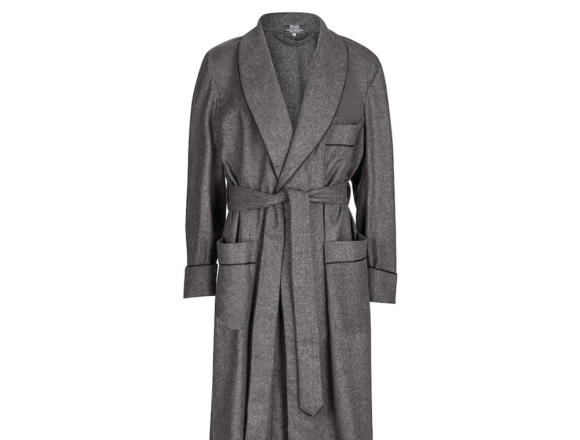 9 Budd flannel dressing gown
https://www.buddshirts.co.uk/nightwear/mens/dressing-gowns
£750
Budd do their dressing gowns made to order, at a small uplift on the RTW price - £825 rather than £750 and I spotted this gorgeous wool-flannel one in the shop the other week: dark grey with black piping.
Most dressing-gown designs and colours are too strong or bright for my taste, but this was perfect. Beautiful, yet a touch more masculine than the others. The make is excellent too - by Budd's exclusive gownmaker in the UK, who trained with Sulka back in the day. You can see it in things like the width of the shawl, and the length and shape of the ties.
This one isn't on the website, but there's a made-to-order system where you can order this or any other.
10 Trunk shetland sweaters
https://www.trunkclothiers.com/products/trunk-berwick-shetland-crew-dark-olive
£160
Shetland sweaters are hardly unusual these days - they're as much a staple of menswear ranges as oxford shirts or flannels. But I'd pick out the own-brand Trunk ones for a few reasons. First, they're a circular knit, so no side seams, which gives the naturally stretchy shetland even more play. Second, the wool itself is a touch lighter and softer than most shetlands. And third, the colour selection is good.
There isn't the variation in the yarn that the Anderson & Sheppard ones have, but the grey, olive and straw are perfect, with cream and orange as bright options. I wish the blue was a dark navy, but that's about it. The neckline is also quite high, which I like.