Petru & Claymoor bespoke shoes: Review
Almost a year ago, back in January, I began the process of making a pair of bespoke shoes with a new outfit in Romania, Petru & Claymoor.
Shoe fans might have seen some coverage of the brand over the intervening year. It was set up by Mircea Cioponea and Petru Coca, the former better known for his shoe blog Claymoor's List.
The pair have a showroom in Bucharest, and also a workshop in Brasov. The latter is in the Transylvania region of Romania, hence the use of 'Transylvania' on a lot of their branding and communications.
The split-toe derbys they made me were very nice, with a solid fit. There are one or two making issues, and a more significant one in the style that I'll describe in a moment. They're also the stiff, solid shoe typical of eastern Europe, which won't suit everybody.
But it's hard to argue with the value: €1500 for a completely handmade, bespoke shoe (€250 of which is the last - so not chargeable on a second pair).
This was also my first experience of having any bespoke done remotely - which has of course becoming more common in the past year. So that was interesting to experience and think about.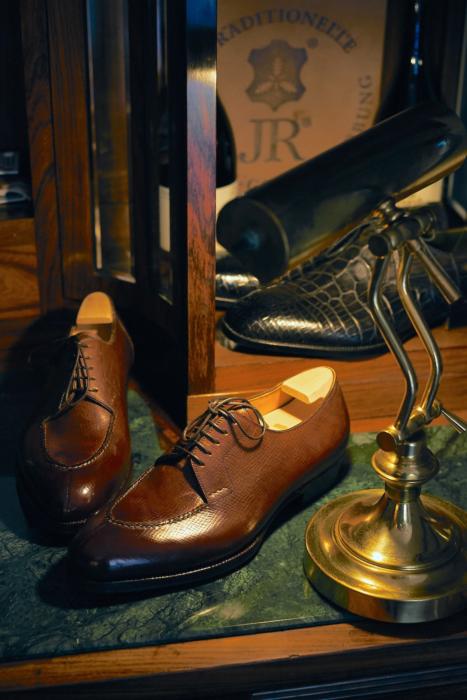 We began the experience by Mircea sending me images of their models, in various leathers, and me picking between them. Unfortunately some of the leathers proved to then be unavailable, so I couldn't get the shade of kudu I liked. I find this a risk with older shoe models or smaller makers.
But there was a split-toe derby in the Russian hatch-grain leather supplied by Horween, which I liked, so we went with that (pictured above).
I was instructed to measure my own feet, in four different places on each foot. I then sent Mircea a video of me doing so (in order to see exactly where I had measured) as well as the measurements themselves.
This was a relatively few number of measurements, compared to what a bespoke maker would usually take in person, for instance.
The process was then delayed by Covid, and we started again in June.
I was sent a fitting pair of shoes, made in a scrap leather with a temporary, glued sole (above). We then had a video call to see and discuss the fit. The shoes were a different style - a cap-toe oxford, rather than a Norwegian derby.
Overall, it was good. There were a few changes to make, and it had perhaps erred on the safe side in terms of generosity of fit, but it felt like a good start.
The finished shoes were then received in October, and I have to say packaged very nicely.
The shoe boxes Mircea is using are actually wine boxes, made from Transylvanian beech, and he included a bottle of wine from the local vineyard owned by his friend Mosia Galicea.
The box is wider than other bespoke shoe boxes as a result, and has a sliding lid, which is pleasing. The cloth and shoe bags were from a dark-grey tailoring material, and my initials were stamped on the side.
The make of the shoes overall was strong. The work is clean and well done, with smooth transitions between sole and heel, and neat hand-sewing on the apron, for instance. There were some attractive touches, like the aged-brass aiglets on the ends of the laces.
The shoes were also nicely polished, with darker colour on the toes, which really brings out the character of the hatch-grain. However it was a little messy near the welt, with some pale and dark patches.
Looking carefully, the balance of the uppers on the sole was also not perfect. From above, the welt appears wider on one side than the other, on both shoes.
This is a detail, and I doubt anyone would notice it that wasn't analysing the shoes this closely. But at the same time, it's also something I don't see on my top-end bespoke shoes (Gaziano, Cleverley, Bemer, Fukuda etc) or on high-end factory-made shoes.
The shoes are entirely handmade, in the same way any bespoke - i.e. hand welted, hand-sewn welt, hand-sewn sole, machine-sewn parts on the uppers.
But they're not a fine bespoke make. The heel is fairly square, neither narrowed to the waist nor pitched in the back, and with no clean transition from heel cup to stack. The waist is cut in, but not tightly, and the bevelling is subtle. (See post here for an illustration of those details.)
The shoe trees are also not solid or hollowed, being sprung models from Springline.
Of course, most of these are style points as well as making ones. Dressy touches would be out of place on a country shoe. But it does mean the shoe resembles some high-end non-bespoke - particularly Saint Crispin's - more than it does other bespoke shoes we've covered.
The Saint Crispin's comparison is worth dwelling on, because the overall style is very similar. As far as I know this is just because of the way shoes are made in the area: both workshops are in Romania.
But from a style point of view, I think it's worth considering whether you like that Saint Crispin's look, when considering Petru & Claymoor for a new bespoke option.
And, it's worth considering whether you need the extra bespoke steps like a hand-sewn sole, when the lack of dressy details means that the look and feel is very similar to StC.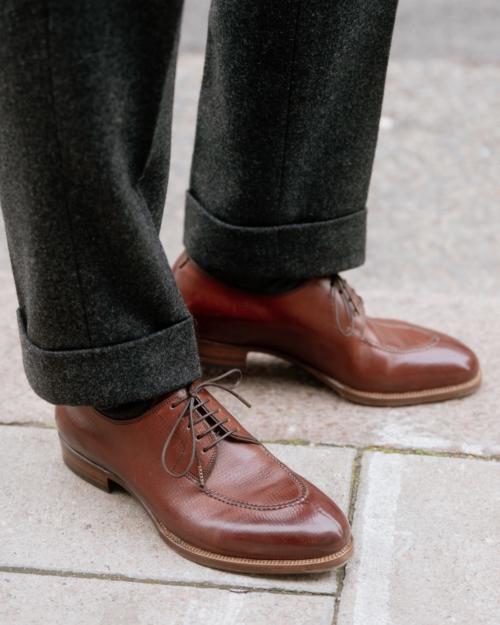 The fit of the P&C shoes was very good, which was a relief as this was the area I was most worried about, given so much had been done remotely.
The fit through the back of the shoe is close without being restrictive, while there's plenty of room to move the toes. Although, this is something that's easiest to achieve on a derby style. Most ready-made derbys fit me well (unlike oxfords, loafers or boots) and so this is only a slight improvement.
The only real fit issue is on the vamp of the shoe, where the toes meet the foot. Here the shoes are cut rather close, before lifting up into a fairly tall toe box. This makes them a tiny bit less comfortable, but also affects the look of the shoe - accentuating the creases and separating the toe area, as you can see to an extent in the images above and below.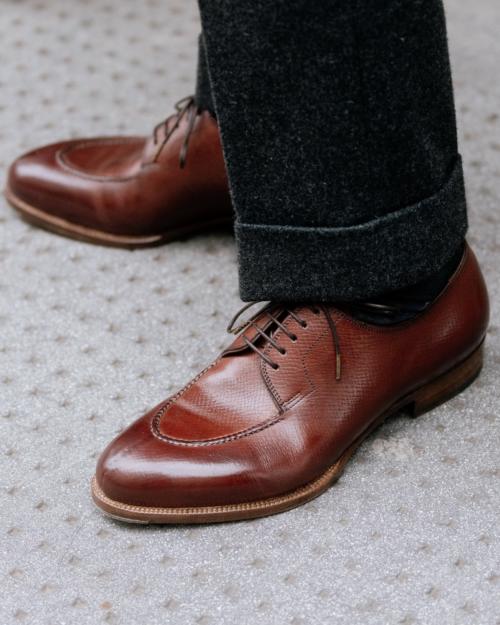 The significant style issue that I alluded to at the beginning is the width of the shoe.
Mircea said he deliberately created a wide shape at the front, in order to give me plenty of room for my little toes. He was aware from other articles that this was my biggest pain point, and issue with shoe fit generally.
He was right to focus on that, but I think overcompensated. The result is a rather unusual, almost bulbous shape to the front that I don't think quite comes across from the pictures.
Indeed, when I received the shoes I was excited about how lovely they looked, but a little taken aback at this shape. I discussed it with Mircea, and he explained the reasoning above, as well as of course saying that it could be changed on a future pair.
If I compare it to the shape of the Saint Crispin's I had made four years ago, because they have a similar last, I find those more subtle and elegant.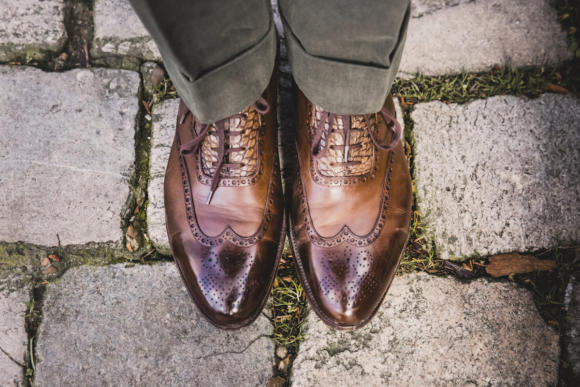 The last thing worth mentioning is that the Petru & Claymoor shoes are very stiff. Probably the stiffest shoes I've worn.
This is partly the way eastern European shoes are made. As with the lack of dressy details, these are just not fine city shoes, and are deliberately robust. But it's also a little the leather, which is thicker than most calf, around 1.8-2mm.
I've worn the shoes about 10 times so far, and they are softening, but remain noticeably stiff and a little tiring on the feet as a result. It will probably take another 10 or 20 wears to know how much they will really soften up.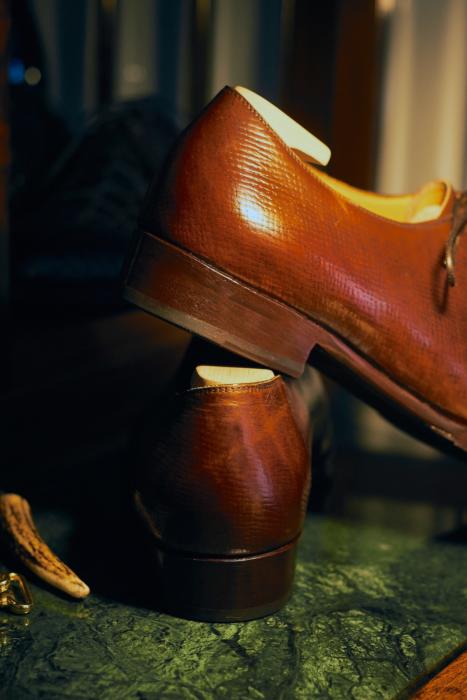 I think that stiffness and the unusual shape are what would hold me back from getting a second pair of Petru & Claymoor.
I really like them, but I need to see in the long term both how much they soften and how much that shape bothers me. I would also really want to see Mircea in person, to point these details out and to see alternatives.
The team do plan to do trunk shows - to London, St Petersburg and Frankfurt - but obviously can't at the moment.
I like the look of some other Petru & Claymoor styles, such as the chelsea boots shown above. And I've always wanted a brown-suede toe-cap in this style, as my Saint Crispin's pair didn't fit that well (one area in which P&C comes off better from the comparison).
But I think we need that physical meeting to resolve some of these issues.
And perhaps that's the biggest disadvantage of a remote bespoke process: it's hard to explain and correct any issues that do come up.
You might be lucky and not have any; but if you do, the customer's lack of expertise makes it hard to fix them. That's certainly something I'm finding in tailoring too - more on which soon.
Complete pricing: First pair €1500, including €250 for the lasts - €1250 for subsequent pairs. Price includes all calf and suede, such as the hatch grain shown. Other leathers price on request. There is also a MTO option on their signature last, from €990. Normal delivery time, six weeks.
Photography: Alex Natt, Petru & Claymoor, and Permanent Style