Acme split-toe shoes: Review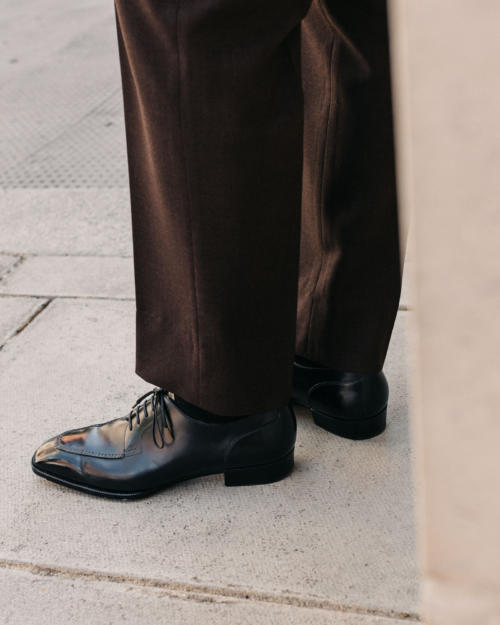 Everybody loves a bargain. I think one reader referred to it as the 'siren song' of cheaper-but-quality clothing.
The reference is often apt. Enthusiasts of anything expensive are drawn to the idea - like hypnotised Greek sailors - that they can get the same product from Uniqlo for a fraction of the price; only to find that it's synthetic, treated, or simply looks cheap.
Chinese shoemakers seemed to be singing this song loudest over lockdown. Every month there was a new brand, promising the same quality as a European maker but at half the cost.
Over the past two months I've been trying the brand making at perhaps the highest level among those makers, Acme, and I can say that in almost every way, the metaphor fails. The quality of the materials and make are very good.
The only thing lacking is perhaps styles that appeal to me personally, and access to try those fits and styles, which are a little idiosyncratic.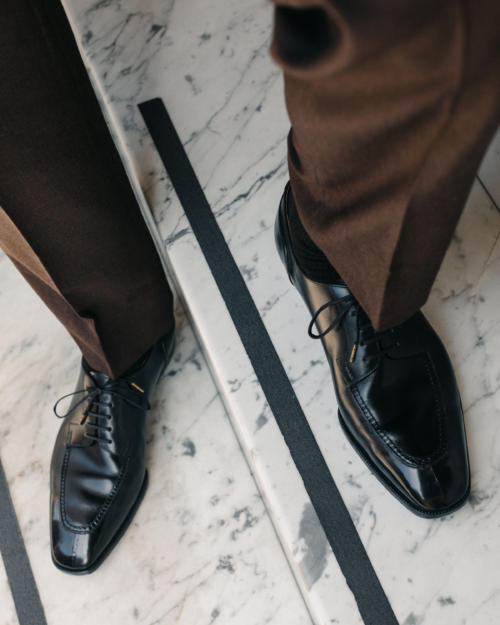 The shoe I tried was their 8008 split-toe derby, originally in a brown suede. I thought I'd wear a loafer most, but they recommended not starting with that as it would be harder to fit.
This is true - but it also highlights the challenge with ordering shoes remotely. Trying their loafers would have involved a few shipments back and forth, particularly if I found they didn't work for me and I reverted to something else like a derby.
This would have happened within half an hour in a shop or stockist in London. I would have quickly discovered that the loafers didn't fit my narrow heels, or were too slim for my toes, and I would have moved on to something else.
The point is worth emphasising because although lots of PS readers have to buy online anyway - because they don't live in a major metropolis - this lack of a physical presence is one reason the Chinese shoemakers are cheaper. Stores are not cheap, shoe stores in particular require lots of stock on site, and even trunk shows are expensive.
I know some readers will have had a chance to see and try Acme during the recent Super Trunk in London, but this is not a frequent event. Appreciate the fact there's an Edward Green or Alden store near you, because it's all part of the cost.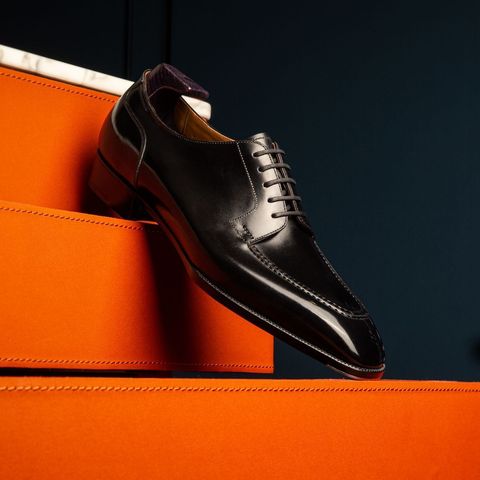 With my shoes, there was a bit of to and fro even with the derby. The initial pair fit me well in terms of width, heel and arch (great support there) but they were too long. My toes were finishing over an inch short of the end, and the vamp was breaking twice when it bent.
Thing is, I couldn't size down because then the shoe would be too narrow. Which highlights the other (smaller) issue with many of the Chinese shoemakers, which is that they make a very slim, elongated shoe.
This is something I mentioned in my earlier article discussing the new Chinese brands, and has only been reinforced since. The market they're aiming for is the sharper, perhaps slicker dresser that would normally look to Italian or French makers, rather than most English or Americans. It's what the Asian market wants too, despite their feet being generally shorter and wider than those in the west.
Fortunately for me, Acme had a solution, which was a new version of their last. The shoes I had were on the N83, like most of their derbies. They were now developing a new one, N83+, which was 3mm shorter, a little wider and less angular.
As they were making a new pair of shoes, I also opted to switch the material, going for black calf with the expectation that I'd wear them more in that elongated shape.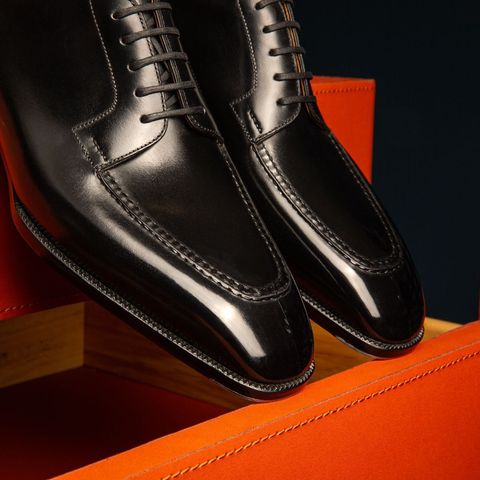 The new shoes were an improvement. The upper was no longer breaking twice, and they were comfortable from the off.
They're still a fairly long style, as I think comes across in the images, but they're now on a par with something like my Corthay Wilfrids, rather than being longer.
I should also say again, the quality was very good. These are Acme's ready-made shoes but they have both hand-sewn welts and soles. The stitching on the upper is fine and precise (unlike an example I highlighted on the previous article). And the finishing was great.
They were a little over-polished, with some of the surface coming away, but that's fairly common and goes after your first polish at home. The work everywhere else was perfect, including on the sculpted waist of the sole, and that tricky segue between sole and heel on the welt.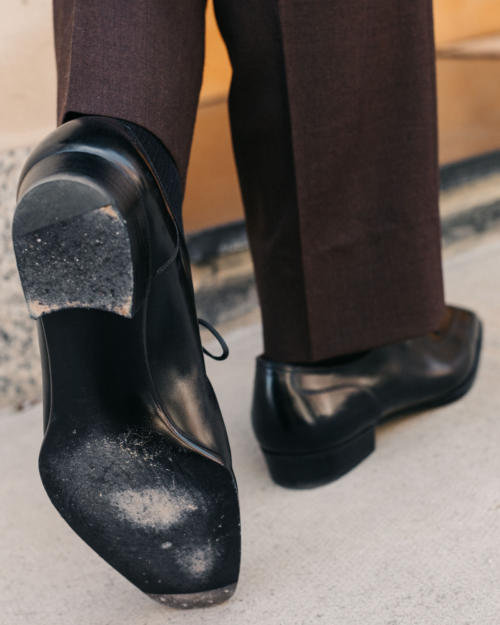 The quality of the upper leather and other materials seems to be very good too.
The real test of the upper is how it wears over time - softening and taking polish - but you can tell quite a lot from the initial feel and the way the skin wrinkles. This all looks to be on a par with top European makers.
Acme are clearly looking for any little touches they can add, and the slightly flat, waxed laces finishing in brass aiglets are also nice. Personally I don't like the brass on a smart shoe like this, but that's easy to change and I appreciate the effort.
Same goes for the packaging, shoe bags and shoe trees. The boxes have a curved lid, the shoe bags are lined, and the trees are purple. Again personally I don't care about any of those things, and they can easily tip into being gimmicky. But equally I don't mind them, and I doubt many others will either.
My shoes cost $1650, which doesn't sound cheap. But the comparison is with another entirely hand-made shoe, such as Stefano Bemer's Tradizione line, which would be $2050 to $2350.
That's the kind of discount you're looking at with many of the Chinese brands - something like 30%-40% compared to the same from an English or Italian maker.
As I said, I can't say they're definitively the same quality, having only worn them for a couple of months. But right now I have no reason to think otherwise. I can certainly recommend them to readers therefore, and I'll cover other, cheaper Chinese makers in the future too.
Personally I won't be changing where I buy from though. That's half down to style - I wear that type of shoe so little today, and when I do I have bespoke from the likes of Cleverley - and half f down to lack of access.
I like to see shoes in person and try them if I can, rather than doing multiple deliveries and returns, and my budget and location means I can do that. It's also no small factor that I have a relationship with the brands, the shops and their staff, and the styles of shoes I like.
But I know others will differ, in their situation and their priorities, and I hope my experience here is useful to them.
Photography: shoes, on their own, and video below, Acme; shoes on me, Milad Abedi. And yes, my trousers are short in the top image. I'm lifting them up to better show the shoe. The trouser material is brown Crispaire, from this suit.