The appeal of a silk dressing gown – at New & Lingwood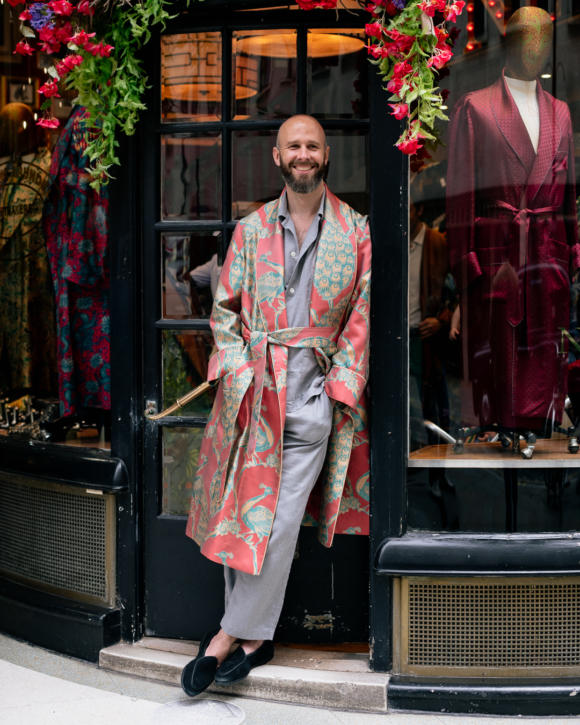 As I wrote earlier this year, I'm usually quite conservative when it comes to gowns. They're very practical for me, thrown on early in the morning to get up with one of my three daughters.
They can still be luxurious, and beautifully made. I'm good at looking after good materials, and can cope with the occasional stray soggy Corn Flake. But I'm not a man of luxurious leisure, and gowns that are overly fancy or fussy just don't fit my life.
However, I still recognise that a decorative silk dressing gown is a beautiful thing. If you like menswear, you will appreciate a woven-silk necktie; you will also love the scale and flow of a great overcoat; and a dressing gown such as the silk pictured above is a combination - a maximisation - of those two things. You'd be a fool to not be tempted.
Fortunately, a reader recently asked what kind of silk dressing gown I would recommend. A classic navy spot? A quilted-lapel smoking number? And this gave me the excuse to consider the options vicariously.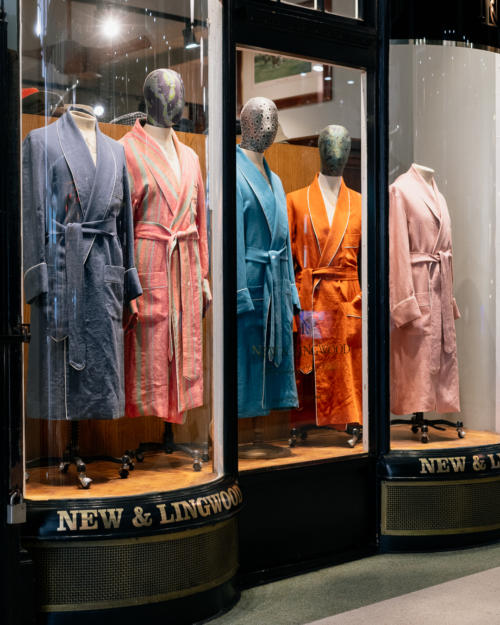 Anyone that spends time walking around Mayfair will have had their eye caught, at some point, by the New & Lingwood gown store at the end of the Piccadilly Arcade.
There's such a riot of brightly coloured fabric: black and gold; red and green; during the summer a procession of sugary linens in pale blue, yellow and pink. The only real local competition is from Favourbrook, and even they have quite a few dresses and waistcoats in plain cream or black.
I wouldn't be surprised if the display makes everyone that walks past reconsider whether they'd wear a silk gown. Or want to consider it. Want to want it.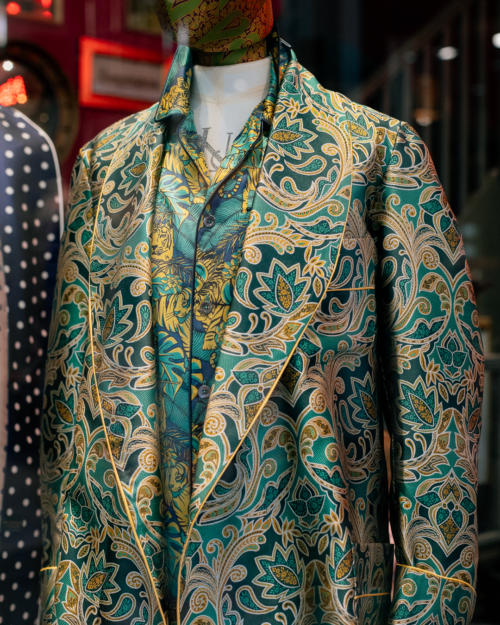 I think there's quite a big difference between some of the options though.
A black silk gown embroidered with skulls and crossed bones can look a little silly, at least to me. Are you trying to look dangerous and tough? In a silk gown? I know there's the Eton connection, but more than just Old Etonians are buying them.
Equally gowns in gold, with quilted facings and tassels. It's a little too much, too showy.
There is still a question of taste, in other words. Just as there would be if you were buying patterns and colours for another area of your life, like curtains or soft furnishings.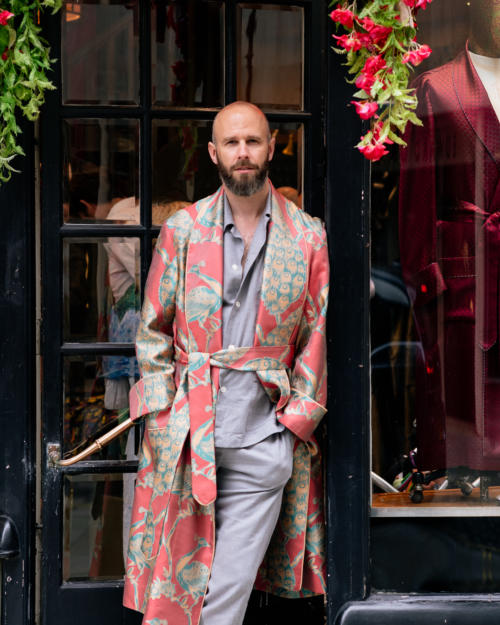 If you're going to wear a brightly coloured dressing gown, my advice would be to avoid other aspects of decoration. Steer clear of the quilting and the tassels, focusing simply on colours and patterns that you like - as you would the silk in a necktie.
I like the peacock-patterned silk above, for example. Although it's clearly a bold pattern, and makes use of strong colour, the contrast is rather less than the green and gold above, or orange and navy. Compared to those, the pink and turquoise is quite subtle.
I also like the fact that the piping is low contrast. Its soft gold is similar to the cream used in the body, and both blend with the pink and green rather nicely.
To me, the bright-white piping on some gowns can make them look cheap, particularly with darker colours. Which is why the piping on the gown I covered earlier this year was so tonal.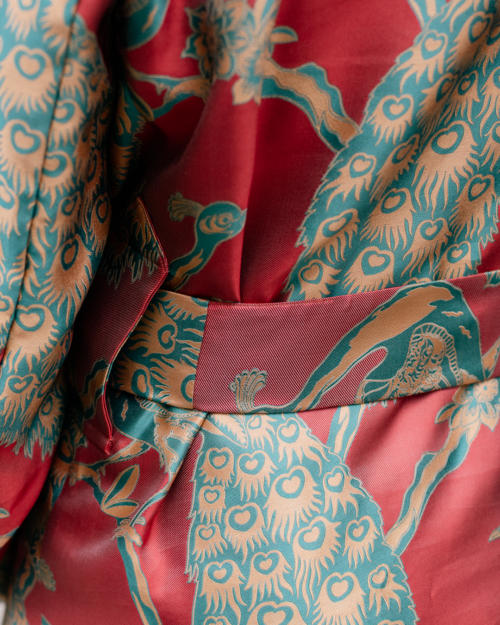 The New & Lingwood gowns are all finely made, of course.
I particularly like the wide, rounded shape of the facings, and the way they roll open all the way down to the hem whenever you leave the gown unbelted. Look at the belly on it in the image below - it's almost as wide as the chest itself.
Also important is a belt that holds its shape, and doesn't collapse when tied. Whether achieved by stitching or lining, it makes a big difference to how elegant the gown looks. Nothing makes a dressing gown look old and ratty more than a belt that has become basically a shoe string.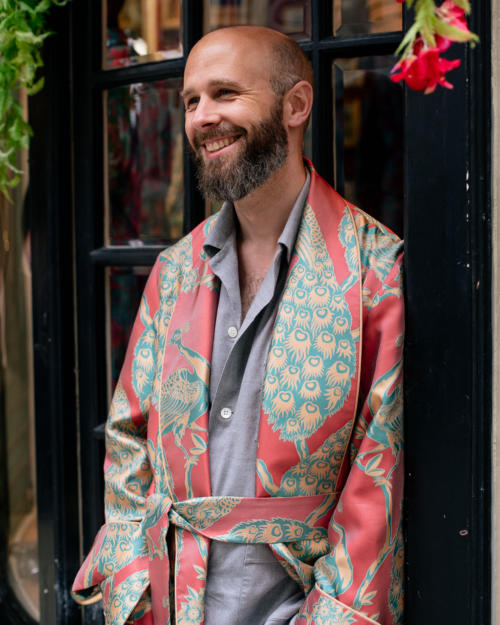 Many of the N&L gowns are also made in the basement of the main shop on the other side of the Arcade - something I'm not sure many people know.
This makes adjustments fairly easy, which is nice. It's straightforward to do something like take off the fold-back cuffs and shorten the sleeves, for example, before reattaching them.
Interestingly, N&L only had a medium and an extra-large in the store in this pattern, and I found the latter suited me better.
A medium was more of a 'true' fit, with the end of the shoulder sitting right on the point of my shoulder bone. But I think a gown should be loose - luxuriously so - and as a result have fullness in the body when you cinch it at the waist. The extra large, pictured here, did that better on me.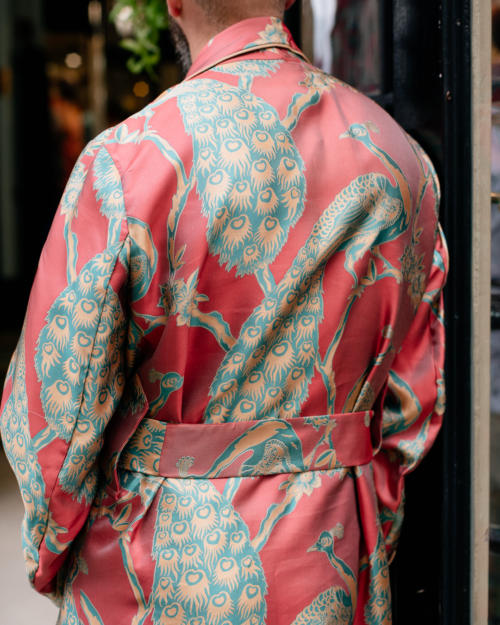 More power to those that wear silk gowns and enjoy them. They are truly wonderful - and now that Vanners has gone, there will be fewer around that are made in the UK.
From what I understand, the attempted rescue of Vanners - which had been weaving silk since 1740, and which I covered for PS back in 2009 - has now fallen through, leaving Stephen Walters the only mill doing this weaving at any scale.
Let's hope there are enough dandies around to keep production going there, at least.
The silk gown pictured is £1,250. Linen gowns are a good alternative, starting at £595. Bespoke gowns are also possible, from a range of silks and other materials.
The pyjamas pictured are brushed cotton from Anderson & Sheppard. I find grey a good foil for strong colour, in much the same way as a grey flannel suit. The shoes are Sagan Lunes from Baudoin & Lange.
Photography, Alex Natt @adnatt