Holiday snaps 2022: Illustrating versatile packing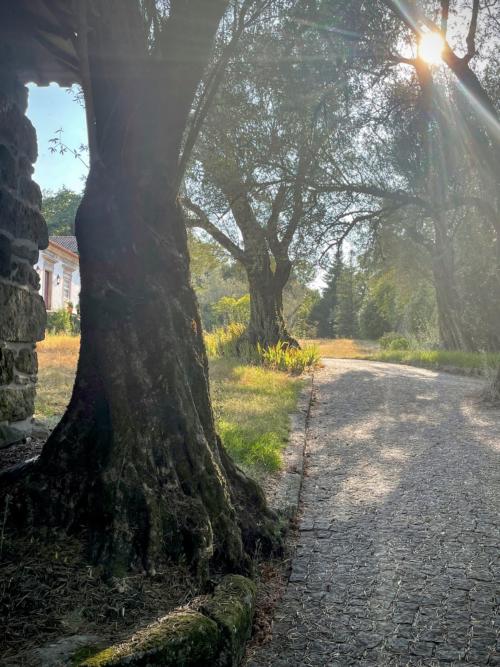 In recent weeks you may have noticed comments have not been published quite as quickly as normal. That's because I've been on holiday - in the north of Portugal, where my wife's family is from.
It's a beautiful part of the world, quiet and lush, and we usually rent a house in the countryside for a couple of weeks. There are occasional visits to Porto or Braga, or shorter trips at the beginning and end of the holiday, but otherwise it's family days of swimming pool, river beach, reading and games.
Most years, I write a 'holiday snaps' post on PS with some very off-hand pics of what I wore or took away. You can see those by searching for that term.
This year, it was particularly relevant because readers had asked for illustrations of the holiday capsule wardrobe I wrote about at the end of July.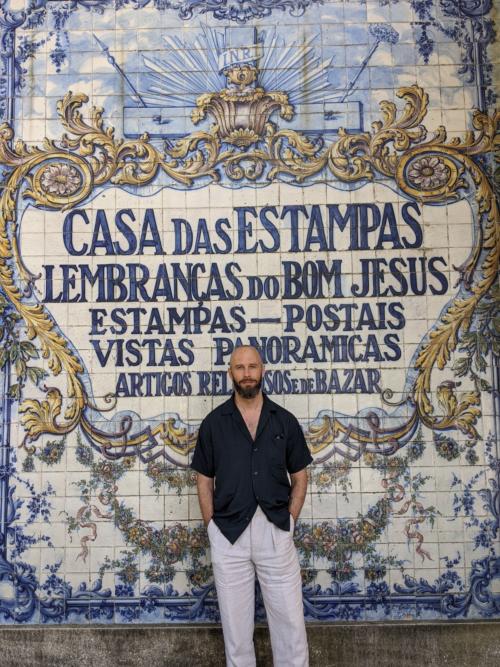 I made it clear in that article how restrictive my packing is - because we're a family of five, and on reflection because we have a two-year-old who still comes with vastly disproportionate baggage.
Pretty much everything has to work with everything. Every top with every trouser, every trouser with every shoe. And the clothes need to cater for city, pool and country walk.
Have a read of that article if you want to read about how I deal with those requirements - and keep some interest in the clothes themselves.
Here I'm showing a few of them in the wild, such as the biscuit linen trousers above, picked because they work with both dark tops like the indigo rayon shirt here, as well as white shirts or T-shirts.
Out of shot are my black-dyed Alden LHS loafers, the smartest option of the three pairs of shoes I took, and still the most comfortable non-trainer I own, so great for travel.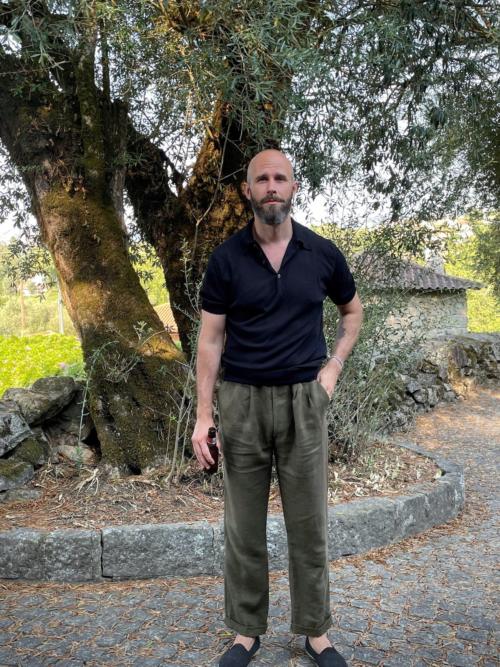 Above, another dark top - my black Perro polo - worn with olive-linen trousers. The olive also works with the white or very dark tops, and is particularly nice with black.
They're an old pair from Informale, as I didn't have time to get a pair from The Anthology before I went. I prefer the latter, as they don't have the double pleats that give a rather baggy effect here, and they're better made overall.
The espadrilles are black, from Diego's. It would be a little more interesting to have shoes in a different colour to the top, but these are the kind of little compromises required with a small suitcase. The black shoes go with everything.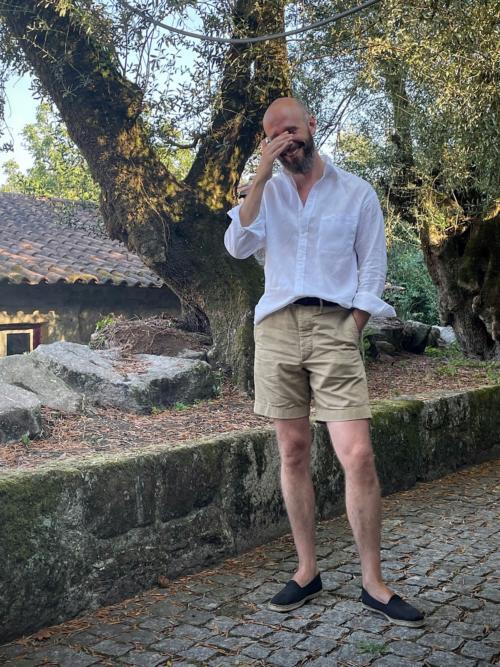 Another little rule of thumb I find practical, is that wearing one long and one short is an easy way to avoid the danger men often have in hot weather, of looking a bit like a child.
You see it all the time, at least where I live. The wife is in a flowing linen dress or a chic pair of shorts with a Breton top, and the husband is wearing an old polo with slightly too-tight shorts.
Now, chances are she spends far more time thinking about clothes than he does, and that's the major reason for the difference.
But often all it would take to avoid that look would be a long item on the top or bottom - a pair of casual linen trousers with the polo, or a casual linen shirt with the shorts. It's not the only way by any means - shorts and a polo can look good - but it's often the easiest.
In the pic above (shot by my 11-year-old as she also relentlessly mocks me for having to do so) I think the linen shirt from Anderson & Sheppard makes the look rather more adult than a T-shirt.
And it doesn't have to be an expensive shirt at all, any loose-fitting and relaxed linen will do, just as long as it doesn't look like office wear. Chambray or denim works well too.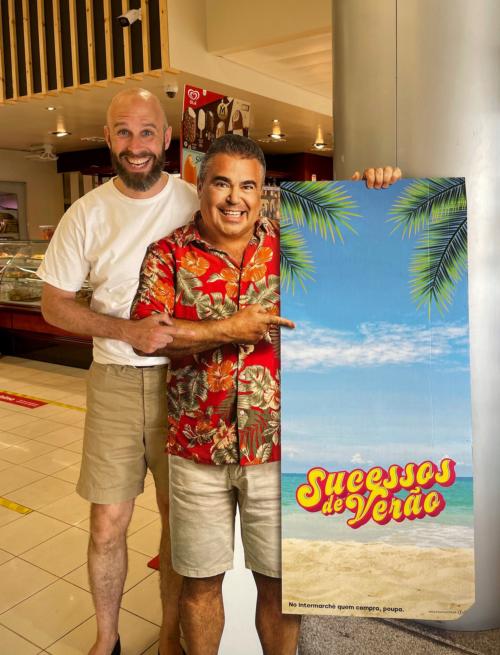 Which is not to say I don't wear T-shirts. A good-weight T-shirt, like the PS Tapered Tee above, is a practical thing for more rugged activities, such as going for a walk through the woods, or renting a kayak and paddling down the river.
Or in this case, trying to make the kids laugh by mimicking the cardboard cut-out at the local Intermarché. Nothing but Dad jokes, all summer long.
Those shorts, by the way, are a nice pair from RRL I bought before the trip and am trying out. They're in a strong right-hand twill, the same material I think as the 'Field' chinos that reader Cedric recommended in his recent profile.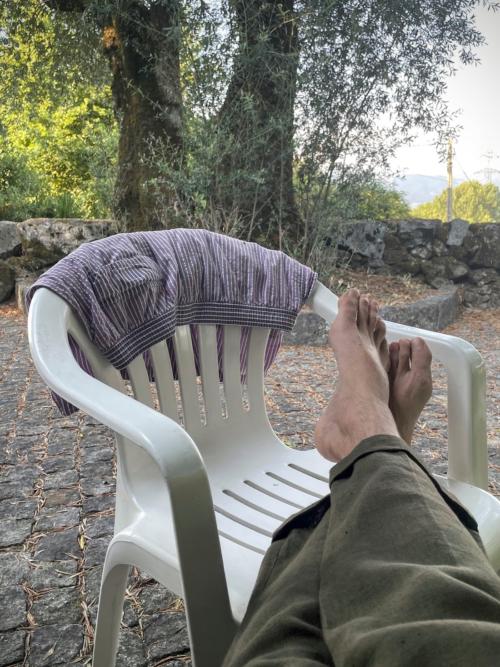 What else?
My swimming trunks are from Aspesi but I'm not sure I can recommend them. The blue colour has quickly faded to a slightly unexpected mauve (above).
My old Bate's straw (below) looks better and better as it gets more beaten up. The two-year-old actually managed to step on it during the holiday, and put this hole in the top. It's such a nice example of wear (and tear) that it almost looks fake.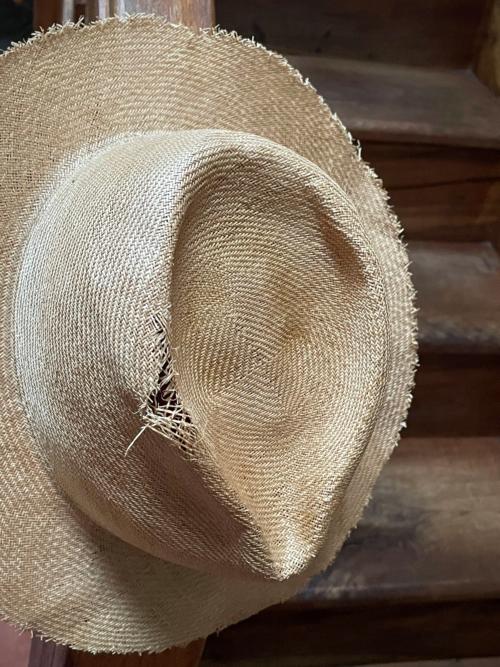 And my Meyrowitz sunglasses continue to be one of the most versatile things I've bought recently - the Californian model in 'amber mottle' acetate (below).
They're very expensive, but so far I've managed to avoiding losing or damaging any of my Meyrowitz pairs (I have three) so as long as that lasts, it's worth it. I just make sure to keep them in at least a soft case.
That green alligator case is actually something else I've had for years and managed not to lose. It's brought me such pleasure, with almost daily use during the summer.
Searching for the original post on PS, I realise I've had it over 10 years. It's hard to question the value of something you're enjoyed for that long.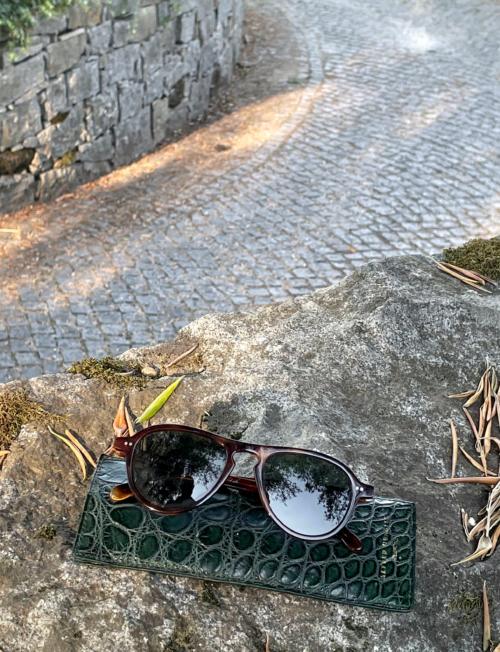 Here's hoping you've all managed to get away this summer, and take some sartorial pleasures with you.
If you have any tips yourself on packing for such trips, or recommendations for clothes that have worked out especially well, I'm sure readers would be as pleased as ever to read about them in the comments.
Now I can't wait for autumn - with coats, scarves and hats galore.