The first sportswear jacket: A 'Ricky' or gab jacket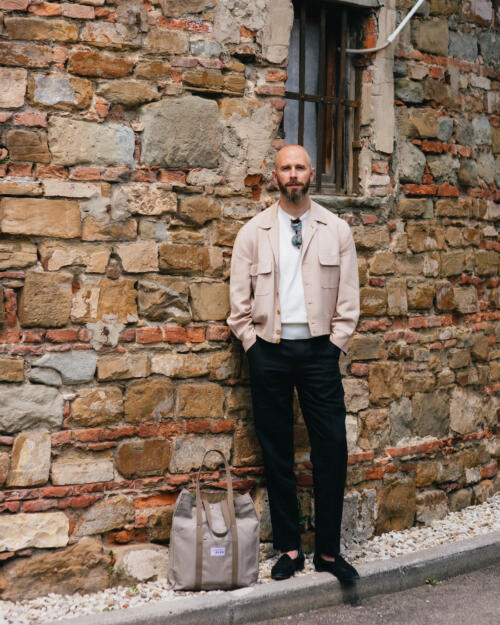 This vintage rayon jacket I bought in Japan earlier in the year has drawn quite a bit of interest since I posted pictures during Pitti.
A couple of different brands asked about the details and whether they could borrow it to take details for a similar product - but I had to tell them that I liked it so much, we'd be working on something ourselves that drew on it for inspiration anyway.
I think the reason I like it so much is that it hits the Permanent Style core of being only subtly unusual.
Yes it's pink, but such a pale pink that someone even referred to it as grey. It's the kind of pink, in fact, that would make a good tailored jacket - as Manish pictured in his article using a Ring Jacket example.
And yes it's a vintage style, but everything is understated. It's big in the body, but not too much; it's short in the length, but not too much; the yoke is gathered and a little flouncy - but not too much.
Most of this comes across only when you're close up. Showing it to a (non-menswear) friend recently, the first thing he remarked on was the material - is it wool, polyester? Rayon and viscose aren't that common these days, and he had no obvious reference.
The elements I love most, though, are the buttons and that gathering on the yoke and shoulders - they give character through hardware and craft respectively, and are both things a modern high-street version would never bother to do. They'd be the first costs cut.
It wasn't the case in the 1950s, when this jacket dates from. This is the era when leisure wear first started to become a serious business, and this kind of short, waisted jacket was worn with tailored wool trousers and a shirt - even a tie.
You see them discussed more on period-dressing sites and swing-dancing blogs, but with a pair of jeans and a T-shirt, I think it makes a very effective modern jacket. Like the more common Harrington or a 'swing' golf jacket, but a little fancier and more tailored.
Which is where those details come in. Two small panels of elastic in the back, rather than anything bigger; pick stitching around the edges; so-called 'bag-stitched' pockets, where the flap simply dresses up a patch pocket.
Actually, the pick stitching is something I could happily do without, simply because today that kind of machine stitching reminds me of cheaper RTW tailoring trying to imitate handwork.
And I think wool gabardine would be more practical - but then again wool might not have lasted 70 years. Wool versions of these jackets are often more faded and have little nicks or holes. (One for those that liked how well polyester lasts.)
But then that's what happens with vintage clothing - you always sacrifice something in the fit or the make, with lots of character in return. This jacket has some odd touches, like the double label on the inside right.
The original label appears to be 'a PM Casual, from California' as that's sewn into the facing (what a name, what a font!). Then there's a second label, sewn in frankly quite poorly, presumably for a retailer - 'Stuckey's, style store for men and boys' in Rockford.
The same stitching appears to have been used to sew up the outbreast pockets, so they're not usable. This is quite rough on the inside, and was presumably done because the pockets became baggy. But either the retailer made a strange choice or a later owner matched the thread very well.
Such are the intrigues of vintage clothing.
This style of jacket was meant to be worn with real high-waisted trousers, and finish on the natural waist. It would have been pretty short therefore, and is a little short on me - but not by much. The sleeves are a little short too, but again not extremely so.
In the pictures here, taken at Pitti, I'm wearing it with black linen trousers, black Sagans and a knitted white T-shirt. It's a little smart, a little dressy. The grey tote is a nice complimentary colour.
But later that week in Milan I wore the same colours, just in more casual materials: a regular T-shirt on top, black jeans on the bottom. The materials and textures are softer, and it's more casual.
Then it also works nicely with mid-blue jeans, perhaps with that white T-shirt or a grey. In fact that's my favourite combination with short jackets like these, whether it's a faded yellow Harrington or a tobacco suede. Mid-blue is the default, and I'm increasingly finding washed black jeans can be nice too.
These jackets are quite regularly reproduced, and coincidentally Full Count brought out a pink polyester one this season. Personally I prefer the button front of mine, and the collar shape, but they are available at Clutch and through the Full Count website. (In navy and pink, and with 'Hustler's Mentality' embroidery! Also, note Full Count's return/exchange policy.)
There are some short casual jackets out there, like the McCoy's Swing jacket and of course many styles of Harrington, but they are a little sportier, a little simpler. For a smart/casual look you'd probably better off sticking with flight-jacket style blousons instead.
Also if looking online, be aware that a lot of Ricky or gab jackets come in patterned materials, even contrasting panels. Ethan Wong has a good piece here showing a few of these more period options.
Clothes shown:
Pink vintage rayon 'Ricky' jacket

Black linen bespoke trousers, W Bill linen made by Whitcomb & Shaftesbury

White knitted T-shirt by The Anthology

Brown 'Californian' sunglasses by EB Meyrowitz

Black suede 'Classic Sagan' shoes from Baudoin & Lange

Yellow-gold Reverso watch, Jaeger-LeCoultre
Oh, and while there's a little debate, the name 'Ricky' likely originated from the character Ricky Ricardo on the TV show I Love Lucy, who wore the style of jacket.