Tracksmith running clothing: Review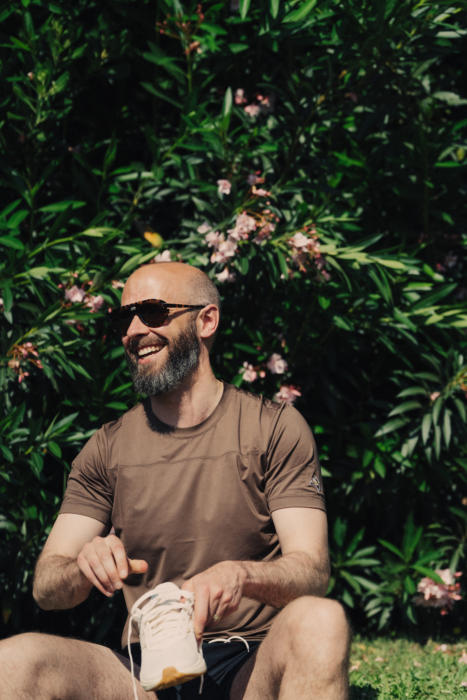 Tracksmith, the running brand, recently interviewed me and a bunch of others for their magazine. The photos here are from that piece, and if you'd like you can read it here.
It was nice having the excuse to reflect on what running has meant to me. I started young because my Dad was a runner - he ran marathons around the world, and I remember watching him run London. We used to go running together in Richmond Park, close to where I live - a place that's a privilege to run in.
However, the article wasn't as much about running clothing, and I know that's something readers have regularly asked about. I've probably covered cycling clothing more over the years, largely because since I was injured in my twenties (training for the London marathon), cycling has taken up more of my time.
But I am running regularly now and have tried many brands over the years, from the obvious Nike, Adidas etc, to niche start-ups like Iffley Road and Soar, and the start-ups that are now much bigger, like Castore and Tracksmith.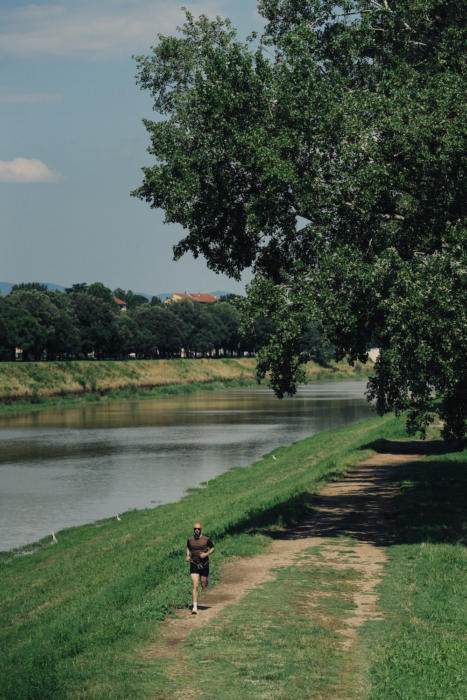 Although I don't like all the styles, Tracksmith has become the one I wear the most primarily because of the design.
I was always ribbed as a cyclist for caring more about the clothes than the bike - although, as a menswear enthusiast, I guess that should have been predictable. Tracksmith is the same - in a sea of black and grey (which does look good on a lot of people but is rather dull), they're the only brand using colour well.
And of course it's often quite classic menswear colour, drawing as it does on old collegiate styles - burgundy and forest green, soft yellow and grey marl. It's the kind of colours you buy vintage sportswear in; the colour of my Dad's Harvard sweatshirt.
Some of Tracksmith's colours in recent years have varied more - teal, stripes, hot orange. But there's still a sophistication to the palette, such as the brown and black I'm wearing in these pictures. I guess the way you tell is that they're colours I'd happily wear in non-running clothing.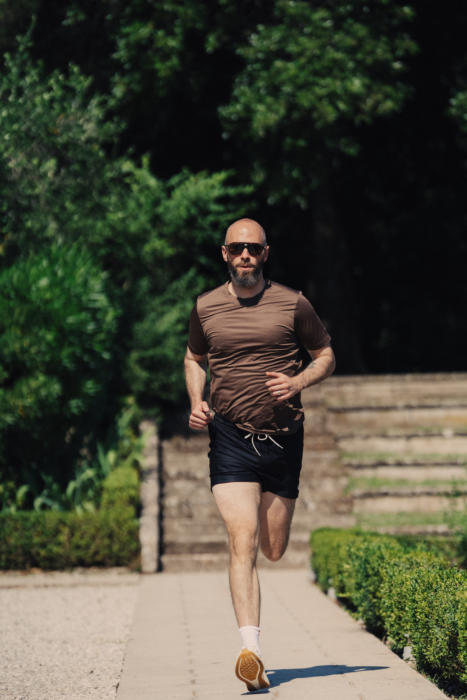 I've tried perhaps a dozen Tracksmith pieces over the years, and had my ups and downs with them.
As a classic-menswear enthusiast, the first piece that got me into the brand was the Grayboy T-shirt, a cotton-blend piece that was inspired by a traditional kit of the Georgetown track team (below). It was meant to be a T-shirt you could run in - the comfort of cotton but with some performance from the synthetic.
I got one when the brand first launched and loved it. I even managed to wear it when I interviewed the founder, Matt Taylor, at their Boston store in 2019 (at that time their only one). That was at the end of the trip where I also visited Horween, Optimo and Frank Clegg.)
When I bought a second Grayboy, however, they'd changed the fabric. It was softer and stretchier, and lost more shape when it was washed. It didn't feel like something that in their words "wore in, not out" - a way of thinking that of course resonates with high-end workwear too.
Happily, now there is a store in London (on Chiltern Street) I tried the Grayboy again, and they have returned to something closer to the original - a cotton/rayon mix that is rather stronger and tougher.
My original Grayboy had 'Tracksmith' written on it, but that was back when no one had heard of them. Being the snob I am, I now prefer the plain ones. It's like the Rapha jerseys with the white armband - you don't want them when everyone has them.
I guess at least I'm a self-aware snob.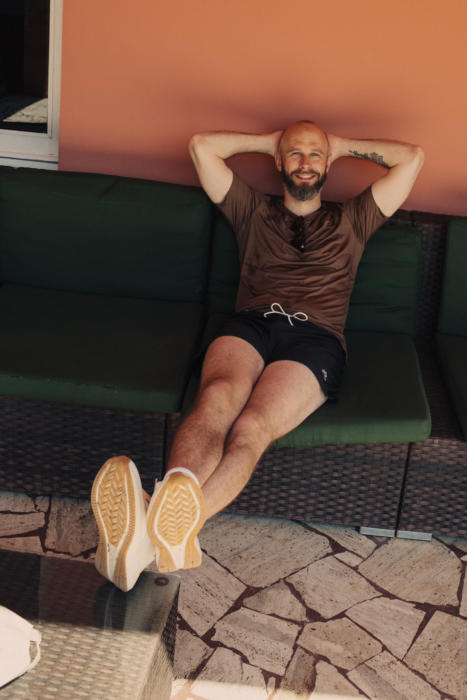 The heavier stuff like the Grayboy is great for a casual, easy run, and that's what I'm doing most of the time these days. It's also good for doing exercises part-way, or sitting in the cafe at the end.
But for something a little more serious, you obviously want a lightweight synthetic, like the Twilight Tee I wore for these pictures. To be honest, I've never noticed much of a difference between these types of tops from any brand, other than the drier handle you get from the Nike Dri-Fit and similar tops from New Balance (which has great ALD-influenced advertising these days, but that isn't really reflected in the activewear).
I prefer the silkier feeling of materials like this Tracksmith, and again I like the styling. Though more in plain colours like this than the distinctive sash-stripe of some of the Van Cortlandt tees.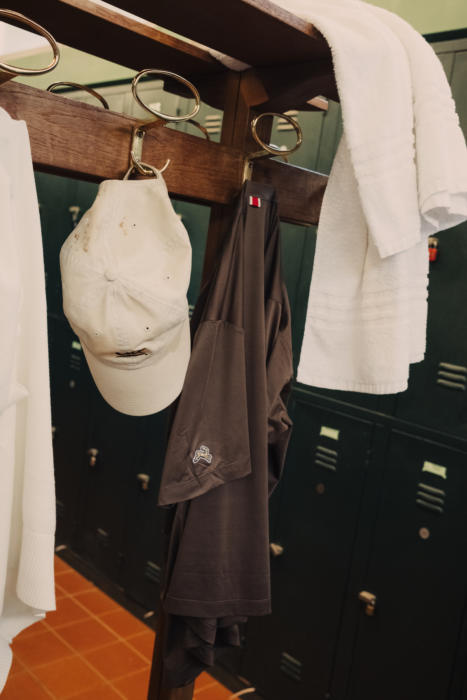 I'm a little between sizing on the tops, but a medium (shown here) is OK. I could wear a large but a medium is probably closer.
I've found shorts a little trickier with Tracksmith, because the sizing varies a little between styles and the fact I'm in between sizes makes for a difficult trade-off sometimes. In the rain shorts, for example, a medium is too tight on the thighs but the large is a bit loose on the waist.
The shorts pictured here are the Twilight shorts, and they work well (in medium). The range of shorts seems large, but actually if you find the short-short ones too skimpy (I'm not that good a runner) and don't want tights or the semi-casual Longfellow, there aren't that many.
Among other things I've tried, the rain jacket works well and is pleasingly feather-light. The long leggings for winter I found a little thick and tight. The sunglasses are a guilty pleasure but beautifully made - I've worn District Vision for a long time. I'm not that much of a fan of a lot of the off-duty clothing ('Trackhouse') but then I'd always want my Real McCoy's or Warehouse sweats there.
Oh, and I also wear the Harrier long sleeve in winter, a mostly merino top that's really nice. A silk version I had was less successful, but they don't sell that any more.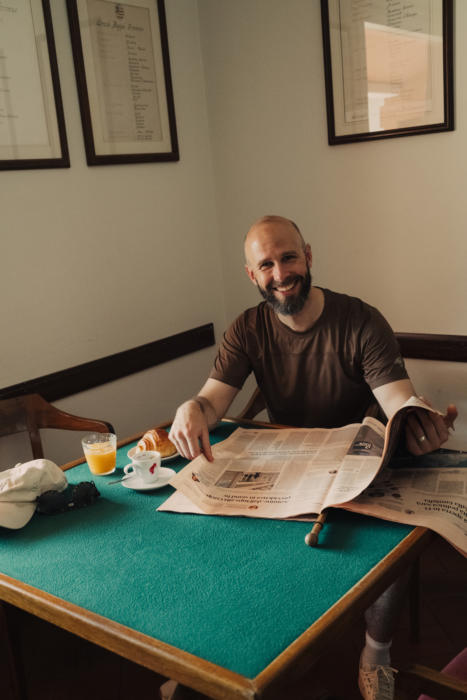 The Elliot trainers I haven't worn for that long, but they compare well to all the specialist Nikes, Sauconys and Asics I've had in the past. Again, perhaps not for a marathon, but they're really well made - nicely fitted upper, good multisurface footbed, responsive midsole. And of course classic styling.
Overall I've been through enough different phases of Tracksmith, and tried enough of the products, to know it's the best running brand for me even if some large parts of the range aren't.
As ever happy to answer any questions on the things I have tried, or any other brands.
Photography by Milad Abedi
Shot in Circolo Del Tennis, Florence for Tracksmith. Interview online here